Brain Sand: The Fascinating World of Corpora Arenacea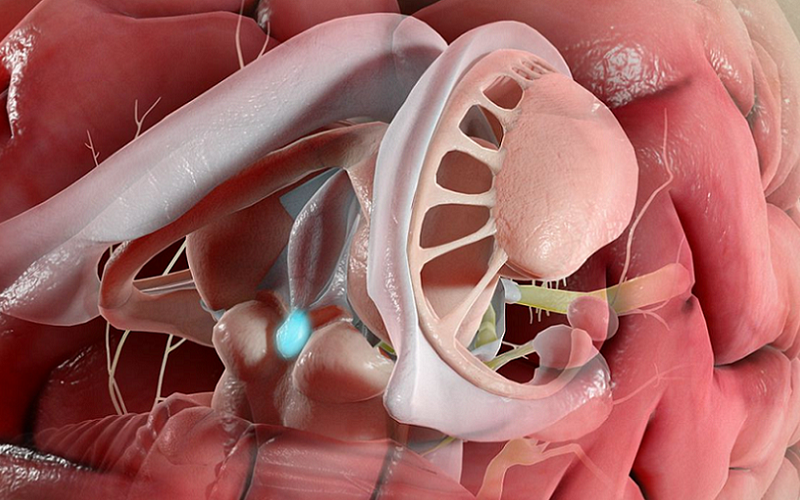 The human brain, a marvel of nature, is a maze of complexities and mysteries. As we journey through its intricate pathways, we stumble upon phenomena that challenge our understanding and captivate our imagination. One such enigma is the "Brain Sand," or as scientists call it, "Corpora Arenacea." While the name might evoke images of grainy deserts inside our heads, this phenomenon is actually about tiny calcifications predominantly found in the pineal gland.
Historical Background of Corpora Arenacea
The story of Corpora Arenacea, commonly known as brain sand, is a tapestry woven over centuries. As we trace back through medical literature and the annals of scientific discovery, we find that these mysterious calcifications have piqued the curiosity of many.
First Observations of Brain Sand in Historical Texts
Centuries ago, ancient physicians and early anatomists made note of peculiar grain-like structures within dissected brains. These descriptions, albeit rudimentary, provided the earliest documented observations of what we now recognize as Corpora Arenacea. Manuscripts from the medieval era often mentioned "sandy substances" or "tiny stones" inside the brain, pointing to a longstanding awareness of their existence. However, the significance and understanding of these structures remained clouded in mystery.
Evolution of Our Understanding of Corpora Arenacea
As the renaissance of scientific thought and medical research dawned, the scrutiny of brain anatomy intensified. By the 19th century, the introduction of microscopes revolutionized our view of these granules. Scholars began to recognize them not merely as grit but as calcified entities with specific chemical compositions.
The 20th century heralded an era of technological advancements in medical imaging. Techniques like X-rays and later, CT scans, allowed for the non-invasive detection of these calcifications in living individuals. This visibility brought forth numerous theories about their origin, function, and clinical relevance.
By the late 20th and early 21st centuries, the term 'Corpora Arenacea' became widely accepted in the medical community. As our understanding deepened, so did our appreciation for the complex interplay of biological processes that give rise to these minute brain particles.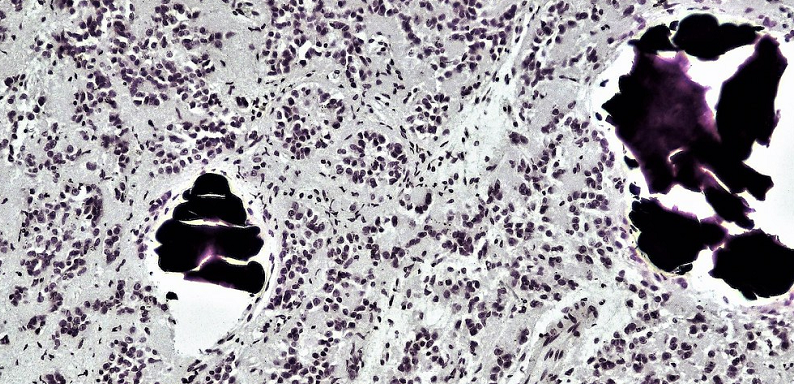 What is Brain Sand (Corpora Arenacea)?
Brain sand, a term both mysterious and evocative, conjures up images of a cerebral desert. However, in reality, it refers to the tiny calcified structures found within our brain, primarily in the pineal gland. But what exactly are these minuscule granules, and how do they come to be?
Composition and Appearance
Before diving deep into the intricacies of brain sand, it's essential to have a fundamental understanding of what these structures are made of and what they look like up close [1].
Chemical Components
At a molecular level, Corpora Arenacea is predominantly made of calcium, phosphate, and carbonate. These compounds give the particles their hard, calcified texture. Over time, as they accumulate, they can appear denser, especially when viewed through imaging techniques.
Physical Characteristics
Corpora Arenacea is often likened to grains of sand due to their size and appearance. Typically, they are minute, measuring only a few millimeters in diameter. Their color can range from white to light gray, and they are often irregular in shape, resembling tiny pebbles or grains.
Locations in the Brain
With a basic understanding of what constitutes brain sand, let's explore where they are primarily located and why certain regions are more predisposed than others.
Pineal Gland Predominance
The pineal gland, a small endocrine gland located deep within the brain, is the primary residence for Corpora Arenacea. This gland, often associated with the production of melatonin, tends to harbor these calcifications, especially as one ages. The exact reason for this predilection remains a subject of ongoing research, though theories suggest it might be related to the gland's metabolic activities.
Other Locations and Rarity
While the pineal gland is the primary hotspot, Corpora Arenacea can occasionally be found in other parts of the brain, albeit much less frequently. Areas such as the basal ganglia or choroid plexus might sometimes show these calcifications, but these instances are comparatively rare.
Mechanisms of Formation
The formation of brain sand is an intriguing process, influenced by various factors that come into play over a person's lifetime.
Natural Biological Processes
As with many calcifications in the body, the formation of Corpora Arenacea is a natural process that can result from the deposition of calcium and other minerals. Some researchers believe that it might be related to cellular waste products or the remnants of cells that have undergone apoptosis (programmed cell death) [2].
Age-Related Factors
Age plays a significant role in the accumulation of brain sand. As one gets older, the chances of these calcifications forming and accumulating increase. In many elderly individuals, the presence of Corpora Arenacea is almost a given, making it a hallmark of the aging brain to some extent.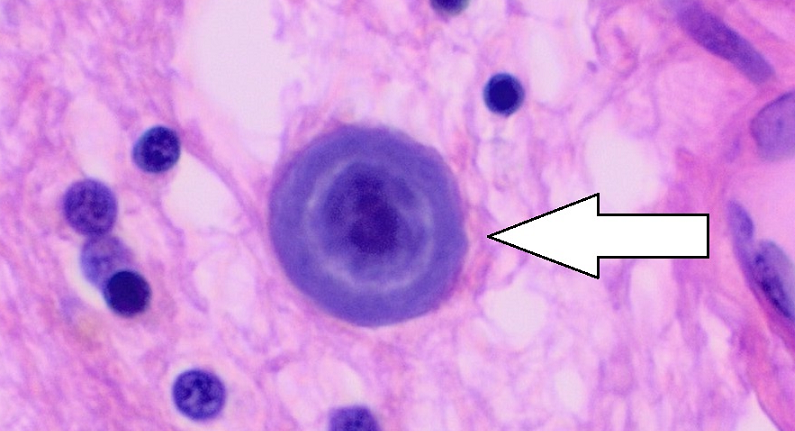 Functions and Implications of Corpora Arenacea
While the presence of brain sand or Corpora Arenacea in the pineal gland and other regions is well-established, the lingering question remains: what does its existence signify? Historically, this phenomenon has been a subject of much debate and speculation.
Traditional Theories
Our ancestors, with their limited understanding but boundless curiosity, often tried to make sense of phenomena they couldn't fully explain. Corpora Arenacea was no exception.
Previously Assumed Functions
Historically, some ancient cultures viewed the pineal gland, and by extension, the brain sand within it, as the seat of the soul or the third eye. These granules, with their mysterious presence, were sometimes thought to be a physical manifestation of accumulated wisdom or a connection to a higher realm.
Historical and Cultural Significance
In various cultures, the pineal gland has been symbolically associated with enlightenment, spirituality, and intuition. Given the presence of Corpora Arenacea within this gland, it's easy to see how historical thinkers might have attached special significance to these granules, associating them with spiritual accumulation or life experiences [3].
Current Scientific Understanding
Fast forward to the modern era, where scientific rigor has provided more grounded explanations, albeit with its own set of questions and wonders.
Relationship with Melatonin Production
One of the most widely-discussed implications of Corpora Arenacea pertains to the pineal gland's primary function: the production of melatonin, a hormone responsible for regulating sleep patterns. Some studies suggest that an increased presence of brain sand might affect the gland's ability to produce melatonin effectively. However, concrete evidence linking pineal calcification to significant disruptions in sleep remains elusive.
Potential Impact on Sleep and Circadian Rhythms
Building on the relationship with melatonin, it's plausible to consider the effects of Corpora Arenacea on our sleep-wake cycle or circadian rhythms. While some preliminary research indicates a possible correlation between increased pineal calcifications and sleep disturbances, it's essential to approach these findings with caution. The human sleep-wake cycle is influenced by a multitude of factors, and isolating the impact of brain sand requires further in-depth research.
Medical Relevance
Beyond the realm of sleep, the presence of Corpora Arenacea has broader implications in the medical world.
Identification in Medical Imaging
Corpora Arenacea, due to its calcified nature, is easily detectable in modern medical imaging techniques, such as CT scans or MRIs. While their identification can help pinpoint the pineal gland's location, excessive calcification might sometimes be mistaken for pathological conditions, necessitating a discerning eye from radiologists.
Its Role in Diseases or Disorders
Currently, there's no direct evidence suggesting that Corpora Arenacea is the cause of any specific disease. However, its presence might be a marker for certain conditions. For instance, increased calcification in regions other than the pineal gland may indicate underlying disorders or abnormalities that require attention [4].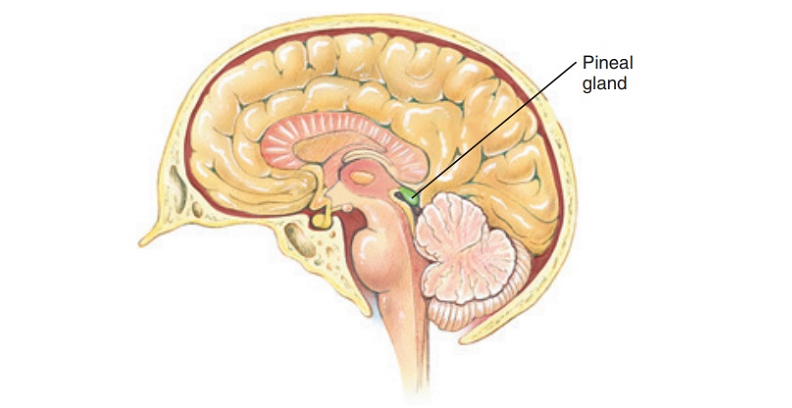 Debunking Corpora Arenacea (Brain Sand) Myths
The realm of brain health is, unfortunately, riddled with misconceptions and myths, and the topic of brain sand or Corpora Arenacea is no exception. Over the years, both historical beliefs and modern misconceptions have painted a picture of these granules that doesn't always align with scientific understanding.
Misassociations with Cognitive Decline
One of the most prevalent myths is the association of Corpora Arenacea with cognitive decline or dementia. This assumption likely stems from the fact that these calcifications are more common in the elderly.
Truth Revealed: While it's true that the presence of brain sand increases with age, there's no scientific evidence linking these calcifications directly to cognitive decline or disorders like Alzheimer's. Aging is accompanied by a multitude of changes, and while Corpora Arenacea is one of them, it's not a harbinger of mental deterioration.
Clearing Up Misunderstandings about Pineal Calcification
Given the primary location of these granules in the pineal gland, there's a myth that links pineal calcification to a decreased ability to connect with one's spiritual side or "third eye" disruptions.
Truth Revealed: The concept of the pineal gland as the "third eye" is more symbolic than literal. While historically it has been a subject of spiritual and philosophical discussions, there's no empirical evidence supporting the idea that calcifications inhibit spiritual or intuitive capabilities [5].
Emphasizing the Natural Occurrence
Another misconception is viewing the presence of Corpora Arenacea as an abnormality or a sign of an underlying problem, leading some to seek ways to "decalcify" their pineal gland.
Truth Revealed: Brain sand formation is a natural biological process. While it's essential to be aware of excessive calcification or calcifications in unusual locations (as these could hint at other conditions), the mere presence of Corpora Arenacea, especially in the pineal gland of older individuals, is entirely normal.
Corpora Arenacea Practical Implications for Cognitive Health
The study of Corpora Arenacea is not just a foray into academic curiosity; it holds tangible implications for understanding and potentially improving cognitive health. As we navigate this section, we'll unravel the practical takeaways of this phenomenon, helping individuals make informed decisions about their brain health.
Impacts on Sleep Regulation
The pineal gland's primary function revolves around the production of melatonin, a hormone that regulates our sleep-wake cycles. Given the presence of Corpora Arenacea in the gland, it's vital to understand how these calcifications may influence sleep patterns.
Potential Disruptions
While there's still a need for robust scientific evidence, some studies suggest that an increased presence of brain sand might affect melatonin production. This could, in theory, result in sleep disturbances or altered circadian rhythms.
Practical Takeaways
Ensuring proper sleep hygiene is essential. While one might not have direct control over the presence of Corpora Arenacea, being aware of potential disruptions can help individuals prioritize sleep and seek medical guidance if sleep patterns are consistently irregular.
Importance in Clinical Diagnostics
The identification of Corpora Arenacea through medical imaging can play a role in differential diagnosis or clinical evaluations.
Pinpointing Other Abnormalities
While brain sand itself is usually benign, its presence can serve as a reference point in imaging scans to identify other potential abnormalities in the brain's vicinity.
Practical Takeaways
For those undergoing brain scans or MRI evaluations, it's beneficial to be informed about Corpora Arenacea. Understanding that these granules are typically harmless can alleviate concerns, and knowing their location can assist in comprehending radiology reports or discussions with healthcare professionals.
Role in Aging Research
Given the association of Corpora Arenacea with aging, its study holds implications for broader aging and cognitive research.
Potential Biomarkers
The presence and quantity of brain sand could potentially serve as biomarkers in aging research, providing insights into the natural progression of brain aging and its impact on cognitive functions.
Practical Takeaways
As we continue to explore the mysteries of the aging brain, understanding phenomena like Corpora Arenacea can provide individuals with context. Recognizing that changes, such as the accumulation of these granules, are natural aspects of aging can provide reassurance and guide age-related expectations about brain health.
References

[1] Comparative histology of pineal calcification
[2] About: Corpora arenacea
[3] brain sand
[4] Comparative histology of pineal calcification
[5] Human pineal gland: Histomorphological study in different age groups