Irisin: Bridging the Gap Between Muscle Contraction and Cognitive Enhancement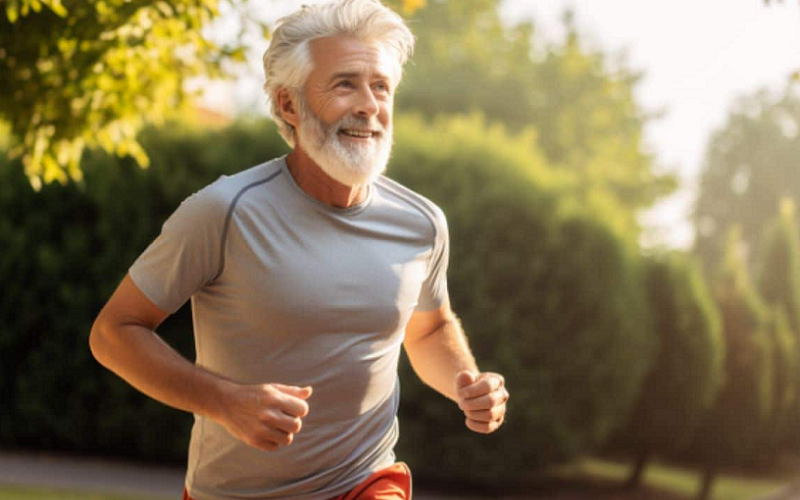 Hormones are the body's silent messengers, orchestrating a vast array of physiological processes, often unbeknownst to us. Among these, irisin — a lesser-known but profoundly significant hormone — stands out as a fascinating bridge between physical activity and cognitive prowess. Often dubbed the "exercise hormone," irisin has garnered attention for its unique role in linking muscle contractions to brain health enhancements.
Background of Irisin
Exploring the world of irisin means uncovering a tale of molecular intrigue, one where our very muscles speak to our brain in a language only recently deciphered. As we explore the origins and functions of irisin, it becomes evident why this hormone is so crucial to our understanding of the symbiotic relationship between physical activity and cognitive well-being.
Discovery and Origin of Irisin
In the annals of scientific research, the discovery of irisin dates back to 2012. It was during this time that a team of scientists identified this novel hormone, shining light on its intimate ties to exercise.
Derived from the FNDC5 Gene
Irisin's genesis can be traced back to the FNDC5 gene. When expressed, this gene facilitates the production of a protein that, upon cleavage, releases the irisin hormone into the bloodstream. This unveiling gave scientists a molecular pathway to explore, linking physical activity to a host of beneficial physiological effects.
Production in Muscle Cells During Exercise
The spotlight on irisin grew brighter when researchers discerned its primary production site: our muscle cells. Particularly, it's during bouts of exercise that irisin production ramps up. As muscles contract and flex, they release this hormone, underscoring the intrinsic connection between movement and irisin synthesis.
Primary Functions of Irisin
As with every key player in our body's complex symphony, irisin doesn't play a single note. Its multifaceted roles range from energy regulation to influencing the very nature of our fat cells.
Regulation of Energy Homeostasis
Energy balance within our body—how much energy we intake versus how much we expend—is a delicate equilibrium. Irisin plays a pivotal role in this balance. By promoting energy expenditure and thermogenesis (heat production), irisin helps regulate our body's energy dynamics, ensuring we utilize what we consume effectively.
Role in Adipose Tissue Browning
Not all fat is created equal. Our bodies contain white and brown adipose tissue, with the latter being more metabolically active. Intriguingly, irisin has been found to induce the transformation of energy-storing white fat cells into energy-burning brown-like fat cells, a process termed "browning." This transformation not only boosts our metabolic rate but also aids in combating obesity and metabolic diseases [1].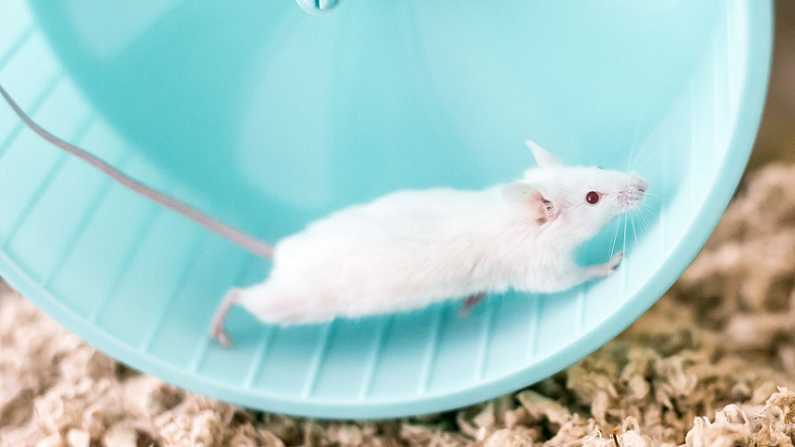 Irisin's Connection to Muscle Contraction
The relationship between irisin and muscle contraction is akin to a beautifully choreographed dance—a harmonious interplay that speaks volumes about the deep-seated connections between our physical actions and internal biochemistry. Understanding this bond not only uncovers the secrets behind irisin's production but also elucidates the myriad benefits of exercise beyond just muscle toning and cardiovascular health.
Mechanism of Production Post-Exercise
As we engage in physical activity, our muscles aren't just undergoing a series of contractions and relaxations. On a molecular level, a cascade of events unfolds, eventually leading to the release of irisin.
Role of PGC-1α
The peroxisome proliferator-activated receptor gamma coactivator 1-alpha, or PGC-1α for short, is a key player in this story. As an exercise-responsive molecule, PGC-1α activates during physical exertion, initiating a sequence of reactions. One of its pivotal actions is to enhance the expression of the FNDC5 gene, which, as previously discussed, is the precursor to irisin. Therefore, the more we exercise, the more PGC-1α becomes active, propelling the production of irisin [2].
Increase in Irisin Levels With Increased Muscle Activity
Research has consistently demonstrated a direct correlation between muscle activity and irisin concentration. Studies involving both aerobic and resistance training have shown that as the intensity and duration of exercise increase, so does the release of irisin. This underscores the hormone's role as a marker of muscle activity, and more broadly, physical fitness.
Benefits of Exercise Beyond Physical Fitness
The wonders of exercise stretch far beyond the visible enhancements in muscle definition or the uptick in cardiovascular endurance. At a biochemical level, the release of irisin tells a story of enhanced health, resilience, and potential longevity.
Release of Neurotrophic Factors
One of the standout roles of irisin, especially in the context of muscle contraction, is its ability to stimulate the release of neurotrophic factors. These are proteins that aid in the survival, growth, and maintenance of neurons. Among these, Brain-Derived Neurotrophic Factor (BDNF) is especially noteworthy. Irisin's interaction with BDNF provides a molecular bridge between exercise and enhanced cognitive functions, paving the way for our exploration into irisin's influence on brain health.
Improved Insulin Sensitivity
As irisin levels increase post-exercise, another remarkable benefit emerges: enhanced insulin sensitivity. By improving the body's responsiveness to insulin, irisin plays a crucial role in glucose regulation, ensuring that our cells efficiently absorb sugar from the bloodstream. This not only provides energy for our muscles but also protects against conditions like type 2 diabetes [3].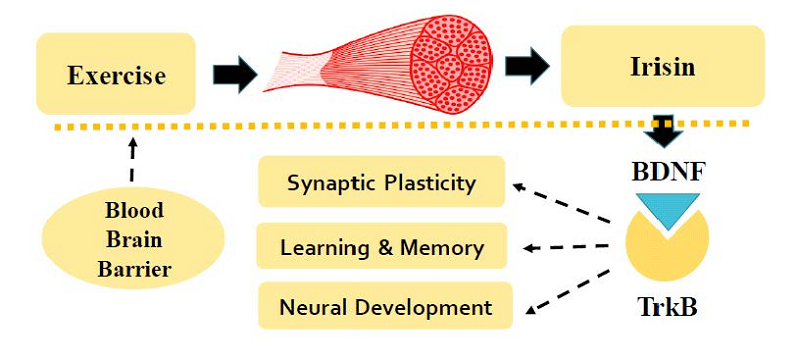 Link Between Irisin and Cognitive Health
Delving deeper into the fascinating realm of irisin leads us to uncharted territories, where the realms of muscles and mind intertwine. The hormone's journey doesn't end with its release from contracting muscles; instead, it embarks on a mission with profound implications for the brain's health and function. By understanding the nuanced interplay between irisin and cognitive well-being, we begin to appreciate the intricate ballet of molecules that governs our ability to think, learn, and remember.
Neuroprotective Effects
In the vast landscape of neurosciences, irisin emerges as a beacon of hope, particularly when it comes to guarding the brain against the ravages of time and disease.
Potential in Alzheimer's and Neurodegenerative Diseases
Alzheimer's disease, marked by memory loss and cognitive decline, remains one of the most formidable challenges in modern medicine. Emerging research has hinted at irisin's protective role against this ailment. Studies suggest that decreased levels of irisin might be linked to the disease's progression, hinting at its neuroprotective potential. By promoting neural growth and connectivity, irisin could potentially slow the progression of Alzheimer's and other neurodegenerative conditions.
Promotion of Brain-Derived Neurotrophic Factor (BDNF) Production
As we touched upon earlier, irisin has the ability to stimulate the release of BDNF. This neurotrophic factor is pivotal for cognitive health, playing a role in memory consolidation, neural plasticity, and overall brain resilience. Elevated levels of BDNF, courtesy of irisin, contribute to a brain environment conducive to learning, adaptation, and resistance to cognitive decline [4].
Enhancement of Memory and Learning
The benefits of irisin extend beyond just protection; they venture into the realm of enhancement, shaping the very foundations of how we learn and remember.
Studies Demonstrating Improved Cognitive Function
Empirical evidence from various research endeavors paints a compelling picture. Experimental models subjected to regular exercise, and consequently higher irisin levels, exhibit improved performance in tasks related to memory and spatial awareness. Moreover, direct administration of irisin has shown promising results in bolstering cognitive performance, even in the absence of exercise.
Role in Synaptic Plasticity and Neuronal Health
At the heart of learning and memory lies synaptic plasticity—the ability of synapses to strengthen or weaken over time in response to changes in their activity. Irisin plays a pivotal role in this dynamic process. By promoting the growth and health of neurons, and by facilitating the formation of new synapses, irisin ensures that the brain remains a dynamic, adaptable organ, primed for constant growth and evolution.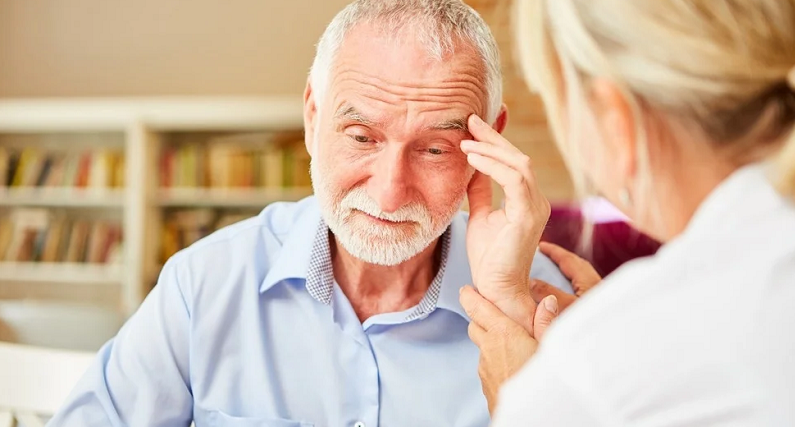 Real-World Implications and Potential Therapeutic Applications of Irisin
The intricate dance of irisin within our bodies isn't just a captivating scientific narrative; it holds tangible implications for our everyday lives and the future of medical therapeutics. The potential of irisin, especially when harnessed in clinical applications, promises new horizons in health, fitness, and perhaps most profoundly, in combating the cognitive challenges that our global community faces.
Treating Cognitive Decline
The mounting evidence of irisin's role in cognitive health has led to an exploration of its therapeutic potential, especially in the context of aging populations and increasing incidence of neurodegenerative conditions.
Potential in Targeting Irisin as a Therapeutic Agent
The intriguing links between irisin levels, physical activity, and cognitive resilience have prompted researchers to ponder a compelling question: Can we leverage irisin as a therapeutic agent? Preliminary studies suggest that augmenting irisin levels, either through external administration or by enhancing its natural production, can potentially delay or mitigate the effects of neurodegenerative conditions. Such interventions could pave the way for novel treatments that meld physical and cognitive therapies [5].
Current Research and Clinical Trials
As with any potential therapeutic breakthrough, rigorous validation is paramount. Clinical trials aiming to decipher the therapeutic potential of irisin are in various stages around the world. While some trials focus on the direct administration of irisin, others explore exercise regimens designed to maximize its production. Preliminary results are encouraging, suggesting that irisin-centric therapies could soon become a valuable tool in our medical arsenal.
Importance of Physical Activity for Brain Health
Beyond the direct therapeutic applications, irisin's story underscores a message that resonates profoundly with holistic health perspectives: the indispensable role of physical activity for cognitive well-being.
Recommendations for Regular Exercise
As irisin has firmly established its role as the "exercise hormone," the adage "move to think" gains a newfound scientific backing. Health professionals and fitness experts are increasingly emphasizing the cognitive benefits of regular physical activity. Whether it's a brisk walk, a swim, or a session of resistance training, incorporating movement into daily routines isn't just a boon for the body, but also a nourishing tonic for the mind.
Irisin as a Motivating Factor for Physical Fitness
For those seeking motivation to lace up their sneakers or roll out their yoga mats, the irisin narrative offers a compelling incentive. Beyond the traditional benefits of exercise like weight management, cardiovascular health, and muscle toning, the promise of cognitive enhancement and resilience offers a powerful motivator. With the understanding that every drop of sweat might be contributing to sharper thinking and memory, the journey of fitness becomes an even more rewarding pursuit.
References

[1] Exercise hormone irisin is a critical regulator of cognitive function
[2] The hormone irisin is found to confer benefits of exercise on cognitive function
[3] Effects of the FNDC5/Irisin on Elderly Dementia and Cognitive Impairment
[4] Cognitive Benefits of Exercise May Be Driven In Part by the Hormone Irisin
[5] From Exercise to Cognitive Performance: Role of Irisin