Cholecystokinin: From Gut Hormone to Brain Messenger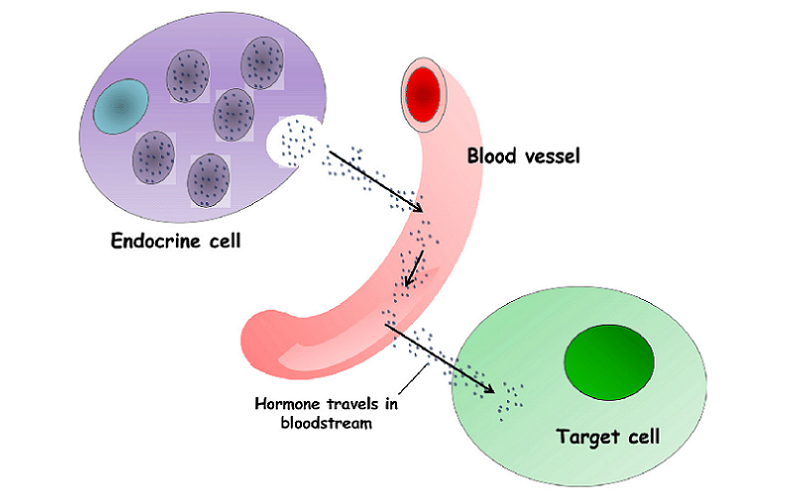 Cholecystokinin (CCK) has long been recognized for its pivotal role in our digestive system, acting as a key messenger in the intricate dance of food digestion and nutrient absorption. But did you know that this multifaceted hormone also plays a significant role in our brain, influencing everything from our appetite to our emotions? From its discovery to its dual functions in the gut and brain, CCK's journey offers fascinating insights into the interconnectedness of our body's systems.
Introduction to Cholecystokinin (CCK)
In the intricate tapestry of hormones that govern the human body, Cholecystokinin (CCK) stands out as a marvel, weaving together the realms of digestion and cognition. It's a fascinating journey from the stomach's lining to the intricate folds of our brain, where this hormone acts as both a conductor and a messenger.
Definition of Cholecystokinin (CCK)
Cholecystokinin, commonly abbreviated as CCK, is a peptide hormone produced in the I-cells of the small intestine's mucosal lining. Initially recognized for its role in facilitating digestion, it stimulates the release of digestive enzymes from the pancreas and bile from the gallbladder. However, as research progressed, it became evident that its functions weren't limited to just the digestive system.
Historical Overview of CCK Discovery
The journey of understanding CCK began in the early 20th century when researchers first identified a substance in the intestine that seemed to affect the gallbladder's contractions. It was in 1928 that scientists named this substance "cholecystokinin," derived from the Greek words "chole," meaning bile, "kystis," meaning bladder, and "kinin," meaning to move. Thus, the name aptly described its function—moving bile from the bladder. However, as decades passed, its role in the brain started emerging, sparking new avenues of exploration.
Relevance to Gut and Brain Health
The multifaceted nature of CCK is a testament to the body's interconnectedness. While its gut functions are essential for nutrient digestion and absorption, its role in the brain is equally compelling. From influencing our appetite to potentially modulating our emotional responses, CCK serves as a bridge between our gut and brain, underscoring the concept of the gut-brain axis [1].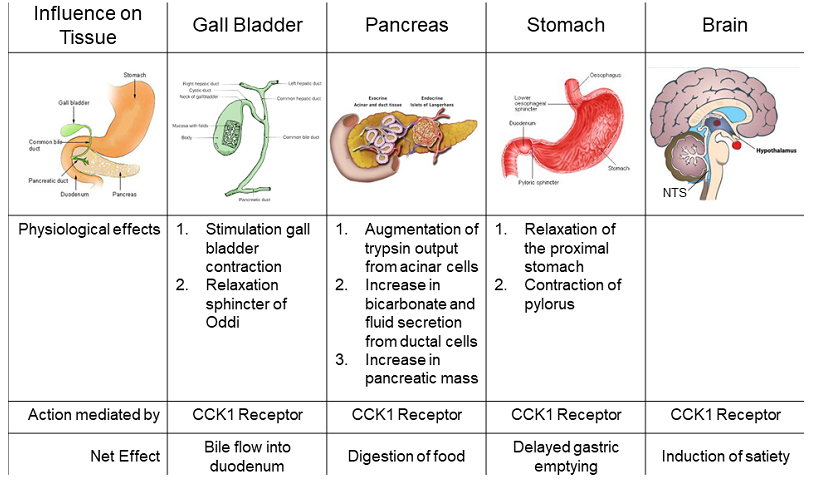 Cholecystokinin in the Gut
Cholecystokinin's story begins in the gut, where it plays an instrumental role in orchestrating the symphony of digestion. Before delving into the nuances of its function, it's essential to appreciate how CCK interfaces with our digestive system, ensuring that we extract the most from our food.
Roles and Functions
The gut is more than just a conduit for food; it's a complex environment where several processes converge, from breaking down food particles to absorbing nutrients. And amidst this milieu, CCK plays a role as both a director and a participant.
Regulation of Digestion
CCK is integral to the body's ability to break down and assimilate the foods we consume. Upon the entry of food, particularly fats and proteins, into the small intestine, CCK is released into the bloodstream. It then signals the pancreas to secrete digestive enzymes, which help break down these complex molecules into simpler forms that can be absorbed by the body.
Gastric Motility and Secretion
Beyond just enzyme secretion, CCK has a say in the movement and processing of food within the stomach and intestines. It slows down gastric emptying, allowing more time for the digestive enzymes and bile to act on the food. By doing so, CCK ensures that nutrients are efficiently extracted before the remnants move to the large intestine.
Interaction with Other Gastrointestinal Hormones
CCK does not act in isolation. The gut's hormonal environment is a collaborative space, with various hormones communicating to ensure smooth functioning. For instance, CCK can enhance the effects of secretin, another hormone that aids in digestion. Together, they modulate the pH balance and enzymatic activity in the intestine, creating optimal conditions for nutrient breakdown and absorption.
Mechanisms of Action
Behind every hormone's function lies a web of receptors, signaling pathways, and feedback loops. Understanding these mechanisms can provide valuable insights into CCK's broader implications for health [2].
CCK Receptors in the Gut
Two primary receptors mediate CCK's actions: CCK1 and CCK2. The CCK1 receptor is predominantly found in the gut, particularly in the stomach, gallbladder, and pancreas. When CCK binds to these receptors, it triggers the release of bile and pancreatic enzymes, respectively, and modulates stomach motility.
Release Triggers and Modulation
The secretion of CCK is closely regulated, with dietary fats and proteins serving as primary triggers. As food enters the duodenum (the first part of the small intestine), the presence of these nutrients stimulates I-cells to release CCK. However, it's worth noting that the body employs feedback mechanisms to prevent excessive secretion. For instance, as the digestive process progresses and nutrient absorption occurs, the levels of CCK in the bloodstream decrease, ensuring a balanced response.
Impact on Nutrient Absorption and Satiety
The gut's primary purpose is to extract nutrients from the food we consume. CCK aids in this mission but also wields influence over how full we feel after a meal.
Digestive efficiency is heightened by CCK's ability to ensure that food remains in the stomach and small intestine long enough for nutrients to be effectively absorbed. This process directly impacts our nutritional status and overall health.
Moreover, CCK has a satiating effect. By slowing gastric emptying and interacting with the brain's appetite-regulating centers, it provides signals that we've had enough to eat. This dual role of assisting digestion and regulating appetite positions CCK as a vital player in maintaining our body's energy balance and nutritional well-being.
Having explored its pivotal role in the gut, CCK's journey takes us further, into the intricate world of the brain, revealing even more dimensions of its multifaceted nature.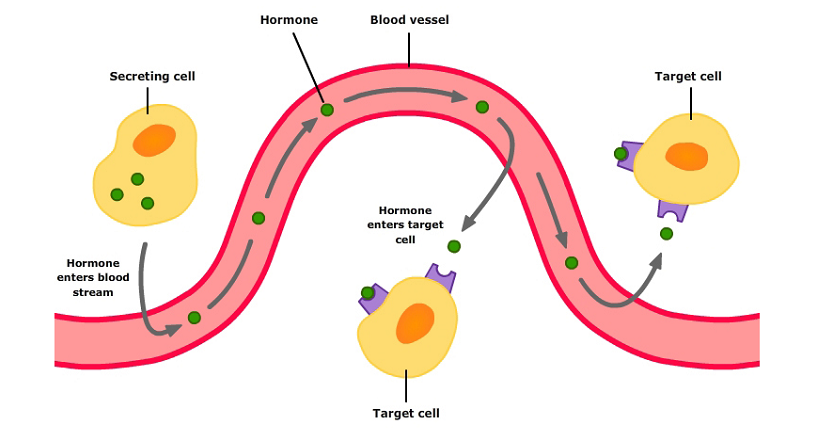 Cholecystokinin and the Brain
Venturing beyond the intricate alleys of the gut, Cholecystokinin reveals another facet of its identity within the labyrinthine structure of the human brain. The very existence of CCK in the brain presents a captivating dimension to our understanding of the gut-brain nexus.
Discovery of CCK in the Brain
The cerebral chapter of CCK began quite serendipitously. In the 1970s, while scientists were deepening their understanding of its gastrointestinal roles, CCK's presence in the brain was concurrently uncovered. This discovery was both unexpected and intriguing. It emphasized the hormone's duality and hinted at the deeper connections between our digestive processes and cognitive functions [3].
Roles and Functions in Neurological Processes
The neural networks are intricate, with countless messengers playing their parts. Amidst this complexity, CCK emerges not just as a peripheral player but as an influencer of some fundamental processes.
Appetite Regulation
The brain and gut engage in constant dialogue, especially concerning hunger and satiety. CCK is an integral part of this conversation. In the brain, CCK operates in regions like the hypothalamus, which plays a pivotal role in appetite regulation. By modulating neuronal activity here, CCK communicates feelings of fullness, thus influencing our eating behavior and overall energy balance.
Anxiety and Panic Responses
CCK's role extends beyond just appetite. Research has shown that this peptide can modulate emotional responses, particularly anxiety. When introduced into certain areas of the brain, CCK can evoke panic attacks in those predisposed. This has led scientists to speculate its role in mood disorders and its potential as a therapeutic target.
Memory and Learning
Cognitive processes like memory formation and learning are also within CCK's realm of influence. Its presence in areas like the hippocampus—a central hub for memory—hints at its multifunctionality. Studies have shown that CCK can modulate synaptic plasticity, a key mechanism underlying memory and learning. Thus, this humble peptide's scope extends from digesting food to possibly shaping our very thoughts and memories [4].
Mechanisms of Action
Behind CCK's neural roles lies a complex machinery of receptors, synaptic modulations, and signaling pathways.
CCK Receptors in the Brain
The two primary CCK receptors, CCK1 and CCK2, both find representation in the brain, but CCK2 is more prevalent. Located in various regions—including the cortex, amygdala, and hippocampus—these receptors mediate CCK's diverse effects, from appetite modulation to influencing mood and cognition.
Synaptic Modulation
The brain's functionality hinges on synaptic communications. CCK, in its role as a neurotransmitter, influences these synaptic interactions. By modulating the release of other neurotransmitters and affecting ion channels, CCK can influence the strength and frequency of neural signals, impacting various cognitive processes.
Interaction with Other Neurotransmitters
In the vast neural orchestra, CCK doesn't play solo. It interacts with other key neurotransmitters like dopamine and serotonin. Through these interactions, CCK can influence diverse processes, from motor control to mood regulation, underscoring its multifunctional role in the brain.

Potential Therapeutic Uses of Cholecystokinin
The multifunctional nature of Cholecystokinin, straddling both the gut and the brain, positions it at the forefront of potential therapeutic interventions. As the understanding of CCK's roles deepens, so does the curiosity about its applications in medicine. Could this peptide hormone hold the key to new treatments and improved patient outcomes?
Anxiety and Mood Disorders
Mental health challenges, particularly anxiety and mood disorders, continue to affect a significant portion of the global population. The discovery of CCK's role in modulating emotional responses has sparked significant interest in its potential as a therapeutic target [5].
Studies and Results
Several research endeavors have focused on understanding the relationship between CCK and anxiety. Studies involving animal models have demonstrated that when CCK is introduced into specific brain regions, it can induce panic-like responses. Conversely, antagonists of CCK receptors, which block its action, can produce anxiolytic effects, hinting at a potential therapeutic route.
Potential Treatments
Given these findings, the development of CCK receptor antagonists has been pursued as a possible treatment for anxiety disorders. Preliminary results from clinical trials have shown promise, but comprehensive studies are required to establish their efficacy fully. If successful, these could offer a novel approach to managing anxiety and related disorders, providing an alternative to current medications.
Cognitive Decline and Alzheimer's Disease
The brain's degenerative diseases, especially Alzheimer's, pose formidable challenges to medicine. Given CCK's presence in memory-centric regions like the hippocampus, there's growing interest in its potential role in neuroprotection.
Role of CCK in Neuroprotection
CCK, through its modulation of synaptic plasticity, might play a protective role against cognitive decline. Some studies have indicated that higher levels of CCK in the brain could be associated with reduced risks of developing Alzheimer's. This has opened avenues for exploring CCK-enhancing treatments that might offer protection against the onset of dementia.
Current Research and Future Directions
While preliminary findings present an optimistic picture, research in this domain is in its nascent stages. Ongoing studies aim to decode the exact mechanisms by which CCK might exert its neuroprotective effects. If these hypotheses hold true, we could be on the cusp of revolutionary treatments that harness CCK's power to ward off cognitive decline.
Eating Disorders and Weight Management
The obesity epidemic, juxtaposed with challenges like anorexia, highlights the need for effective interventions in weight management. Given CCK's role in appetite regulation, it's a prime candidate for exploration in this context.
CCK's Influence on Appetite
By modulating feelings of satiety and influencing gastric emptying, CCK plays a pivotal role in determining our food intake. Manipulating its levels or activity could offer a way to regulate appetite more effectively, providing a tool to address overeating or undereating.
Therapeutic Potential for Obesity and Anorexia
The development of CCK analogs, which mimic its action, or modulators that can enhance its natural release, could provide therapeutic options for weight management. For instance, enhancing CCK activity might help curb excessive eating in obesity, while carefully modulating its levels could aid in improving appetite in conditions like anorexia.
References

[1] Cholecystokinin — From Local Gut Hormone to Ubiquitous Messenger
[2] Cholecystokinin
[3] Cholecystokinin and the hormone concept
[4] Cholecystokinin Peptides in Brain Function
[5] Role of the gut–brain axis in energy and glucose metabolism