Endocannabinoids and Brain Health: Hormonal Modulators You've Never Heard Of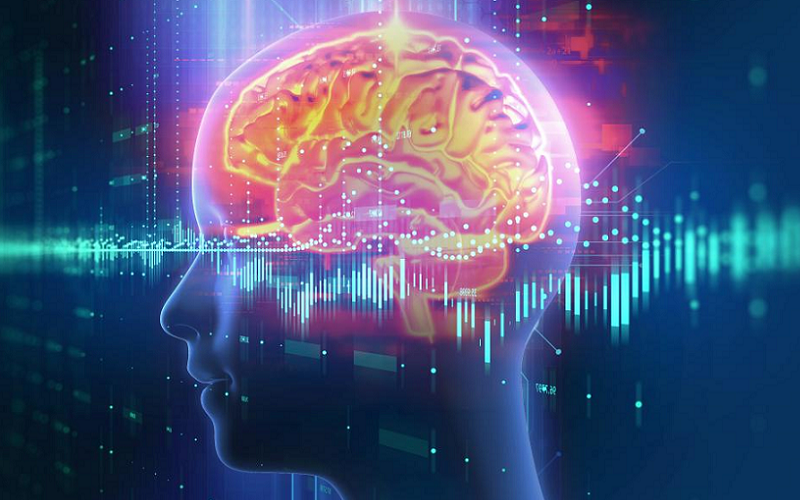 When it comes to brain health, there's a silent player many of us aren't familiar with: endocannabinoids. These naturally occurring compounds in our body play a pivotal role in regulating numerous physiological and cognitive processes, from mood modulation to memory function. However, despite their significance, endocannabinoids often remain overshadowed by their more popular counterparts, like serotonin and dopamine.
Historical Context of Endocannabinoids
The journey of understanding endocannabinoids has been deeply rooted in our history. While the term "endocannabinoid" might sound new or esoteric to many, the discovery of these compounds has been intertwined with the human exploration of cannabis.
Early Discoveries in Cannabis Research
The relationship between humans and the cannabis plant dates back thousands of years. Historical records show the use of cannabis for various therapeutic, ritualistic, and recreational purposes across diverse cultures. However, it was only in the 20th century that scientists began to probe the mysteries of cannabis at the molecular level. The primary motivation was to isolate and identify the active components responsible for the plant's psychotropic effects.
In 1964, Dr. Raphael Mechoulam and his team identified delta-9-tetrahydrocannabinol (THC) as the main psychoactive ingredient in cannabis. This discovery was groundbreaking, as it allowed researchers to begin understanding the mechanisms behind the effects of cannabis on the human brain.
Differentiation between Phytocannabinoids and Endocannabinoids
Mechoulam's discovery of THC led to a surge in research aiming to understand how this compound produced its effects. It was evident that THC was interacting with specific receptors in the brain, but what were these receptors? And why did our brains have receptors that could interact with a plant compound?
By the 1980s, the plot thickened. Researchers identified specific receptors in the brain that THC bound to. These were termed CB1 receptors. Later, a second type of receptor, CB2, was discovered in the immune system. This discovery was puzzling. Why would our bodies evolve receptors for a plant compound?
The answer came in the 1990s when scientists made a revolutionary discovery. Our bodies produce compounds that are structurally similar to THC, and these naturally occurring compounds interact with the CB1 and CB2 receptors. These were termed "endocannabinoids" – 'endo' meaning within and 'cannabinoid' denoting their similarity to compounds found in the cannabis plant. The primary difference? While phytocannabinoids like THC come from plants, endocannabinoids are produced within our bodies [1].
The Evolution of our Understanding of Endocannabinoids
With the identification of endocannabinoids, it became evident that these compounds played crucial roles in various physiological processes. This revelation shifted the narrative from viewing cannabinoids merely as compounds found in a recreational drug to appreciating their role in the intricate symphony of human biology.
Since then, research on endocannabinoids has exploded, revealing their involvement in a myriad of functions ranging from pain perception to mood regulation. As scientists uncover more about these fascinating molecules, it's clear that their historical association with cannabis was just the tip of the iceberg.
The Endocannabinoid System (ECS)
Peeling back the layers of the human body's complexities, we encounter countless systems working in tandem to maintain harmony. Among these, the Endocannabinoid System (ECS) stands out, not just because of its intriguing origins tied to cannabis, but due to its profound influence on many aspects of our physiology.
Basic Anatomy and Components of the ECS
The ECS is a complex cell-signaling system, vital for maintaining homeostasis in the body. Think of it as a vast network of messengers and receivers ensuring that various physiological processes run smoothly. To comprehend the workings of this system, we need to familiarize ourselves with its core components [2].
CB1 and CB2 Receptors
Receptors are protein-based structures that sit on the surface of cells, waiting to receive specific signals. In the ECS, there are two primary types of receptors: CB1 and CB2.
CB1 receptors are predominantly found in the brain, but also appear throughout the body. Their presence in the brain explains why phytocannabinoids like THC, from the cannabis plant, can have a direct psychoactive impact. When THC enters the bloodstream and reaches the brain, it binds with CB1 receptors, leading to the feeling of being "high."
CB2 receptors, on the other hand, are more common in the immune system and peripheral tissues. Their role is less understood than CB1 receptors, but evidence points to their involvement in managing inflammation and pain.
Anandamide (AEA) and 2-Arachidonoylglycerol (2-AG)
Anandamide (AEA) and 2-Arachidonoylglycerol (2-AG) are the superstar endocannabinoids of our body. These are molecules produced naturally by our cells to interact with the CB1 and CB2 receptors.
Anandamide, often dubbed the "bliss molecule," is believed to play roles in mood, happiness, and even in processes like ovulation. Its name comes from the Sanskrit word "Ananda," which means "joy" or "bliss."
2-AG, meanwhile, is involved in various functions, including modulating immune system activity, appetite, and pain sensation. Its levels tend to be higher than AEA in the body, indicating its widespread influence.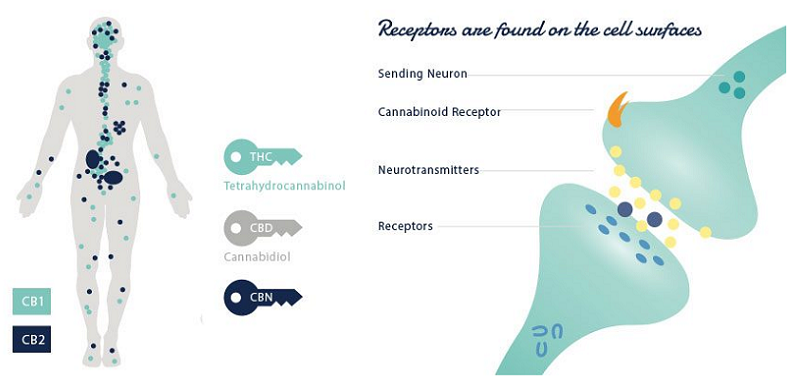 Functions and Processes Modulated by ECS
The ECS doesn't operate in isolation; it intertwines with several physiological systems to maintain balance and optimal function. While the range of processes influenced by the ECS is vast, we'll delve into some of the most notable ones [3].
Mood and Emotion
Research has illuminated the critical role of the ECS in modulating our emotions and overall mood. Anandamide, for instance, plays a part in generating feelings of happiness and well-being. When our body's production of such endocannabinoids is disrupted, it may result in mood disorders.
Appetite and Digestion
Ever wondered about the infamous "munchies" after cannabis consumption? You can thank the ECS for that! Endocannabinoids influence our appetite. For instance, when 2-AG binds to CB1 receptors in the brain, it can stimulate appetite. This mechanism has potential therapeutic implications for conditions like anorexia or cachexia (wasting syndrome).
Pain Perception
Pain is a protective mechanism, alerting us to potential harm. However, chronic pain can be debilitating. The ECS is intimately involved in modulating pain perception. Both CB1 and CB2 receptors play roles in pain signaling pathways, making them targets for potential pain therapies.
Sleep
The ECS also plays a role in regulating our sleep patterns. Alterations in endocannabinoid levels have been associated with sleep disturbances. Targeting the ECS might hold promise for addressing sleep disorders, offering a new avenue for research in this realm.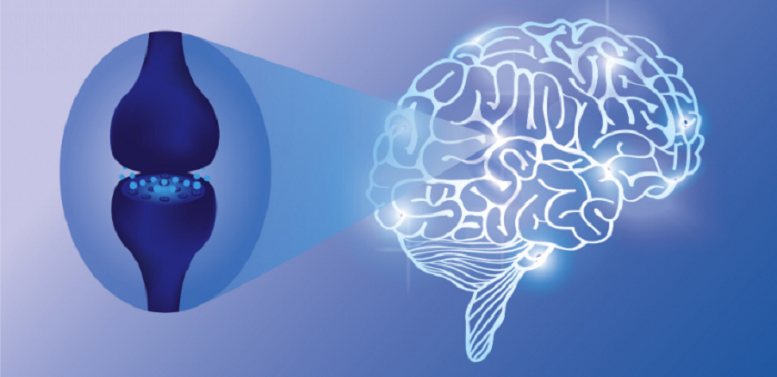 Endocannabinoids and Cognitive Health
As we navigate the intricacies of the human brain, the significance of endocannabinoids in maintaining and optimizing cognitive health becomes more apparent. From shielding neurons to regulating synaptic activity, these potent compounds have a profound impact on how we think, remember, and feel.
Neuroprotective Properties
One of the most remarkable attributes of endocannabinoids is their potential to protect our neural architecture. The brain, a delicate organ, is constantly under threat from various internal and external factors. Endocannabinoids play a protective role, ensuring that our neural networks remain resilient and robust.
Antioxidant Capabilities
Our brain, while being a center of activity, is susceptible to oxidative stress. Free radicals – unstable molecules that can damage cellular structures – are a primary source of this stress. Enter endocannabinoids: compounds like Anandamide have shown antioxidant properties, neutralizing these harmful free radicals. By doing so, they help protect brain cells from damage and premature aging.
Mitigation of Neuroinflammation
Inflammation, in controlled amounts, is a protective response. However, chronic inflammation in the brain can lead to cognitive decline and even conditions like Alzheimer's disease. Research has shown that endocannabinoids can modulate inflammatory processes in the brain, potentially offering protection against neurodegenerative diseases [4].
Memory and Learning
Endocannabinoids aren't just guardians of our neurons; they also influence the very processes that allow us to learn and remember.
Role in Synaptic Plasticity
Synaptic plasticity is the ability of synapses – connections between neurons – to strengthen or weaken over time, a crucial factor for learning and memory. Endocannabinoids have been found to play a pivotal role in modulating this plasticity. For instance, they can influence long-term potentiation (LTP), a strengthening of synapses based on recent patterns of activity. This modulation has profound implications for how we acquire new information and retain memories.
Potential Impacts on Alzheimer's and Other Cognitive Disorders
Given their role in neuroprotection and synaptic modulation, researchers are keenly interested in the potential of endocannabinoids to influence neurodegenerative conditions like Alzheimer's. Preliminary studies suggest that modulating the ECS might offer therapeutic benefits in slowing cognitive decline and mitigating the symptoms of such disorders [5].
Mood Regulation and Mental Health
Beyond the realm of pure cognition, endocannabinoids exert significant influence over our emotional landscape.
Endocannabinoids in Depression and Anxiety
Mood disorders like depression and anxiety are complex conditions influenced by a multitude of factors. Growing evidence suggests that dysregulation in the ECS might be linked to these disorders. For instance, lowered levels of Anandamide have been observed in individuals with depression. Understanding these links paves the way for potential endocannabinoid-based therapies for mood disorders.
Potential Therapeutic Implications
Given the involvement of endocannabinoids in mood regulation, there's burgeoning interest in harnessing them for therapeutic interventions. While research is still in its infancy, the future may see novel treatments for mental health disorders that target the ECS, providing more targeted and effective solutions.
References

[1] The 'runner's high' may result from molecules called cannabinoids
[2] Endocannabinoids in nervous system health and disease
[3] The endocannabinoid system: Essential and mysterious
[4] What to know about endocannabinoids and the endocannabinoid system
[5] Endocannabinoids