Vasopressin and Memory: The Antidiuretic Hormone's Cognitive Link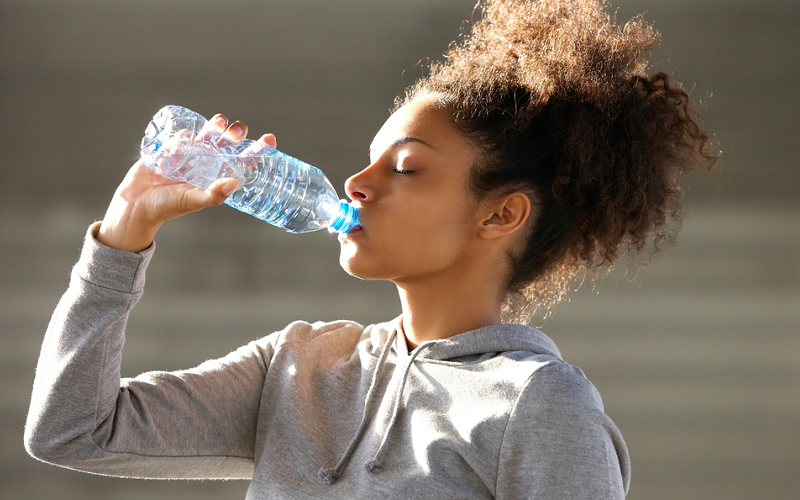 Vasopressin, commonly known as the antidiuretic hormone, is widely recognized for its critical role in maintaining the body's water balance and blood pressure. However, recent research has unveiled a surprising cognitive link between vasopressin and memory. Here we delve into the fascinating connection between this hormone and its impact on various aspects of memory formation and retrieval.
Understanding Vasopressin
Vasopressin, also known as arginine vasopressin (AVP) or antidiuretic hormone (ADH), is a neurohypophysial hormone produced primarily in the hypothalamus of the brain. It is a small peptide hormone composed of nine amino acids and plays a crucial role in various physiological processes, including fluid balance, blood pressure regulation, and kidney function.
Production and Release of Vasopressin
Vasopressin is synthesized in specialized neurons called magnocellular neurosecretory cells located in the supraoptic and paraventricular nuclei of the hypothalamus [1]. Once produced, vasopressin is transported along axons to the posterior pituitary gland, where it is stored in vesicles called Herring bodies. Upon receiving signals from the brain, such as a decrease in blood volume or an increase in blood osmolarity, vasopressin is released from the Herring bodies into the bloodstream to exert its effects on target organs like the kidneys, blood vessels, and liver.
Primary Functions of Vasopressin
The primary functions of vasopressin extend beyond its well-known role in maintaining the body's water balance. By examining its impact on blood pressure regulation and other physiological processes, we gain a comprehensive understanding of this multifaceted hormone.
Regulation of water balance
The primary function of vasopressin is to regulate the body's water balance by controlling the reabsorption of water in the kidneys [2]. Vasopressin binds to V2 receptors in the kidney's collecting ducts, increasing water permeability and allowing water to be reabsorbed back into the bloodstream. This process helps maintain proper hydration levels and prevent the excretion of excessively dilute or concentrated urine.
Blood pressure control
Vasopressin also plays a significant role in blood pressure regulation [3]. It acts on V1 receptors located on vascular smooth muscle cells, triggering vasoconstriction and consequently increasing blood pressure. Vasopressin's vasoconstrictive properties make it an important hormone in the body's response to acute blood loss and hemorrhagic shock.
Other known physiological functions
In addition to water balance and blood pressure regulation, vasopressin has been implicated in other physiological processes, such as thermoregulation, circadian rhythm regulation, and glucose homeostasis. Furthermore, vasopressin has notable effects on social behavior, stress response, and, as we will explore in this article, memory and cognitive function.

The Brain and Vasopressin
There exists an intricate relationship between vasopressin and the brain — vasopressin has an impact on social behavior, bonding, and neurodevelopment.
Vasopressin Receptors in the Brain
Vasopressin exerts its effects by binding to specific receptors in the brain, primarily V1a and V1b, as well as the previously mentioned V2 receptors [4]. These receptors are widely distributed throughout various brain regions, including the hippocampus, amygdala, and hypothalamus. The presence of vasopressin receptors in these areas suggests a critical role for vasopressin in modulating cognitive processes, emotional regulation, and stress response.
Vasopressin's Role in Social Behavior and Bonding
Research has demonstrated that vasopressin is involved in regulating social behavior and bonding, particularly in males. In animal studies, vasopressin has been shown to modulate social recognition, pair bonding, and aggression [5]. Studies in humans have also revealed that vasopressin may influence social cognition, empathy, and trust. Variations in the V1a receptor gene have been associated with differences in social behavior and attachment styles, further supporting the importance of vasopressin in these processes.
The Potential Role of Vasopressin in Neurodevelopment
Emerging evidence suggests that vasopressin may play a role in neurodevelopment, particularly during the critical periods of brain maturation. In animal studies, vasopressin has been shown to influence neural proliferation, differentiation, and migration.
These findings hint at a possible involvement of vasopressin in the development of cognitive function and behavioral traits. However, more research is needed to fully understand the role of vasopressin in human neurodevelopment and its implications for cognitive abilities and mental health.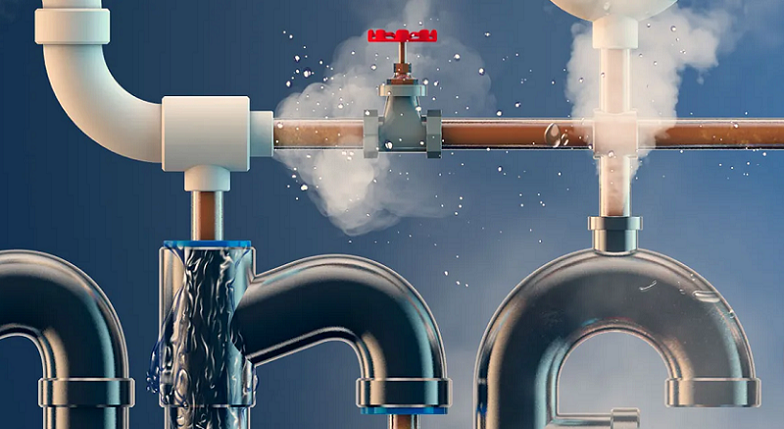 Vasopressin and Memory Formation
Memory formation is a complex process that involves encoding, storage, and retrieval of information. This process relies on the intricate interplay of various brain regions, neurotransmitters, and hormones. One critical aspect of memory formation is synaptic plasticity—the ability of synapses to strengthen or weaken over time in response to changes in activity. This plasticity underlies long-term potentiation (LTP) and long-term depression (LTD), which are crucial for learning and memory consolidation.
Vasopressin's Impact on Synaptic Plasticity
Vasopressin modulates long-term potentiation (LTP) and long-term depression (LTD), two critical processes that shape the strength and efficiency of synaptic connections.
Long-term potentiation (LTP)
Vasopressin has been shown to modulate synaptic plasticity, particularly in the hippocampus—a brain region critical for memory formation. Research indicates that vasopressin can facilitate LTP, a process that strengthens synaptic connections in response to repeated stimulation [6]. By enhancing LTP, vasopressin may improve the encoding and consolidation of new memories.
Long-term depression (LTD)
In addition to its effects on LTP, vasopressin has also been implicated in modulating LTD, a process that weakens synaptic connections in response to low-frequency stimulation [7]. LTD is essential for eliminating unnecessary or irrelevant information and refining synaptic connections. By influencing both LTP and LTD, vasopressin plays a crucial role in fine-tuning synaptic plasticity to optimize memory formation and storage.
Role of Vasopressin in Learning and Memory Consolidation
Studies have shown that administration of vasopressin can enhance various types of learning and memory, such as spatial memory, social recognition memory, and fear conditioning [8]. Moreover, vasopressin appears to influence memory consolidation—the process by which newly acquired information is stabilized and integrated into long-term memory.
Research has demonstrated that vasopressin release in the brain increases during memory consolidation, suggesting a pivotal role for this hormone in solidifying newly formed memories. Overall, these findings highlight the remarkable influence of vasopressin on memory formation processes.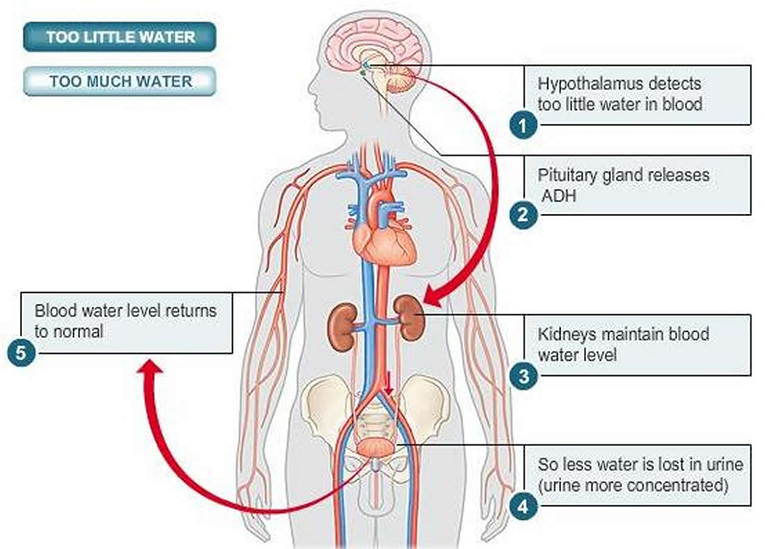 Vasopressin, Stress, and Memory
There's a complex relationship between vasopressin, stress, and memory. By examining the various ways in which vasopressin modulates stress-induced memory changes, we gain a deeper understanding of its role in shaping our cognitive and emotional responses to the challenges of daily life.
Vasopressin's Interaction With the Stress Hormone Cortisol
Vasopressin interacts with cortisol, a key stress hormone produced by the adrenal glands [9]. Cortisol and vasopressin are released in response to stressors and work together to modulate the body's stress response. These hormones also influence memory processes, with cortisol having a complex and sometimes contradictory impact on memory formation and retrieval, depending on factors such as stress intensity and timing. The interaction between vasopressin and cortisol adds an additional layer of complexity to the relationship between stress and memory.
Effects of Stress on Memory Formation and Retrieval
Stress can have both enhancing and impairing effects on memory. In some cases, stress facilitates memory formation by strengthening the encoding and consolidation of emotionally salient information. This adaptive response ensures that individuals can learn and remember vital information necessary for survival. However, excessive or chronic stress can impair memory formation and retrieval, leading to cognitive deficits and difficulties in learning new information.
How Vasopressin Modulates Stress-induced Memory Changes
Vasopressin has been found to modulate stress-induced memory changes in several ways. For example, vasopressin can enhance the consolidation of emotionally salient memories, particularly those associated with aversive or threatening experiences [10]. This effect may be mediated through vasopressin's action on the amygdala, a brain region crucial for processing emotions and fear-related memories.
Conversely, vasopressin can also mitigate the negative effects of stress on memory. Studies have shown that blocking vasopressin receptors can prevent stress-induced impairments in memory formation and retrieval, suggesting a potential therapeutic target for stress-related memory disorders.
Clinical Implications of Vasopressin's Cognitive Link
There are clinical implications of the cognitive link between vasopressin and memory, with the potential of vasopressin-based therapies for memory disorders and cognitive decline.
Vasopressin-based Therapies for Memory Disorders
The growing understanding of vasopressin's role in memory formation and its interaction with stress has opened the door to potential therapeutic applications for memory disorders and cognitive decline.
Alzheimer's disease
Alzheimer's disease is a progressive neurodegenerative disorder characterized by memory loss, cognitive decline, and behavioral changes. Research has shown that patients with Alzheimer's disease have altered vasopressin levels and function, suggesting a possible connection between vasopressin and the disease's pathophysiology. Vasopressin-based therapies may hold promise for alleviating memory deficits and cognitive decline in Alzheimer's patients, although more research is needed to determine their safety and efficacy [11].
Cognitive impairment due to aging or brain injury
Vasopressin-based therapies may also be beneficial for individuals with age-related cognitive decline or memory impairments caused by traumatic brain injury. Studies have shown that vasopressin administration can enhance memory and cognitive function in both animals and humans, indicating potential therapeutic value for various forms of cognitive impairment.
Limitations and Potential Side Effects of Vasopressin-based Treatments
Despite the promising therapeutic potential of vasopressin-based treatments, there are limitations and potential side effects to consider. For instance, vasopressin administration can cause water retention and hyponatremia (low blood sodium levels), which could be dangerous if not carefully monitored.
Additionally, vasopressin's effects on blood pressure and other physiological processes need to be taken into account when developing treatments. Further research is needed to optimize dosing, delivery methods, and safety profiles for vasopressin-based therapies.
Ongoing Research and Future Directions
Current research efforts continue to explore the cognitive link between vasopressin and memory, aiming to uncover the precise mechanisms through which vasopressin influences memory processes and to develop safe and effective therapies. As our understanding of vasopressin's role in memory formation deepens, it is likely that new therapeutic targets and strategies will emerge, offering hope for individuals suffering from memory disorders and cognitive decline.
References

[1] The Vasopressin System: Physiology and Clinical Strategies
[2] Antidiuretic Hormone (ADH), Vasopressin
[3] Role of Vasopressin Deficiency in the Vasodilation of Septic Shock
[4] Vasopressin V1a and V1b Receptors: From Molecules to Physiological Systems
[5] Oxytocin and Vasopressin: Powerful Regulators of Social Behavior
[6] Neuromodulation by Oxytocin and Vasopressin
[7] Modulation of social behavior by distinct vasopressin sources
[8] Thyroid Hormones: A Critical Player in Brain Health and Cognition
[9] Vasopressin as a Stress Hormone
[10] Sleep and Cortisol Interact to Support Memory Consolidation
[11] Vasopressin in Alzheimer's disease: a study of postmortem brain concentrations