The Neuroscience Behind Labyrinth Walking
There is a fascinating connection between neuroscience and the ancient practice of labyrinth walking. A labyrinth, different from a maze, offers a single, meandering path to the center and back out again. This practice has a rich cultural and historical significance, used for centuries as a tool for meditation, spiritual growth, and problem-solving.
Labyrinth walking has been growing in popularity in recent years, seen as an intriguing blend of physical activity, mindfulness, and cognitive stimulation. It is believed to offer a wealth of benefits, from stress reduction to memory improvement, but what does neuroscience have to say about these claims?
Introduction to Labyrinth Walking
Have you ever walked a labyrinth? No, not a maze – we're not talking about high-walled puzzles where you can get lost. A labyrinth, in contrast, is a single winding path leading to the center and back out again. It has been a tool for spiritual growth, meditation, and problem-solving for centuries. In today's world, with our increasingly hectic lifestyles and relentless digital distractions, this ancient practice is finding new relevance.
Brief Description of Labyrinth Walking
Labyrinth walking is a contemplative activity where one walks a circular, spiraling path to the center of a labyrinth and then retraces their steps back out. While the design of labyrinths can vary, they all share a common principle – there's only one way in and one way out, and no decisions need to be made about the direction to take. This simplicity is what allows individuals to focus inwardly and engage in meditative thought.
Historical Importance and Cultural Significance
Labyrinths have been an integral part of numerous cultures across the globe, with examples dating back to the Bronze Age. They've been found in Greece, India, Peru, Iceland, and several other countries. They've been etched into stone, laid out in tiles, designed into gardens, and even woven into basket designs.
In many cultures, labyrinths have been seen as sacred patterns, symbolizing journeys, spiritual quests, or paths of wisdom. During the Middle Ages, labyrinth walking became a popular substitute for pilgrimage among Christians who were unable to travel to Jerusalem. More recently, labyrinths have been incorporated into modern healthcare settings like hospitals and hospices, where they're used as a tool for stress reduction and fostering mindfulness [1].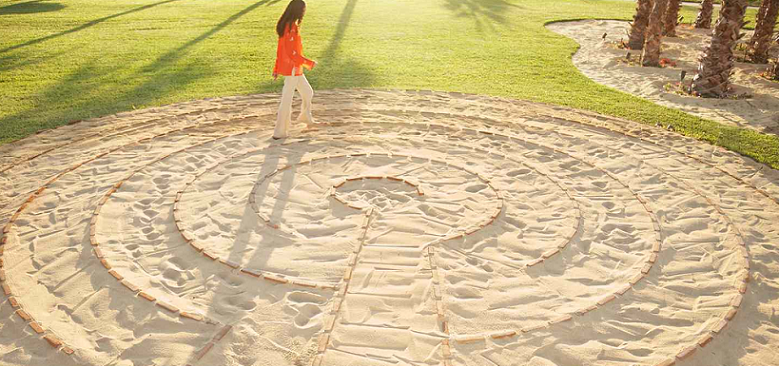 Understanding the Concept of a Labyrinth
Before we delve deeper into the neuroscience of labyrinth walking, let's spend a little time understanding what exactly a labyrinth is. A clear understanding of the concept will lay the groundwork for the subsequent discussion.
Definitions: Labyrinth vs Maze
The terms "maze" and "labyrinth" are often used interchangeably in common language, but there is a crucial difference between the two. A maze is a complex branching puzzle with choices of path and direction, often involving dead ends and trick turns designed to confuse and challenge. The goal is typically to find the correct path from start to finish.
A labyrinth, on the other hand, has a single, non-branching path, which leads to the center and then back out the same way, with no choices or dead ends. The path twists and turns back on itself many times before reaching the center. It's impossible to get lost in a labyrinth. The goal here is not to reach an end, but rather to enjoy the journey, to reflect, and to meditate.
Different Types of Labyrinths
Labyrinths come in various forms and designs, each with its unique history and symbolism. The two primary categories of labyrinths are classical and medieval.
Classical labyrinths, also known as seven-circuit labyrinths, are the most ancient type, found in numerous cultures worldwide. The circuits refer to the number of times the path loops around before reaching the center. These labyrinths are typically circular, with a single winding pathway leading to the center and back.
Medieval labyrinths, like the famous one in Chartres Cathedral in France, are often much more intricate. They are characterized by a complex series of turns, usually featuring four quadrants and multiple circuits – often eleven or twelve. The Chartres design is a popular model for modern labyrinths due to its beauty and historical significance [2].
How Labyrinth Walking is Practiced Today
Today, labyrinth walking is practiced for various purposes – relaxation, meditation, spiritual growth, or simply as an exercise in mindfulness. Some people walk labyrinths as part of religious or spiritual rituals, while others do so as a form of personal reflection or stress relief.
The practice is simple: you start at the entrance and follow the path. There's no right way to walk a labyrinth – you can walk slowly, quickly, pause as you like, it's entirely up to you. The key is to be mindful of the experience, to pay attention to your thoughts, feelings, and sensations as you move along the path. For many, the act of labyrinth walking is meditative, providing a space for introspection and inner peace.
The Neuroscience Basics
Now that we've laid the groundwork with a solid understanding of what a labyrinth is, let's turn our attention to some fundamentals of neuroscience. Neuroscience is the scientific study of the nervous system and the brain. It's a wide-ranging field, but we'll focus on a few key concepts that will help us better understand the effects of labyrinth walking.
Brief Overview of the Human Brain
The human brain is a remarkable organ, the control center for virtually every aspect of human life. Comprised of approximately 86 billion neurons or nerve cells, the brain manages everything from basic bodily functions to our most complex thoughts and emotions.
The brain is typically divided into several regions, each responsible for different functions. Key areas include the prefrontal cortex, which is involved in decision making and personality traits; the hippocampus, essential for memory formation; and the amygdala, which plays a crucial role in processing emotions.
Basic Neuroscientific Principles: Neuroplasticity, Mind-Body Connection
One of the most important concepts in neuroscience is neuroplasticity – the brain's ability to change and adapt as a result of experience. This can involve the strengthening of connections between neurons (synaptic plasticity) or even the growth of new neurons (neurogenesis), particularly in the hippocampus.
Closely related to neuroplasticity is the concept of the mind-body connection. This principle suggests that our mental state can influence our physical health and vice versa. A clear example of this is stress: chronic stress can lead to physical health problems, while regular physical activity can improve mental health [3].
The Role of Neurotransmitters in Human Behavior and Emotions
Neurotransmitters are chemical messengers that transmit signals across a synapse, the small gap between neurons. Different neurotransmitters play different roles in influencing how we think, feel, and behave. For example, dopamine is associated with reward and pleasure, serotonin with mood regulation, and norepinephrine with attention and alertness.
These chemicals can be influenced by various factors, including our activities and experiences. This is where practices such as labyrinth walking come in – they have the potential to influence our brain's function, and thereby our thoughts, feelings, and behaviors [4].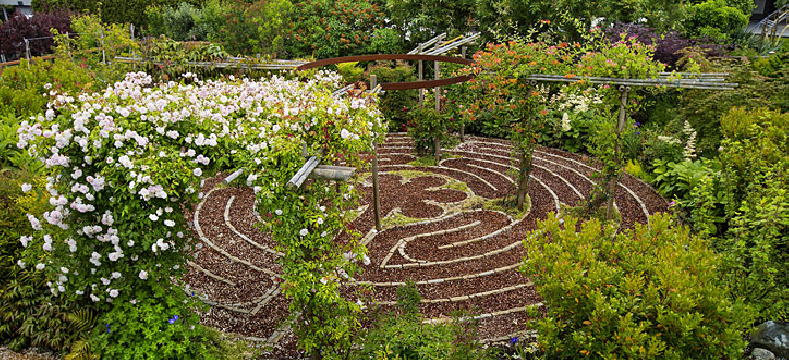 The Neuroscience of Walking
Walking is one of the most fundamental human activities. It's something we often take for granted, but walking has profound effects on our brains.
How Walking Stimulates the Brain
Walking is much more than just a physical activity; it is a cognitive one as well. When we walk, especially in unfamiliar environments, we engage various mental processes, including navigation, perception, and problem-solving. This cognitive engagement helps stimulate brain activity and can potentially enhance various aspects of brain health.
The physical act of walking also stimulates the production of various growth factors, chemicals that promote neuronal health and growth. Among these is brain-derived neurotrophic factor (BDNF), a protein that supports the survival of existing neurons and encourages the growth and differentiation of new neurons and synapses. This is particularly crucial in areas like the hippocampus, which plays a key role in memory and learning.
Health Benefits of Walking: Physical and Mental
Walking regularly has numerous health benefits, both physical and mental. Physically, it helps maintain a healthy weight, strengthens bones and muscles, and reduces the risk of various health conditions, including heart disease and type 2 diabetes.
Mentally, walking has been found to reduce symptoms of depression and anxiety. Regular walking, especially in natural environments, can reduce stress, improve mood, and enhance overall mental well-being. This likely involves a combination of physical factors (such as increased blood flow and the release of endorphins) and psychological ones (like the opportunity for relaxation and reflection) [5].
The Connection between Walking and Cognitive Functions
Beyond its immediate mood-enhancing effects, walking has also been associated with improved cognitive function. Regular physical activity, including walking, is associated with better memory, attention, and cognitive speed. It can also help slow cognitive decline associated with aging.
One study found that walking for 40 minutes three times a week can increase the size of the hippocampus, an area of the brain involved in memory formation. Other research suggests that walking can stimulate the connectivity between brain regions and enhance cognitive flexibility, the ability to switch between tasks or thoughts.
All these benefits are not exclusive to intense walking; even gentle, leisurely walks can have positive effects on brain health. That's where the practice of labyrinth walking comes in, combining the benefits of walking with the cognitive stimulation and mindfulness inherent in navigating the labyrinth's winding path.
The Neuroscientific Implications of Labyrinth Walking
Having understood the basic principles of neuroscience and the neurological benefits of walking, let's dive into the heart of the matter – the intersection of neuroscience and labyrinth walking. This unique practice, combining physical activity with a deeply contemplative experience, may have a distinct set of neurological implications.
The Meditative Aspect: Labyrinth Walking as a Form of Mindfulness
Labyrinth walking is often described as a moving meditation. The simple, non-branching path allows the walker to focus less on the destination and more on the journey, cultivating a state of mindfulness [6].
Brain Changes During Meditation
Research has shown that regular meditation can result in measurable changes in the brain. For example, studies have found increased thickness in the prefrontal cortex, an area associated with attention and decision-making, and the hippocampus, crucial for learning and memory.
In addition, meditation has been found to decrease activity in the amygdala, the part of the brain associated with stress and fear responses. These changes may contribute to the enhanced emotional regulation, reduced stress, and improved cognitive function often reported by regular meditators.
Impact of Mindfulness on Brain Health
Practicing mindfulness, as one might while walking a labyrinth, has been shown to benefit brain health in several ways. It has been associated with improvements in attention, memory, and cognitive flexibility. It can also increase gray matter density in the prefrontal cortex and decrease it in the amygdala, suggesting increased emotional regulation and reduced stress.
The Physical Aspect: How the Brain Responds to the Unique Pattern of Walking in a Labyrinth
The physical act of walking a labyrinth – following the winding path to the center and back – may provide additional neural stimulation. This comes from the proprioceptive and vestibular information processed by the brain as you navigate the turns of the labyrinth.
Furthermore, the rhythm and predictability of the path may induce a state of flow, a mental state characterized by complete immersion in an activity, often associated with a sense of joy and fulfillment. Being in a flow state has been linked to enhanced creativity and problem-solving abilities.
Labyrinth Walking and Memory Improvement
Combining physical activity with cognitive engagement, as labyrinth walking does, could have particular benefits for memory. Physical activity boosts the production of BDNF, a protein essential for memory, while the cognitive engagement stimulates hippocampal activity. By integrating movement, mindfulness, and spatial navigation, labyrinth walking may offer a potent stimulus for memory enhancement.
Stress Relief and Labyrinth Walking: Role of the Parasympathetic Nervous System
One of the most commonly reported benefits of labyrinth walking is stress relief. This may be due, in part, to the activation of the parasympathetic nervous system, also known as the "rest and digest" system. This system helps to slow the heart rate, increase intestinal activity, and promote relaxation – providing a counterbalance to the stress response.
References

[1] Walking the labyrinth: An exercise in self-healing
[2] Effects of Reflective Labyrinth Walking Assessed Using a Questionnaire
[3] Labyrinths: Walking A Right-Brain Spiritual Path
[4] Exploring the Effects of Walking the Labyrinth
[5] Short-term autonomic nervous system and experiential responses during a labyrinth walk
[6] Amazing Maze: What Science Says About Solving Labyrinths