Cerebral Circulation: The Vital Role of Blood Flow in Cognitive Health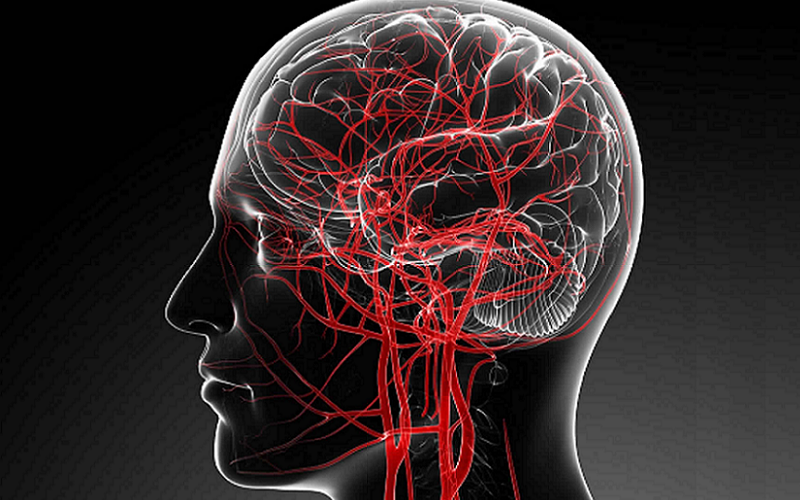 The brain, an intricate organ weighing just about three pounds, is the epicenter of our thoughts, memories, dreams, and emotions. Yet, it's easy to overlook one of its most fundamental needs: a steady and healthy flow of blood. Cerebral circulation, the movement of blood through the network of blood vessels in our brain, plays a pivotal role in ensuring our cognitive faculties remain sharp and efficient. But how does blood flow influence our ability to think, remember, or even feel? And how can we optimize this flow for a healthier mind?
Introduction to Cerebral Circulation
The human brain, often hailed as the most complex and vital organ in our body, orchestrates an intricate dance of thoughts, memories, emotions, and reactions. Ensuring its health and functionality is paramount to our overall well-being. However, what many may not immediately recognize is that the vitality of our cognitive functions is closely tied to the flow of blood within the brain.
Definition of Cerebral Circulation
Cerebral circulation refers to the movement of blood through the extensive network of blood vessels that serve the brain. This system ensures that the brain consistently receives the necessary nutrients and oxygen to function optimally, while also removing waste products. Proper blood flow is crucial; even a brief interruption can have significant repercussions, leading to cognitive deficits or even severe brain damage.
Overview of its Importance for Brain Health
Blood is the lifeline of the brain. It carries essential nutrients and oxygen that fuel brain cells, helping them perform their roles effectively. Additionally, an efficient circulation system aids in removing metabolic waste and toxins, safeguarding the brain against potential damage. In essence, understanding cerebral circulation is fundamental to grasping how our brain functions, ages, and responds to various internal and external influences.
Anatomy of the Cerebral Circulation System
Our brain, while accounting for only about 2% of our body weight, consumes nearly 20% of the oxygen and nutrients delivered by our bloodstream. This voracious appetite underscores the importance of the cerebral circulation system. To appreciate the intricate relationship between blood flow and brain function, it's essential to understand the architecture of the vessels and channels that facilitate this vital exchange.
Major Blood Vessels of the Brain
The brain's blood supply primarily originates from two main sets of arteries, which branch out and intricately wind their way through our cerebral landscape. These arteries ensure that every corner of the brain receives the oxygenated blood it requires.
Carotid Arteries
There are two carotid arteries – one on each side of the neck. These arteries are responsible for supplying blood to the large, front part of the brain, where critical thinking, personality, speech, and sensory and motor functions reside.
Vertebral Arteries
Running alongside the spinal cord, the vertebral arteries merge to form the basilar artery, which supplies blood to the posterior part of the brain. This region controls many of the body's autonomic functions, such as balance, vision, and coordination.
Circle of Willis
A circular connection of blood vessels located at the base of the brain, the Circle of Willis, acts as a redistribution hub. It connects the carotid and vertebral arterial systems, ensuring a continuous flow of blood to the brain even if one pathway becomes obstructed. This redundancy plays a critical role in preventing brain damage in certain conditions [1].
Venous System
While arteries deliver oxygenated blood to the brain, veins are responsible for carrying away deoxygenated blood and metabolic waste products. The venous system ensures that the brain environment remains optimal for neural functions.
Major Sinuses
The brain contains large venous channels known as sinuses. These dural sinuses, including the superior sagittal sinus and the transverse sinus, act as primary routes for deoxygenated blood, directing it away from the brain towards the heart and lungs.
Venous Drainage
After the blood has delivered its nutrients and oxygen to the brain, it is collected in smaller veins, which coalesce into larger ones. These veins eventually drain into the dural sinuses, completing the circulation loop and preparing the blood to be re-oxygenated in the lungs.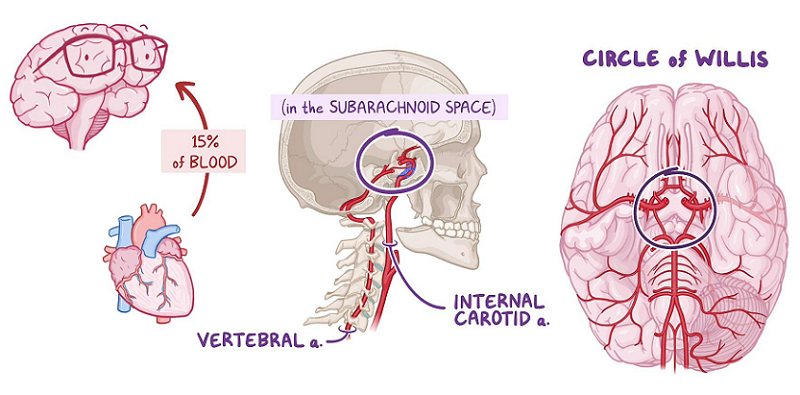 The Relationship Between Blood Flow and Brain Function
At its core, the brain is a dynamic symphony of electrical and chemical reactions. Every memory we form, every emotion we feel, and every decision we make hinges on these intricate processes. Fueling these processes is the constant delivery of oxygen and nutrients via our cerebral circulation system.
Oxygen and Nutrient Delivery
Our neurons, the primary cells responsible for transmitting information within the brain, have a relentless need for sustenance, making the continuous supply of oxygen and essential nutrients non-negotiable.
Energy Production
Glucose, carried by the blood, is the brain's primary source of energy. It powers the constant firing of neurons, ensuring that our cognitive processes, from deep concentration to daydreaming, occur without a hitch. Without an adequate supply of glucose, our mental capacities can diminish, leading to confusion, dizziness, and in severe cases, loss of consciousness [2].
Synaptic Function
Beyond energy, the blood delivers crucial nutrients that bolster synaptic function. Synapses are the junctions where neurons communicate. Various nutrients, such as magnesium and omega-3 fatty acids, facilitate neurotransmitter production and synaptic plasticity, crucial for learning and memory.
Waste Removal
As essential as the delivery of nutrients is, equally vital is the removal of waste. Accumulation of waste products can interfere with brain function, leading to cognitive decline and heightened risks of certain neurological disorders.
Metabolic Byproducts
Every cellular activity results in byproducts. For neurons, this includes spent neurotransmitters and other metabolic waste. Efficient blood flow ensures these are whisked away, preventing toxic accumulation that could hinder neural communication.
Relationship with Neurodegenerative Diseases
Recent research points to the importance of efficient waste removal in preventing neurodegenerative conditions. For example, inadequate clearance of beta-amyloid, a protein fragment, has been linked to Alzheimer's disease. Effective cerebral circulation aids in reducing the accumulation of such harmful substances, potentially decreasing the risk of these debilitating conditions.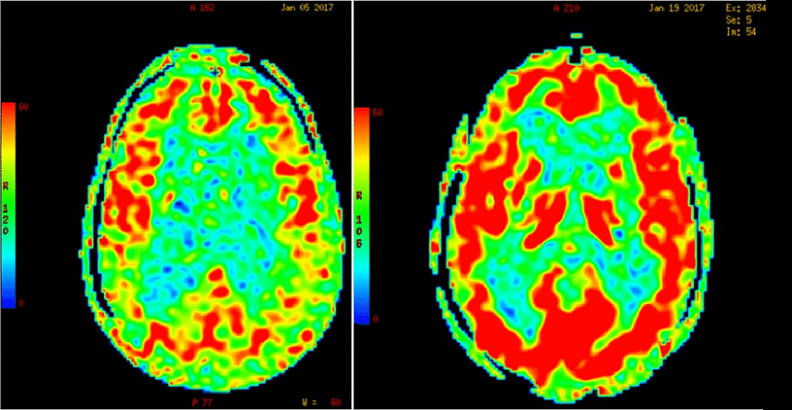 Factors Affecting Cerebral Blood Flow
The harmony of our brain's processes rests heavily on the efficiency of cerebral blood flow. However, several factors can disrupt this flow, either enhancing or hindering the brain's nourishment. Recognizing these influencing factors is the first step to optimizing cerebral circulation and, consequently, safeguarding our cognitive health.
Age
As the seasons of life progress, our entire body undergoes various changes, and our cerebral circulation is no exception.
With aging, blood vessels may lose some of their elasticity, making them less responsive to the brain's changing blood flow needs. There's also a risk of reduced vessel density, meaning fewer capillaries to deliver nutrients and oxygen to brain cells. This can contribute to the cognitive changes some individuals experience as they grow older.
Cardiovascular Health
The health of our heart and larger vascular system is intrinsically linked to the wellbeing of our cerebral circulation.
Hypertension
High blood pressure, or hypertension, exerts excessive force against the walls of our blood vessels, including those in the brain. Over time, this can lead to damages, such as narrowing or hardening of the arteries, potentially reducing blood flow to critical brain areas and increasing the risk of cognitive impairment [3].
Cholesterol Levels
Elevated levels of bad cholesterol (LDL) can lead to the build-up of plaques in the arteries, a condition known as atherosclerosis. In the brain, this can reduce blood flow, depriving neurons of essential nutrients and oxygen. Notably, this condition has been linked to an increased risk of stroke and vascular dementia.
Diabetes
Chronic high blood sugar levels, characteristic of diabetes, can damage blood vessels throughout the body, including the brain. This damage can lead to reduced or erratic blood flow, potentially affecting cognitive functions and increasing the risk of stroke.
Lifestyle Choices
The choices we make daily, from our diet to our leisure activities, play a pivotal role in determining our cerebral blood flow.
Smoking
Tobacco use can lead to the constriction and damage of blood vessels, impairing blood flow. In the brain, this can manifest as reduced cognitive abilities and an increased risk of stroke.
Alcohol Consumption
While moderate alcohol consumption may have certain cardiovascular benefits, excessive drinking can have detrimental effects on cerebral circulation. It can lead to hypertension, irregular heart rhythms, and even direct toxicity to brain cells.
Physical Activity
Regular physical activity promotes cardiovascular health, enhancing blood flow throughout the body, including the brain. Exercise stimulates the release of molecules that support vascular health and neuroplasticity, boosting cognitive function and potentially reducing the risk of neurodegenerative diseases.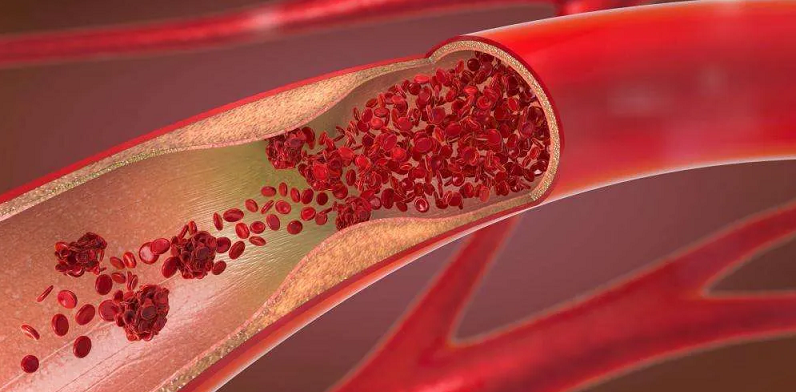 How Poor Cerebral Circulation Impacts Cognition
The intricate pathways of our cerebral circulation are more than mere vessels; they're lifelines, ensuring that every neuron receives the sustenance it needs to function optimally. But what happens when this blood flow is compromised? Understanding the cognitive implications of poor cerebral circulation offers a sobering view into the necessity of maintaining a healthy vascular system.
Cognitive Decline
Reduced or inconsistent blood flow can have immediate and long-term effects on our cognitive abilities.
Memory Impairment
One of the most evident manifestations of diminished cerebral circulation is memory lapses. The hippocampus, the brain's memory hub, is particularly sensitive to changes in oxygen and nutrient levels. With reduced blood flow, both short-term recall and the formation of long-term memories can be affected.
Reduced Processing Speed
The brain's ability to quickly process information and react to stimuli might slow down when deprived of adequate blood flow. This can result in prolonged reaction times and difficulty in multitasking [4].
Difficulty in Concentration
Consistent focus requires a stable supply of nutrients and oxygen to the brain. Interruptions or reductions in blood flow can lead to increased distractibility and difficulty in maintaining attention on tasks.
Mood Disturbances
Beyond pure cognitive abilities, our emotional landscape can also be influenced by the state of our cerebral circulation.
Depression and Anxiety
Reduced blood flow, especially in the frontal and prefrontal areas of the brain, has been linked to mood disorders like depression and anxiety. This relationship underscores the importance of vascular health in mental well-being.
Irritability
Decreased cerebral circulation can lead to heightened irritability and mood swings, potentially affecting interpersonal relationships and overall quality of life.
Increased Risk of Neurological Conditions
Chronic poor circulation doesn't just result in momentary lapses in cognition or mood; it can pave the way for more severe neurological conditions.
Stroke
An acute disruption in blood flow, often due to a clot or hemorrhage, can result in a stroke. Depending on its severity and location, a stroke can lead to profound cognitive and physical impairments.
Vascular Dementia
Vascular dementia is a direct result of reduced blood flow to the brain over extended periods. It manifests as cognitive decline, memory loss, and impaired judgment. It's the second most common form of dementia after Alzheimer's disease.
Alzheimer's Disease
While the exact cause of Alzheimer's is multifaceted, research suggests that poor cerebral blood flow can exacerbate the condition, potentially hastening the accumulation of harmful beta-amyloid plaques.
Strategies to Enhance Cerebral Circulation
While the implications of poor cerebral circulation can seem daunting, the beauty of the human body and brain lies in their adaptability. By adopting certain strategies and habits, we can not only maintain but even enhance the blood flow to our brain, thereby promoting optimal cognitive health.
Diet and Nutrition
The foods we consume play a pivotal role in determining the health of our cardiovascular and cerebral circulation systems.
Omega-3 Fatty Acids
Found in fatty fish, flaxseeds, and walnuts, omega-3 fatty acids are known to promote vascular health. Regular consumption can support the integrity of blood vessels, ensuring smooth blood flow to the brain [5].
Antioxidant-Rich Foods
Berries, nuts, dark chocolate, spinach, and artichokes are all rich in antioxidants. These compounds combat oxidative stress, a contributor to vascular damage. By incorporating these into our diet, we can support healthy blood vessels.
Reduce Sodium Intake
High salt consumption is linked to hypertension, which, as discussed earlier, can compromise cerebral circulation. Opting for fresh foods and reducing processed foods can help maintain healthy blood pressure levels.
Lifestyle Habits
Beyond what we eat, how we lead our daily lives can significantly impact cerebral blood flow.
Regular Exercise
Physical activity, be it brisk walking, yoga, or aerobic exercises, enhances cardiovascular health. By boosting heart function and promoting vascular elasticity, exercise ensures that the brain consistently receives oxygen-rich blood.
Adequate Sleep
Sleep isn't just for rest; it's a time when the brain actively clears out waste. Ensuring 7-9 hours of quality sleep can facilitate efficient waste removal and optimal cerebral blood flow.
Stress Management
Chronic stress can constrict blood vessels, hampering optimal blood flow. Techniques like meditation, deep breathing exercises, and journaling can be beneficial in managing and reducing stress levels.
Avoiding Toxins
Certain substances can directly impact blood flow, and being mindful of these can safeguard our cerebral circulation.
Limit Alcohol and Tobacco
As discussed earlier, excessive alcohol and tobacco can harm our vascular system. By limiting or eliminating these, we can enhance cerebral blood flow.
Reduce Caffeine Intake
While moderate caffeine can improve alertness, excessive consumption can constrict blood vessels. It's wise to monitor one's intake and notice its effects on one's cognition and mood.
Medical Check-ups and Interventions
Lastly, regular medical evaluations can catch and address any potential issues before they escalate.
Blood Pressure Monitoring
Consistent checks can ensure that blood pressure remains within healthy limits, thereby reducing the risk of vascular damages.
Cholesterol Checks
Monitoring and managing cholesterol levels can prevent atherosclerosis, ensuring unobstructed blood flow to the brain.
Medications and Therapies
For those with existing conditions or at risk, certain medications and therapies can be prescribed to enhance cerebral circulation.
References

[1] The Cerebral Circulation
[2] Cerebral circulation
[3] Brain Circulation
[4] Cerebral circulation 1: anatomy
[5] Regulation of the cerebral circulation