The Connection Between Fingernails and Brain Function: What Your Nails Might Say About Your Cognitive Health
The human body is a fascinating network of interlinked systems, where even the smallest part can reflect the condition of the whole. Our fingernails, often adorned and showcased as an aesthetic feature, hold deeper secrets than most might realize. Beyond being a canvas for color and art, nails serve as nuanced mirrors, revealing clues about our overall health and, intriguingly, about our cognitive function.
Anatomy and Function of Fingernails
It's no surprise that our fingernails, often seen as merely aesthetic features, actually serve fundamental roles in our daily lives. Before we delve into the deep correlation between nails and the brain, it's essential to understand the basic anatomy and core functions of our nails.
Basic Nail Anatomy
The human fingernail is a multifaceted structure, with each component serving a unique purpose. Breaking down its anatomy can offer insights into its function and potential health indicators.
Nail Matrix
Located beneath the base of the nail, hidden under the cuticle, the nail matrix is where nail growth originates. This tissue contains nerves, lymph and blood vessels, and is responsible for producing the cells that become the nail plate. Damage to the matrix can lead to long-term nail deformities.
Nail Bed
Directly under the nail plate lies the nail bed. This living skin anchors the nail plate to the finger. A good blood supply in this area gives the nail its pinkish appearance [1].
Cuticle
This is the thin layer of skin at the base of the nail. Acting as a protective barrier, the cuticle prevents bacteria and fungi from entering the body.
Lunula
Often called the "moon" of the nail, this small, whitish crescent shape can be seen at the nail base. The lunula is the visible portion of the nail matrix and plays a crucial role in forming the nail.
Primary Functions of Fingernails
Beyond their aesthetic appeal, fingernails have evolved to perform a number of practical functions in our daily lives.
Protection
One of the primary functions of the fingernail is to protect fingertips from injuries. Given the dense nerve endings in our fingertips, they are sensitive and vulnerable. Nails serve as a shield, protecting these areas from trauma [2].
Sensation Enhancement
The fingernail acts as a counterforce to the fingertip, enhancing tactile sensations. When we touch or feel an object, our nails provide resistance, which allows for better sensitivity and helps us discern details about the object.
Aid in Grip
Contrary to what one might believe, nails are not just rigid structures. Their slight flexibility aids in gripping objects, particularly fine or tiny ones, allowing us to pick up or hold items more efficiently.
How Fingernails Reflect Overall Health
Our fingernails are like windows into the inner workings of our body. Much like a doctor would look at the tongue or eyes for signs of health issues, nails can provide pivotal clues about our overall well-being. By understanding the various changes or conditions in our nails, we can glean insights into possible nutritional deficiencies or systemic diseases.
Nails as Indicators of Nutritional Deficiencies
Many of us have observed occasional differences in our nail appearances, like a white spot or a noticeable ridge. But rather than dismissing these as random occurrences, we should consider the underlying nutritional implications they might suggest.
Iron Deficiency (Koilonychia)
If you've noticed your nails appearing spoon-shaped or concave, this could be a sign of koilonychia. Often, this points to an iron deficiency, where the body lacks the necessary iron to produce hemoglobin for red blood cells.
Zinc Deficiency (White Spots)
White spots on nails are not just results of nail trauma. They could signify a zinc deficiency. Zinc, a vital nutrient, aids various bodily functions, including DNA synthesis and wound healing.
B Vitamin Deficiency (Ridges)
Vertical ridges running down the nails might seem like natural aging signs, but they can also indicate a deficiency in B vitamins, especially B12. These vitamins play a critical role in maintaining healthy skin and nails [3].
Signs of Systemic Diseases
Our nails can also act as the body's early warning system, pointing to diseases that affect more than just our nail health. Observing the nuanced changes in our nails and understanding their implications can be a proactive approach to health monitoring.
Yellow Nails (Respiratory Diseases)
If your nails take on a yellowish hue, it could be more than just a fungal infection. Chronic bronchitis or other respiratory conditions can lead to this distinctive nail discoloration.
Clubbing (Lung Diseases)
A condition where the fingertips widen and nails curve around the fingertips, clubbing might be an indication of lung diseases. This change is often due to a decrease in oxygen in the bloodstream.
Pitting (Psoriasis or Rheumatoid Arthritis)
Tiny dents or pits in the nail surface might be easy to overlook. However, they can be early signs of conditions like psoriasis or rheumatoid arthritis, both of which can have systemic effects.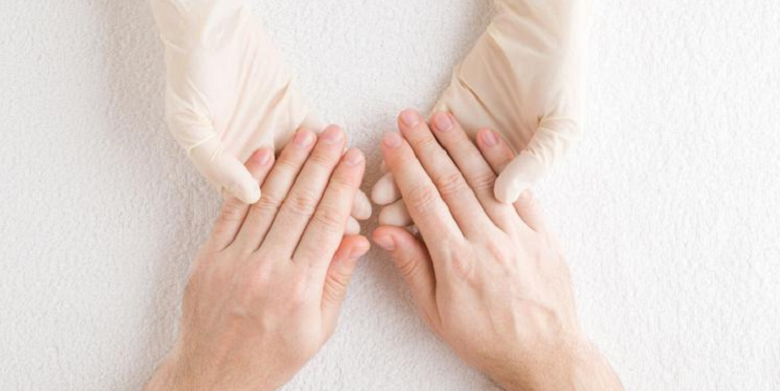 Linking Fingernail Indicators to Brain Health
The connection between our nails and the brain might not be immediately apparent. But as we dive deeper into the physiological signs our nails present, it becomes clear how these indicators can have a direct or indirect influence on our cognitive functions. The brain, as the body's control center, requires a continuous supply of nutrients, oxygen, and balanced internal systems to function optimally. Disruptions, as mirrored by nail indicators, can provide early warnings about potential cognitive concerns.
Nutritional Deficiencies Impacting Cognitive Function
While it's widely accepted that our diet affects our physical health, the ramifications of nutritional deficiencies on cognitive health often go unnoticed. The tales our nails tell can shed light on this overlooked area [4].
Iron's Role in Oxygen Transport to the Brain
When our nails hint at iron deficiency, they're spotlighting a larger concern. Hemoglobin, dependent on iron, is responsible for oxygen transport in the bloodstream. A deficiency can mean less oxygen reaches the brain, potentially leading to cognitive impairments, fatigue, and a decreased attention span.
Zinc's Role in Neurotransmitter Function
White spots suggesting zinc deficiency are not just cosmetic concerns. Zinc plays a vital role in neurotransmitter release and neuron communication. Its deficiency can lead to mood disturbances and decreased learning ability.
B Vitamins and Cognitive Decline
Vertical ridges, while perhaps deemed aesthetic nuisances, can signify B vitamin deficiencies. Especially concerning is a deficiency in B12, which has been linked to memory loss and other cognitive declines. Regular intake of B vitamins is crucial for maintaining nerve health and optimal brain function.
How Systemic Diseases May Affect the Brain
The stories our nails convey are not restricted to nutrient levels. They also unveil tales of broader systemic diseases which, if left unchecked, might have cascading effects on brain function [5].
Chronic Hypoxia and Cognitive Impairment
Nails that suggest respiratory problems, like yellowing, indicate a potential decrease in oxygen levels in the bloodstream. Chronic hypoxia, or long-term oxygen deprivation, can lead to cognitive impairments, reduced concentration, and memory issues.
Inflammatory Diseases and Their Effect on the Brain
The seemingly insignificant pitting on our nails can signal inflammatory diseases like psoriasis or rheumatoid arthritis. Chronic inflammation has been linked to a higher risk of cognitive disorders, including Alzheimer's disease.
References

[1] Mayo Clinic Minute: Fingernails are clues to your health
[2] Surprising Things Your Fingernails Can Reveal About Your Health
[3] What Your Nails Look Like Could Be Affecting Your Brain
[4] 6 Things Your Nails Say About Your Health
[5] Ayurvedic Nail Analysis: What Your Nails Are Pointing to About Your Health