Insular Cortex: The Hidden Hub of Emotion and Awareness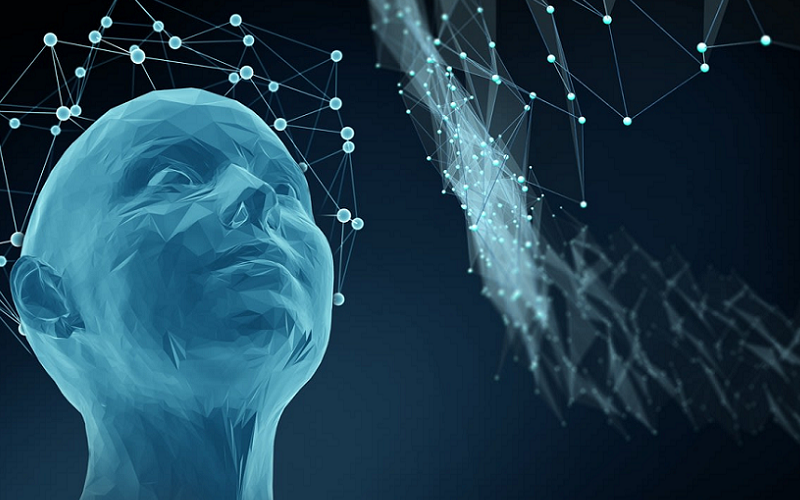 The Insular Cortex, tucked away deep within the folds of the cerebral cortex, is an intriguing area that serves as a multi-functional hub governing everything from emotion and self-awareness to cognitive processing. Its complex roles in our emotional landscape and cognitive abilities make it crucial for understanding not only human consciousness but also various mental and neurological disorders. Advances in neuroscience and imaging technology are peeling away layers of mystery surrounding this hidden region, and what we're discovering has enormous implications for brain and cognitive health.
Introduction to the Insular Cortex
The insular cortex, often simply called the "insula," is a portion of the cerebral cortex folded deep within the lateral sulcus—the groove separating the frontal and temporal lobes. While it might not be as popularly discussed as the frontal lobe or hippocampus, it is an area of significant interest in neuroscience due to its complex and multifaceted roles.
Insular Cortex Importance in Brain Anatomy
It's easy to overlook something you can't easily see, and the insular cortex has long been one of these hidden gems of the brain. Its anatomical position is symbolic of its role: a central hub that connects various parts of the brain, helping us to integrate our thoughts, feelings, and even our perception of the inner and outer worlds.
Overview of Insular Cortex Functions
The insular cortex has a hand in numerous functions that directly impact our daily lives. Its roles range from processing emotions like fear, disgust, and happiness to more cognitive functions such as decision-making and attention. Additionally, it's integral to interoception—the sense of the internal state of our bodies.
Importance of Studying the Insular Cortex for Brain and Cognitive Health
You might be wondering, why should the average person care about the insular cortex? Well, understanding this brain region provides vital insights into a range of mental health conditions, including addiction, anxiety disorders, and even neurological diseases like Parkinson's and Alzheimer's. As we peel back the layers to understand this area better, we not only advance science but also pave the way for improved diagnostic methods and treatments [1].
Historical Background of the Insular Cortex
The historical perspective of our knowledge of the insular cortex not only highlights the milestones in our understanding but also emphasizes the innovative research methods that have contributed to these discoveries.
Early Discoveries and Research of the Insular Cortex
The insular cortex has been on the radar of neuroscientists and psychologists for quite some time, though it wasn't always given the limelight it deserves. Initial studies, mostly post-mortem examinations, recognized its existence but could not delve deep into its functions due to limitations in technology. Early theories often hypothesized its role in sensory processing, given its location and apparent connectivity, but these were largely speculative.
Insular Cortex Evolution of Understanding
With the advent of the 20th century, the field of neuroscience experienced a revolution thanks to advanced technologies like functional MRI (fMRI) and positron emission tomography (PET). Researchers were no longer limited to mere anatomical examinations; they could now observe the insular cortex "in action." This led to the discovery of its role in more complex functions, including emotion processing, interoception, and cognition. These discoveries elevated the insula from a mere anatomical curiosity to a central player in understanding the human mind.
Contribution of Advanced Imaging Techniques to Understanding the Insular Cortex
Modern imaging techniques have been the game-changer in insular cortex research. fMRI studies, for example, have revealed detailed activation patterns in the insular cortex in response to emotional stimuli, social interactions, and even during states of meditation. Connectivity analyses, which examine how the insula interacts with other brain regions, have helped to define its role as a hub that integrates diverse information streams. Techniques like diffusion tensor imaging (DTI) have further illuminated how the insular cortex is connected to other parts of the brain, contributing to its multi-functionality [2].
Anatomical Structure of the Insular Cortex
Understanding the anatomical structure of this brain region is pivotal for grasping its complex functionalities.
Location in the Brain
The insular cortex is cleverly concealed. Situated within the lateral sulcus, it is tucked away between the temporal lobe and the frontal lobe. To visualize it, imagine peeling apart the brain lobes like you would the pages of a book; it's only then that the insula becomes fully visible. This central location adds to the theory that the insular cortex serves as a hub for a variety of cognitive and emotional functions.
Subdivisions
The insular cortex isn't a homogenous mass but is divided into distinct regions, each believed to serve different functions. Generally, it's divided into two main areas:
Anterior Insula
The anterior part of the insula is closely linked to emotional and social processing. It has been implicated in a range of experiences, from feeling love and empathy to understanding social cues.
Posterior Insula
The posterior insula is more concerned with sensory processing and interoception—the internal sense of your body's state. It helps you feel things like temperature, pain, and even hunger.
The relationship between these subdivisions and their functions is a topic of ongoing research, but it's clear that each part plays a role in making the insular cortex the versatile area that it is.
Connectivity
If the insula is a hub, then it must be well-connected—and indeed it is. Let's examine how it's wired to communicate with the rest of the brain.
Inputs
The insular cortex receives inputs from various sources, including sensory receptors and limbic structures, which are responsible for emotional processing. This wide range of inputs allows it to integrate information for more complex functions.
Outputs
Similarly, the insula sends out signals to multiple areas of the brain, impacting everything from motor control to emotional responses. These outputs enable the insula to exert influence over a broad array of functions, cementing its role as a multifunctional hub.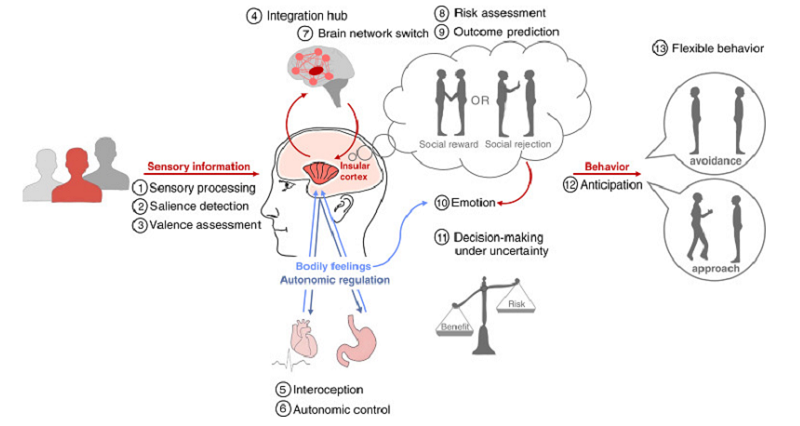 Functions of the Insular Cortex
With a solid grasp of its anatomical intricacies, we can now dive into the myriad functions that the insular cortex performs. You'll find that its activities are not just diverse but also integral to both our emotional lives and our cognitive faculties.
Emotion Processing
Emotions make us human, shaping our experiences, behaviors, and interactions. And it turns out, the insular cortex plays a central role in orchestrating this colorful emotional tapestry.
Role in Fear
Fear is a primal emotion with evolutionary roots. Research suggests that the insular cortex is actively involved in detecting and responding to threats, thereby modulating fear responses. It interacts with other regions like the amygdala to help us react appropriately in dangerous situations [3].
Role in Happiness
Feeling joyous or content? You can partly thank your insular cortex. While happiness is a complex emotion involving multiple brain regions, the insular cortex contributes by helping us integrate positive sensory experiences with emotional significance.
Role in Disgust
Disgust is yet another emotion where the insular cortex takes center stage. From grimacing at a bad taste to feeling repelled by an immoral act, this brain area helps us recognize and respond to repugnant stimuli, both physical and social.
Interoception
Beyond emotions, the insular cortex has an intriguing role in helping us sense what's happening within our bodies—a function known as interoception.
Sensing Internal Body States
The insular cortex helps you know when you're hungry, thirsty, or in pain. It receives signals from internal organs and interprets these cues so you can respond accordingly, be it grabbing a snack or seeking medical attention.
Connection to Emotional Awareness
Interoception isn't just about sensing physical states; it's also tightly linked with emotional awareness. By keeping tabs on your internal landscape, the insular cortex contributes to your capacity for self-awareness and emotional intelligence.
Cognitive Processing
The roles of the insular cortex aren't limited to the emotional and sensory realms; they extend to cognitive functions as well.
Attention
One such role is in attentional control. The insular cortex helps prioritize sensory information, making sure you focus on what's most important at any given moment. For example, in a crowded room, it helps you tune into a meaningful conversation and filter out background noise.
Decision Making
Life is a series of decisions, big and small. The insular cortex contributes to decision-making processes by weighing in with both emotional valence and rational analysis, helping you make choices that align with your values and needs.
Social Functions
Finally, the insular cortex is a social maestro. From empathy to theory of mind, it helps us navigate complex social landscapes.
Empathy
Empathy — the ability to understand and share the feelings of another — is partially mediated by the insular cortex. When you feel for someone else's pain or joy, this area of the brain is buzzing with activity, helping you connect on a deep emotional level [4].
Theory of Mind
Understanding what others might be thinking or feeling, commonly referred to as 'Theory of Mind,' is another feather in the insula's cap. It works with other brain regions like the prefrontal cortex to help us gauge social cues and understand interpersonal dynamics.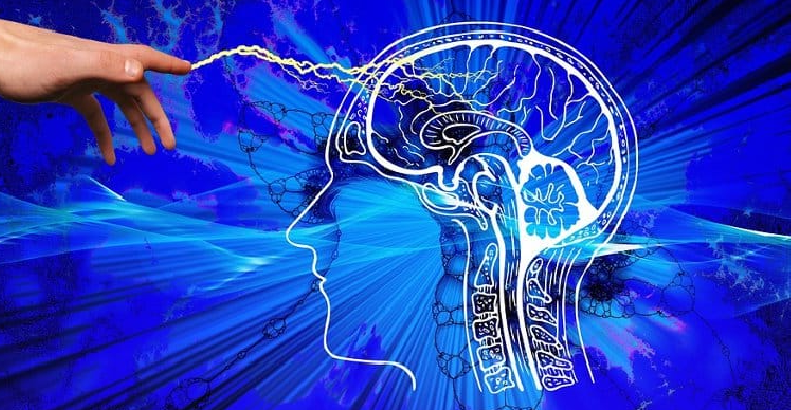 Disorders and Abnormalities Associated with Insular Cortex
Abnormalities or dysfunctions within the insular cortex can manifest as various disorders, affecting both emotional and cognitive well-being.
Mental Health Disorders
Mental health is an area where the insular cortex plays a significant role, and its dysfunction can lead to various psychological conditions.
Anxiety Disorders
The insular cortex has been implicated in the manifestation of anxiety disorders such as Generalized Anxiety Disorder (GAD) and Social Anxiety Disorder (SAD). Given its role in processing fear and threat-related stimuli, abnormalities in these functions can contribute to heightened anxiety responses.
Addiction
Substance abuse and addiction are also associated with irregularities in the insular cortex. The area appears to be involved in cravings and the emotional aspect of addiction, making it a target for potential therapeutic interventions.
Neurological Disorders
The impact of the insular cortex extends beyond mental health to include various neurological conditions.
Alzheimer's Disease
Research has indicated that the insular cortex shows early signs of degeneration in Alzheimer's disease. Given its role in cognitive and emotional processing, this could explain some of the initial symptoms like mood swings and impaired decision-making in affected individuals.
Parkinson's Disease
The insular cortex is also implicated in Parkinson's disease, specifically in its non-motor symptoms such as emotional and sensory irregularities. Understanding the role of the insula in Parkinson's could offer new avenues for treatment.
Other Health Conditions
Interestingly, the influence of the insular cortex extends to a broader spectrum of health issues.
Chronic Pain
Given its involvement in sensory processing and emotional regulation, the insular cortex has a role in the perception and management of chronic pain. Abnormalities in this region can exacerbate the experience of pain and make treatment more challenging [5].
Eating Disorders
Anorexia nervosa, bulimia, and other eating disorders have also been linked to dysfunctions in the insular cortex. Since this area is involved in interoception and emotional processing, it's not surprising that it plays a role in the distorted body image and emotional struggles characteristic of these disorders.
Understanding the connection between the insular cortex and these disorders not only deepens our comprehension of these conditions but also offers the possibility of more targeted treatments. From pharmaceutical interventions to cognitive-behavioral therapy, the insular cortex is an increasingly important focus for medical research.
Role of the Insular Cortex in Mindfulness and Self-Awareness
Having delved into the clinical implications of insular cortex dysfunction, let's pivot to something uplifting — how this remarkable brain region is intimately involved in the practice of mindfulness and the cultivation of self-awareness. This is an exciting frontier in both neuroscience and psychology, offering transformative possibilities for mental well-being.
Involvement in Mindfulness Practices
Mindfulness is the practice of paying attention to the present moment in a non-judgmental way. It's a simple yet profound concept that has roots in various spiritual traditions but is now also grounded in scientific research.
Focus and Attention
One of the core aspects of mindfulness is enhanced focus and attention, something the insular cortex is adept at managing. Studies have shown increased activity in the insula during mindfulness practices, correlating with the heightened awareness of internal and external sensations.
Sensory Awareness
Given its role in interoception, the insular cortex is crucial for the heightened sensory awareness often experienced during mindfulness practices. Whether it's focusing on your breath, the feel of the ground beneath your feet, or the sensation of wind on your skin, the insular cortex is actively involved.
Emotional Regulation
Mindfulness isn't just about awareness; it's also about emotional regulation. Here again, the insular cortex comes into play.
Stress Reduction
Through mindfulness, individuals can learn to modulate their stress responses more effectively. This likely involves the insular cortex's role in interpreting emotional and bodily states, helping people to respond to stressors in a less reactive manner.
Emotional Intelligence
Greater self-awareness often leads to higher emotional intelligence—the ability to understand and manage one's own emotions while empathizing with others. The insular cortex, given its multifaceted roles in emotional processing and social cognition, is a significant player in this domain.
Spiritual Experiences
While a somewhat less-explored domain, emerging research indicates that the insular cortex may also have a role in spiritual or transcendent experiences often reported by individuals deeply engaged in mindfulness practices or meditative states.
Sense of Unity
Some studies suggest that heightened activity in the insular cortex could be related to experiences of oneness or unity with the universe, often described in spiritual contexts.
Altered States of Consciousness
Mystical experiences, whether induced by mindfulness practices, meditation, or even certain substances, often involve changes in insular cortex activity. While this is a burgeoning area of research, it offers exciting possibilities for understanding the neural basis of spiritual experiences.
By engaging with mindfulness practices and enhancing self-awareness, we can leverage the capabilities of our insular cortex for emotional balance, focused attention, and perhaps even spiritual insight. This not only brings well-being into our daily lives but also showcases the incredible adaptability and complexity of the human brain.
References

[1] Insular Cortex
[2] Insular Cortex: Structural and Functional Neuroanatomy
[3] How the Insular Cortex Works: 7 Functions of the Insular Cortex
[4] The insular cortex
[5] Insular cortex and neuropsychiatric disorders