Art Therapy: A Promising Approach to Slowing Cognitive Decline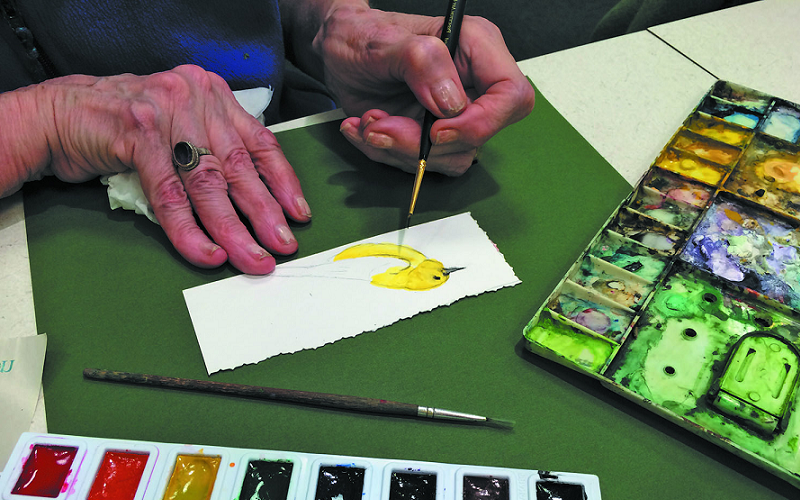 As the world's population ages, cognitive decline becomes an increasingly prevalent concern. While traditional treatments may offer some relief, many individuals and caregivers are seeking alternative, non-pharmacological approaches to preserving cognitive health. One such method gaining traction is art therapy. By engaging the mind through creative expression, art therapy has shown promising results in slowing the progression of cognitive decline and enhancing the overall well-being of older adults.
Introduction to Art Therapy and Cognitive Decline
Art therapy is a form of expressive therapy that utilizes the creative process of making art to improve a person's physical, mental, and emotional well-being. It is grounded in the belief that the creative process involved in artistic self-expression can help individuals resolve conflicts, manage behaviors, develop interpersonal skills, reduce stress, and increase self-awareness. Art therapy can be conducted in individual or group settings, and it involves the use of various art materials and techniques, such as painting, drawing, sculpting, and collage.
Overview of Cognitive Decline
Cognitive decline refers to the gradual loss of cognitive abilities, including memory, attention, problem-solving, and language skills [1]. It is a normal part of aging but can be exacerbated by various factors, such as neurodegenerative disorders, vascular disease, or traumatic brain injury.
Cognitive decline can significantly impact an individual's ability to perform daily tasks, maintain independence, and engage in meaningful social interactions. As the global population ages, the number of people affected by cognitive decline is expected to rise dramatically, making the search for effective interventions increasingly urgent.
The Growing Need for Effective Interventions
Traditional treatments for cognitive decline, such as medication and cognitive training, can offer some benefits. However, they often come with side effects or limitations and may not address the full spectrum of cognitive, emotional, and social challenges faced by older adults.
As a result, there is a growing interest in alternative, non-pharmacological interventions that can complement existing treatment options and provide a more holistic approach to care. One such intervention that has shown promise in recent years is art therapy, which harnesses the power of creative expression to support cognitive health and overall well-being in older adults.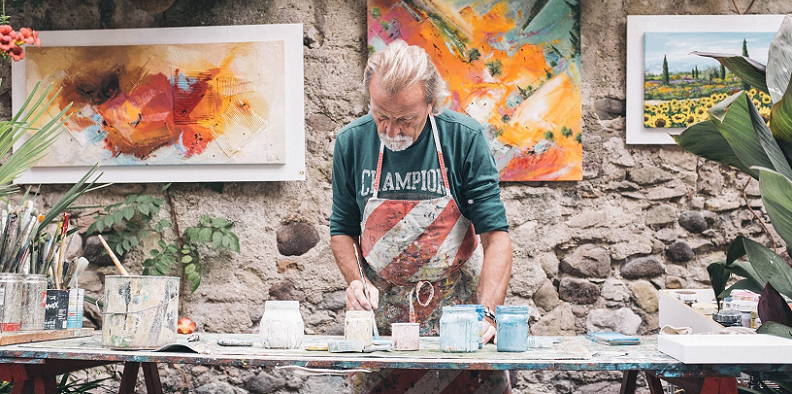 The Science Behind Art Therapy and Cognitive Health
The effectiveness of art therapy in promoting cognitive health can be attributed to several factors, including neuroplasticity, creative expression, and social engagement.
The Role of Neuroplasticity
Neuroplasticity, or the brain's ability to reorganize and adapt, plays a crucial role in maintaining cognitive function [2]. Throughout life, the brain continually forms new connections and strengthens existing ones in response to learning, experiences, and environmental stimuli.
This process can slow down with age, leading to cognitive decline. However, research has shown that engaging in mentally stimulating activities, such as art therapy, can enhance neuroplasticity and help preserve cognitive function in older adults. By stimulating the brain and encouraging the formation of new neural connections, art therapy can promote cognitive resilience and slow the progression of cognitive decline.
How Creative Expression Supports Cognitive Function
Creative expression, a key component of art therapy, has been linked to improved cognitive function in several ways [3]. First, it requires the use of multiple cognitive processes, such as attention, memory, and problem-solving, which can help maintain and enhance these skills over time.
Second, creative expression can provide a sense of accomplishment and self-efficacy, which can bolster confidence and motivation to engage in other cognitively demanding activities. Finally, creative expression can serve as a form of emotional expression and stress reduction, which can indirectly benefit cognitive health by improving overall well-being and reducing the negative impact of stress on cognitive function.
The Importance of Social Engagement
Art therapy often involves group sessions or interactions with a therapist, which can provide valuable opportunities for social engagement. Numerous studies have demonstrated the importance of social interaction for cognitive health, with strong social networks being linked to a reduced risk of cognitive decline and dementia.
Participating in art therapy can help older adults maintain and build social connections, while also providing a supportive environment for sharing experiences, learning from others, and building a sense of belonging. This social aspect of art therapy can play a vital role in promoting cognitive health and overall well-being in older adults.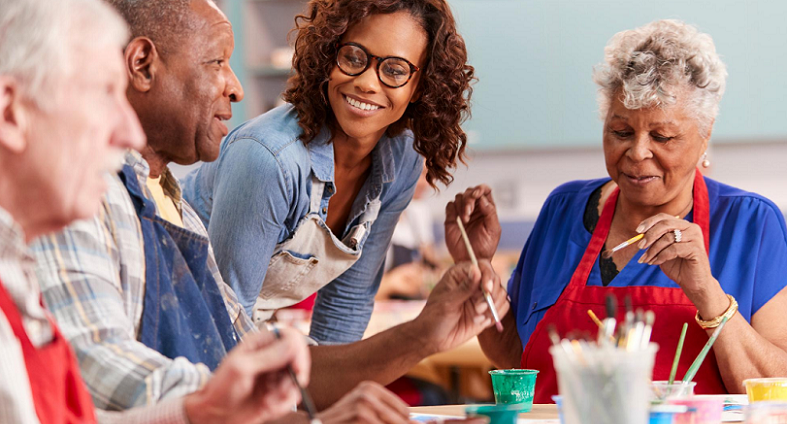 The Benefits of Art Therapy for Older Adults
Art therapy offers a range of benefits for older adults, addressing various aspects of cognitive, emotional, and social well-being. In this section, we will discuss the specific ways in which art therapy can positively impact the lives of those experiencing cognitive decline and explore how these benefits contribute to a more comprehensive approach to care.
Improved Memory and Cognitive Skills
Engaging in art therapy has been linked to improvements in memory and cognitive skills for older adults [4]. The creative process requires the use of various cognitive processes, such as attention, planning, and problem-solving. As participants engage in art therapy, they are continually exercising these cognitive skills, which can help maintain and even improve their functioning over time. Furthermore, the use of different art materials and techniques can stimulate different areas of the brain, encouraging the formation of new neural connections and enhancing cognitive resilience.
Enhanced Emotional Well-being
Art therapy provides an outlet for emotional expression, which can be particularly beneficial for older adults who may struggle with verbal communication or have difficulty processing complex emotions. By engaging in creative expression, individuals can explore and express their feelings in a safe and non-judgmental environment.
This process can help reduce stress, anxiety, and depression, which are common among those experiencing cognitive decline. Additionally, the sense of accomplishment and self-efficacy gained through art therapy can boost self-esteem and overall well-being, further supporting emotional health.
Increased Social Interaction
Social interaction is an essential component of cognitive health, and art therapy offers valuable opportunities for older adults to connect with others in meaningful ways [5]. Group art therapy sessions facilitate social engagement, providing a supportive environment for participants to share experiences, learn from one another, and develop a sense of belonging.
This social aspect of art therapy not only helps build and maintain social connections but also provides emotional support, which can be crucial in mitigating the negative effects of cognitive decline on mental health and overall well-being.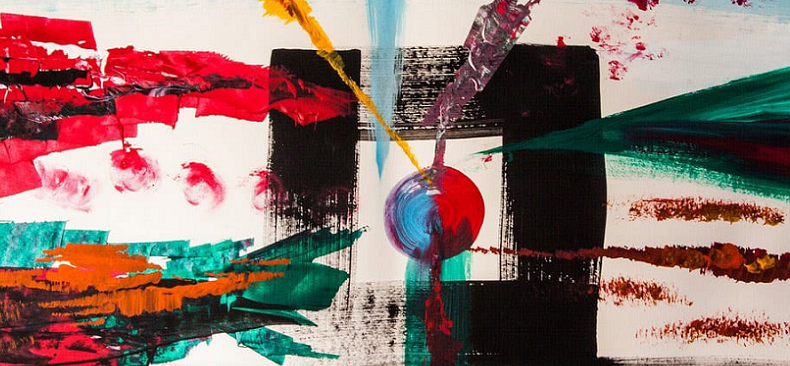 Art Therapy Techniques and Modalities
Art therapy can be conducted using a variety of techniques and modalities, each offering unique benefits and opportunities for creative expression.
Painting and Drawing
Painting and drawing are common art therapy techniques that allow participants to express themselves through the use of color, line, shape, and form. These methods can be adapted to accommodate varying levels of cognitive and physical ability, making them accessible to a wide range of individuals. For example, participants can use large brushes or adaptive tools to accommodate fine motor challenges, or they can engage in guided exercises that focus on simple shapes and patterns to minimize cognitive demands.
Sculpture and Ceramics
Working with three-dimensional materials, such as clay or papier-mâché, offers a tactile and sensory-rich experience that can be particularly engaging for older adults with cognitive decline. Sculpture and ceramics can help improve fine motor skills, hand-eye coordination, and spatial awareness while providing a calming and soothing sensory experience. Adaptations can be made to accommodate different abilities, such as using softer materials, pre-made molds, or providing additional support and guidance as needed.
Collage and Mixed Media
Collage and mixed media art therapy techniques involve the use of various materials, such as fabric, paper, and found objects, to create layered and textured compositions. These methods can be especially beneficial for individuals with cognitive decline, as they offer opportunities for self-expression without the need for advanced artistic skills or fine motor control. Participants can engage in theme-based projects, reminisce about personal experiences, or explore abstract concepts through the selection and arrangement of materials.
Photography and Digital Art
Photography and digital art offer alternative means of creative expression for those who may find traditional art materials challenging to work with. Participants can use cameras or digital devices to capture images and create compositions that reflect their thoughts, feelings, or experiences.
These techniques can be particularly empowering for older adults with cognitive decline, as they allow for creative exploration without the physical or cognitive demands of more traditional art forms. Additionally, digital art and photography can be easily shared and discussed, facilitating social interaction and connection within a therapeutic context.
Implementing Art Therapy in Care Settings
Incorporating art therapy into care settings can offer significant benefits for older adults experiencing cognitive decline [6]. However, it is essential to ensure that the implementation is thoughtful and well-planned to maximize its positive impact. In this section, we will discuss the key considerations for integrating art therapy into care plans, establishing art therapy programs, and ensuring that therapists are adequately trained and qualified.
Integrating Art Therapy into Care Plans
When incorporating art therapy into a care plan, it is crucial to consider the individual's unique needs, preferences, and abilities. This may involve collaborating with healthcare professionals, such as geriatricians, neurologists, or occupational therapists, to determine the most appropriate goals and interventions for each person.
It is also essential to ensure that art therapy sessions are tailored to accommodate varying levels of cognitive and physical ability, using adaptive tools and techniques as needed. Finally, regular monitoring and evaluation of progress and outcomes can help ensure that the art therapy program remains effective and relevant to the individual's changing needs.
Establishing an Art Therapy Program
To establish an art therapy program in a care setting, it is important to consider the following factors:
Space and materials: Designate a suitable space for art therapy sessions, ensuring that it is accessible, well-lit, and equipped with appropriate materials and supplies.
Staffing: Hire or contract a qualified art therapist to lead the program, or train existing staff members in art therapy techniques and approaches.
Scheduling: Determine the frequency and duration of art therapy sessions, considering the availability of staff, participants, and space.
Collaboration: Establish strong partnerships with other healthcare professionals and support staff to ensure seamless integration of art therapy into the overall care plan.
Evaluation: Develop a system for tracking progress and outcomes, using both qualitative and quantitative measures to assess the impact of the art therapy program on participants' cognitive health and overall well-being.
Training and Qualifications for Art Therapists
It is essential to ensure that art therapists working with older adults experiencing cognitive decline have the necessary training and qualifications to provide effective and safe interventions. This may include a master's degree in art therapy or a related field, as well as specialized training or experience in working with older adults and individuals with cognitive impairments.
Art therapists should be registered or licensed with a relevant professional organization, such as the American Art Therapy Association or the Art Therapy Credentials Board, to ensure that they adhere to the highest standards of practice and ethics.
References

[1] Cognitive Impairment in Aging: 10 Common Causes & 10 Things the Doctor Should Check
[2] Dynamic Brains and the Changing Rules of Neuroplasticity
[3] About Art Therapy
[4] Creativity and art therapies to promote healthy aging
[5] Using Ar Using Art as Ther t as Therapy with Older Adults t y with Older Adults to Foster Connections and oster Connections and Establish Community
[6] Art Activities in Long-Term Care