Viral Infections and Long-Term Cognitive Impacts: Beyond the Common Cold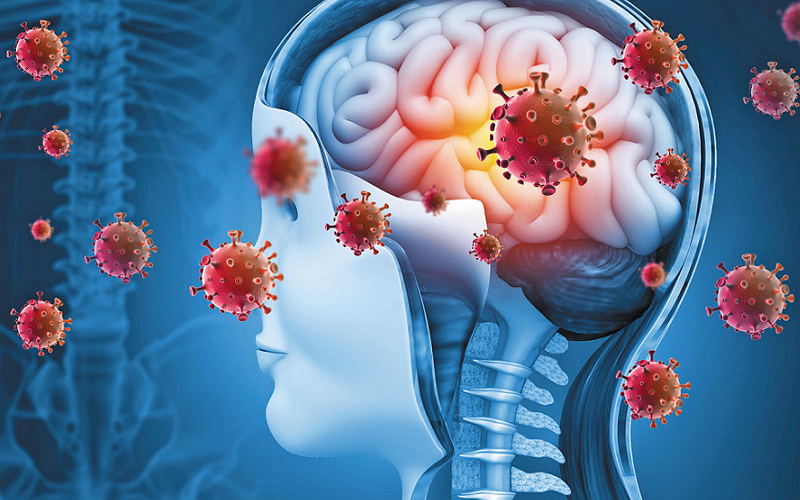 We've all experienced the discomfort of a common cold or flu—sniffling, sneezing, and general malaise that disrupt our daily lives for a short period. While we often consider these experiences as temporary nuisances that mainly affect our physical well-being, there's more to the story. Beyond the fevers and fatigue, some viral infections can leave a lasting imprint on one of our most critical assets: our cognitive health. Here we explore how certain viruses can affect everything from memory and concentration to executive function and emotional regulation.
Understanding Cognitive Health
Before getting into the complex interplay between viral infections and cognitive impacts, it's essential to establish a foundational understanding of what cognitive health entails. Cognitive health is more than just "brain health"; it encompasses a wide range of mental functions that allow us to interact with the world effectively.
Definition of Cognitive Health
Cognitive health refers to the ability to think, learn, and remember. It's a multi-faceted concept that includes various mental functions such as perception, attention, memory, language skills, problem-solving abilities, and executive functions like planning and decision-making. But cognitive health is not limited to intellectual capabilities; it also has emotional and psychological dimensions, including the ability to manage stress and maintain emotional balance.
Importance of Maintaining Cognitive Health
Given that cognitive functions are integral to almost every aspect of our lives, from performing well at work to maintaining healthy relationships, the importance of cognitive health cannot be overstated. Poor cognitive health can severely limit one's quality of life, affecting not only occupational performance but also social interactions and general well-being. As we age, maintaining cognitive health becomes even more critical to help ward off conditions like dementia, Alzheimer's, and other age-related cognitive declines [1].
Factors Affecting Cognitive Health
Cognitive health is influenced by a variety of factors, some of which are within our control, while others are not. These can range from genetic predispositions and age to lifestyle choices and environmental factors.
Genetics: Your genetic makeup can predispose you to certain cognitive conditions like Alzheimer's disease, although genetics alone usually isn't the sole determinant.
Age: As we grow older, cognitive decline is natural to some extent, but the rate and severity can vary significantly among individuals.
Lifestyle: Factors such as diet, physical exercise, and intellectual stimulation have been shown to have a direct impact on cognitive health.
Medical Conditions: Diseases like diabetes, high blood pressure, and even viral infections can have a significant influence on cognitive functions.
Environmental Factors: Exposure to pollutants, social isolation, and stress can also affect cognitive health over time.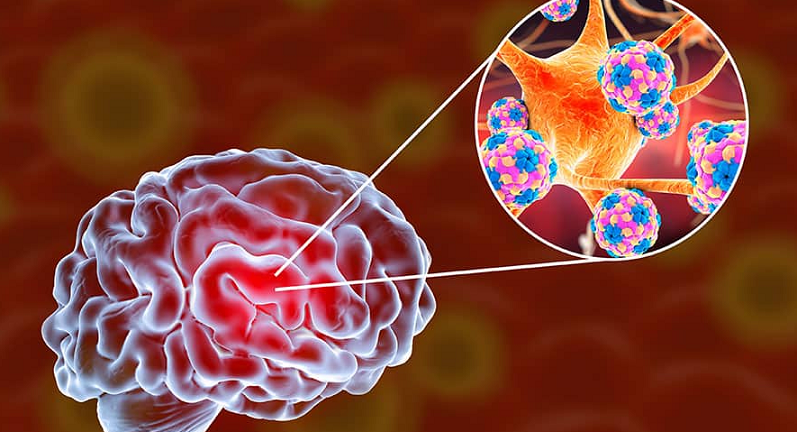 What Are Viral Infections?
Now that we have a solid understanding of cognitive health and its various dimensions, let's shift our focus to the role of viral infections. Viruses are microscopic agents that have the potential to alter our state of health dramatically. To fully appreciate the cognitive impacts of viral infections, we must first acquaint ourselves with the basic biology of viruses and the types of viral infections we commonly encounter.
Definition and Basic Biology of Viruses
Viruses are microscopic infectious agents that lack the cellular structure. Unlike bacteria or fungi, they cannot carry out metabolic processes on their own and need to infect a host cell to replicate. Viruses contain genetic material—either DNA or RNA—encased in a protein coat. Once a virus enters a host cell, it takes over the cell's machinery to multiply, eventually leading to the death of the cell or a variety of other outcomes that can impact health [2].
Common Types of Viral Infections
Understanding the range of viral infections we may encounter helps to shed light on the potential cognitive consequences. Generally, viral infections can be grouped into categories based on the systems they primarily affect.
Respiratory Infections
These are the viruses most people are familiar with, such as the common cold and influenza. Typically, these infections result in symptoms like cough, fever, and fatigue but are usually self-limiting.
Gastrointestinal Infections
Viruses like the norovirus or rotavirus primarily affect the digestive system, causing symptoms like diarrhea and vomiting. While the immediate cognitive effects may seem minimal, long-term impacts are not completely understood.
Systemic Infections
These types of infections can affect multiple systems in the body. HIV is a prime example, as it doesn't just impact the immune system but can also have significant cognitive consequences, a subject we'll delve into later in this blog post.
Modes of Transmission
Viruses can be transmitted through various pathways, including:
Airborne Transmission: Through coughs or sneezes from an infected individual.
Direct Contact: By touching surfaces contaminated with the virus and then touching the face, especially the mouth, eyes, or nose.
Vector-Borne: Through bites from infected insects like mosquitoes.
Fecal-Oral Route: Consuming contaminated food or water.
Blood Transfusion: Though rare, some viruses can be transmitted through infected blood.
Sexual Transmission: Some viruses, like HIV and herpes, are primarily spread through sexual contact.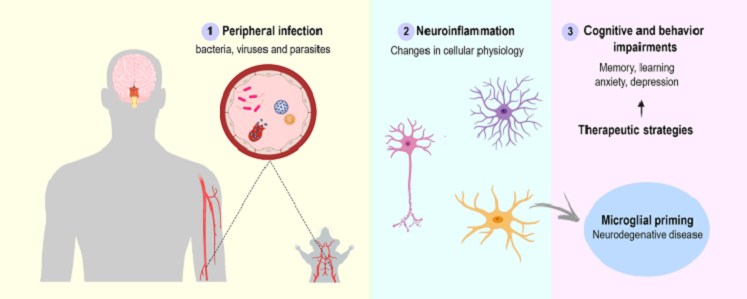 Common Beliefs About Viral Infections and Cognition
As we venture further into the relationship between viral infections and cognitive health, it's essential to address some of the prevailing beliefs and myths surrounding this topic. A common perception is that viral infections primarily, or even exclusively, impact physical health. Here we debunk this misconception and shed light on the reality of the long-term cognitive effects that can follow certain viral infections.
Myth: Viral Infections Only Affect Physical Health
Most people tend to think of viral infections as conditions that cause physical symptoms like fever, cough, and fatigue. This belief is largely due to the way viral infections are commonly presented in both the medical community and the media. While it's true that viral infections often manifest through physical symptoms, this narrow view overlooks the potentially wide-ranging impacts on cognitive functions [3].
Reality: Potential for Long-Term Impacts
The fact is, some viral infections can have long-lasting and even severe impacts on cognitive health. For example, Post-Acute Sequelae of SARS-CoV-2 Infection (PASC), often referred to as "Long COVID," can include symptoms like brain fog and difficulty concentrating. Similarly, HIV can lead to cognitive impairments in a condition known as HIV-associated neurocognitive disorder (HAND).
Furthermore, even "milder" infections like influenza have been linked to post-viral cognitive impairments, particularly in vulnerable populations like the elderly. Though research in this area is still ongoing, enough evidence exists to challenge the belief that viral infections only have transient, physical effects.
By dispelling these common myths, we pave the way for a more nuanced understanding of the subject. This awareness is crucial for both preventative health measures and for guiding research aimed at mitigating the cognitive impacts of viral infections.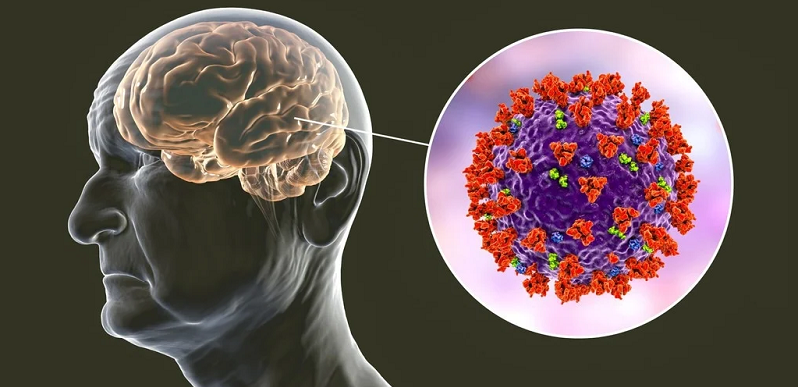 Mechanisms Behind the Cognitive Impact of Viral Infections
We've established that viral infections can indeed have long-term cognitive impacts, but how exactly do these impacts occur? To make sense of this complex relationship, we need to explore the underlying mechanisms through which viruses affect cognitive function.
Neuroinflammation
One of the primary ways that viral infections can affect cognitive function is through neuroinflammation. When a virus infects the body, the immune system reacts by producing various molecules and cells aimed at combating the infection. In some cases, this response can become excessive and trigger inflammation in the brain. Neuroinflammation can lead to the destruction of neurons and other brain cells, causing cognitive impairments like memory loss, attention deficits, and decreased problem-solving abilities [4].
Blood-Brain Barrier Disruption
The blood-brain barrier is a protective layer that selectively allows substances to enter the brain from the bloodstream. Certain viral infections can compromise this barrier, allowing not just the virus but also other potentially harmful substances to access the brain. This can lead to a variety of neurochemical changes that, in turn, can impact cognitive functions.
Short-Term Effects
The immediate effects of a compromised blood-brain barrier might include headaches, dizziness, and a general feeling of being unwell.
Long-Term Effects
If the barrier remains compromised for an extended period, the long-term effects can be more severe and may include chronic cognitive issues ranging from mild forgetfulness to severe dementia-like symptoms [5].
Direct Neuronal Damage
Some viruses have the capability to infect neurons directly. For instance, the herpes simplex virus can infect nerve cells, potentially leading to conditions like encephalitis, an inflammation of the brain. Such direct infection and subsequent destruction of neurons can have profound and immediate cognitive impacts, affecting memory, language skills, and even consciousness.
Immunological Responses Affecting Cognition
In certain cases, the body's own immune response can be a double-edged sword. While the primary role of immune responses is to eliminate pathogens, they can sometimes inadvertently damage healthy tissue, including brain cells. This collateral damage can result in a range of cognitive issues, depending on which part of the brain is affected.
References

[1] The Causes and Long-Term Consequences of Viral Encephalitis
[2] Some Chronic Viral Infections Could Contribute to Cognitive Decline with Aging
[3] Cognitive decline following acute viral infections
[4] Viral encephalitis and virus-mediated memory disorders
[5] Long-Term Neuroinflammation Induced by Influenza A Virus Infection and the Impact on Hippocampal Neuron Morphology and Function