The Role of Interneurons in Fine-Tuning Neural Pathways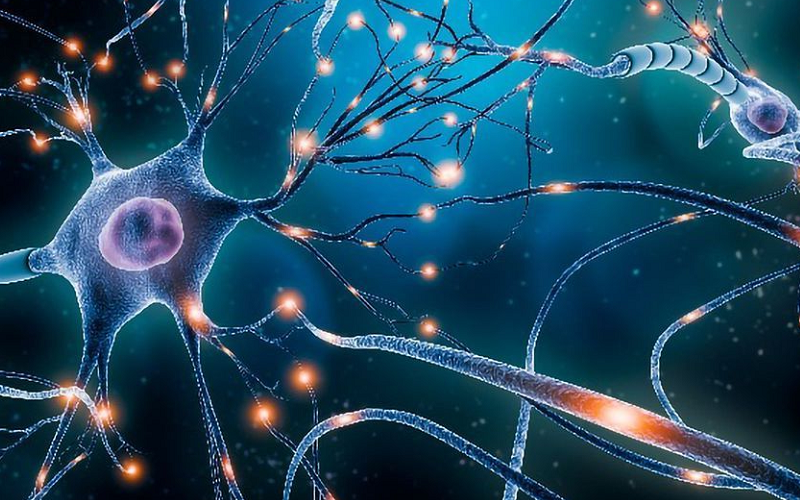 The human brain, often hailed as the universe's most intricate computer, functions with an astonishing complexity. At the heart of this magnificent neural orchestra are the neurons, the brain's messengers, which come in various types and responsibilities. Among these, the unsung heroes of the neural world are the interneurons. Often overshadowed by their sensory and motor counterparts, interneurons play a pivotal role in the harmony and precision of our cognitive processes.
Introduction to Neurons and Neural Pathways
In the vast labyrinth of the human mind, where billions of neurons interweave, creating the intricate tapestry of our thoughts, emotions, and actions, understanding each component becomes pivotal. Every neural impulse, every fleeting thought, and every reaction, whether to a soft caress or a jarring noise, relies on an intricate dance of electrical and chemical signals darting through the brain. At the core of this neural ballet are specialized cells, known as neurons. Just as an orchestra relies on various instruments to produce harmonious music, our brain employs different types of neurons to ensure smooth cognitive processes.
Brief Overview of Neurons and Their Types
Neurons are specialized cells designed to transmit information throughout the body. Though often depicted as tiny, tree-like structures with branches reaching out in various directions, the reality is far more complex. There are essentially three primary types of neurons that facilitate the vast majority of our bodily and cognitive functions:
Sensory Neurons: Acting as the body's feelers, these neurons relay information from our sensory organs (like eyes and ears) to the brain.
Motor Neurons: These are the doers, transmitting directives from the brain to muscles and facilitating actions, whether it's tapping a finger or sprinting.
Interneurons: Often less discussed but critically important, interneurons connect various neurons within the brain and spinal cord, playing the role of intricate moderators in the vast neural network.
Importance of Neural Pathways in Cognitive Health
Neural pathways form the very foundation of our cognitive functions. They are like highways, ensuring a smooth flow of traffic (or in this case, neural signals). When these pathways work seamlessly, we can think clearly, make decisions, and interact with our environment effectively. However, any disruption or miscommunication within these pathways can lead to cognitive impairments, impacting our mental health and overall well-being.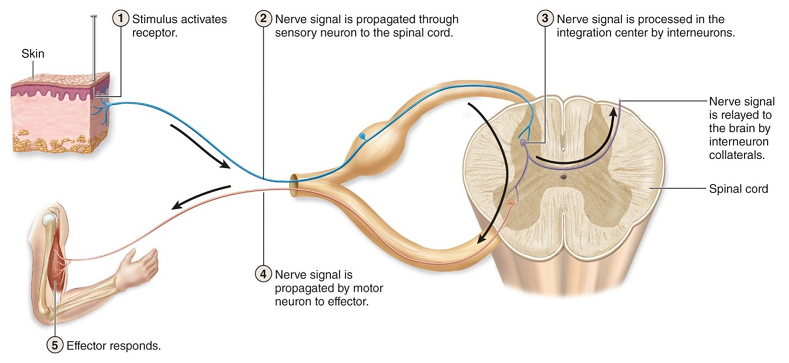 Definition and Basic Characteristics of Interneurons
Interneurons, often nestled between the sensory and motor neurons, serve as the linchpin of our brain's communication system. While they might not be as directly involved in sensing the external world or instigating actions, their role as the connectors and regulators is undeniably vital.
Differentiating Interneurons from Other Neurons
Interneurons are distinct from their sensory and motor counterparts, both in function and form. While sensory neurons carry messages from sensory organs to the brain and spinal cord, and motor neurons transmit instructions from the central nervous system to muscles, interneurons primarily operate within the brain and spinal cord. They act as intermediaries, connecting sensory and motor neurons and ensuring the fluid integration of signals [1].
Morphologically, interneurons can be highly diverse, showcasing a variety of shapes and sizes. Some might have short axons (the long part of the neuron that transmits signals away from the neuron's cell body), while others possess long, branching axons. This structural diversity allows interneurons to interact with numerous other neurons, optimizing their connectivity roles.
Key Features and Location of Interneurons in the Brain
Interneurons exhibit a range of unique features that equip them for their specialized roles.
Diversity in Form and Function
Interneurons are not a one-size-fits-all entity. Their varied structures, ranging from stellate to pyramidal forms, allow them to serve different functions within the brain's neural circuits.
Localization
While all types of neurons can be found throughout the brain and spinal cord, interneurons are particularly concentrated in the brain's cerebral cortex and the spinal cord. Here, they participate in both simple reflex arcs and complex cognitive tasks.
Synaptic Connections
Interneurons are known for forming numerous synaptic connections with other neurons. These junctions allow them to receive, process, and transmit information with remarkable precision.
Inhibitory and Excitatory Roles
Depending on the neurotransmitters they release, interneurons can either excite or inhibit the activity of neighboring neurons. This versatility allows them to finely balance and regulate neural activity.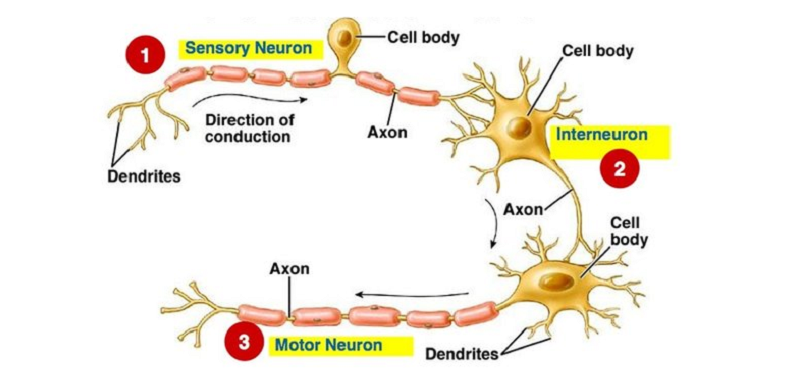 Role of Interneurons in Neural Circuits
Navigating the complex matrix of neural circuits can be likened to traversing a bustling metropolis, replete with highways, intersections, traffic lights, and a constant flurry of activity. In this intricate neural city, interneurons take on the role of traffic managers, ensuring that messages flow smoothly and efficiently, while also preventing any potential neural gridlocks. Their central positioning within the cerebral architecture and their myriad of functions cement their place as indispensable entities in the neural circuits.
Transmission of Signals Between Sensory and Motor Neurons
It's a common misconception that sensory and motor neurons communicate directly. While in some reflexive actions there might be a semblance of direct communication, most often, it's the interneurons that act as the intermediaries. When sensory neurons relay information to the brain, it's akin to a courier delivering a package to a sorting facility. Interneurons, the workers in this facility, determine where this information (or package) needs to go and how it's to be interpreted [2].
For example, when our hand touches a hot surface, sensory neurons relay this information rapidly to the brain. Interneurons process this information, integrating it with other relevant signals, and direct the motor neurons to initiate a quick withdrawal of the hand. This seamless integration and transmission of signals, though it appears instantaneous to us, is a testament to the prowess of interneurons in managing neural traffic.
Modulation and Integration of Incoming Signals
The human brain is perpetually awash with a deluge of information, both from external stimuli and internal processes. Not all of this information needs a response. Some signals might need amplification, while others might require dampening or even complete inhibition. This is where the expertise of interneurons comes into play.
Filtering Noise
Not every sensory input necessitates a motor output. Interneurons help in filtering out unnecessary signals, ensuring the brain doesn't get overwhelmed. Think of them as quality control experts in a production line, ensuring only the relevant products move forward.
Signal Amplification
At times, certain signals might be too weak and can get lost in the vast neural network. Interneurons can amplify these signals, ensuring they reach their intended destination [3].
Creating Neural Maps
Through their extensive synaptic connections, interneurons play a pivotal role in creating neural maps, patterns of neural activity that correspond to specific actions or thoughts. These maps are crucial for learning and memory.
Balancing Excitation and Inhibition
Perhaps one of the most critical roles of interneurons is maintaining the balance between excitatory and inhibitory signals. Too much excitation can lead to issues like seizures, while excessive inhibition can dampen neural activity, affecting cognition and response. Interneurons, through their release of various neurotransmitters, maintain this delicate balance, ensuring optimal brain function.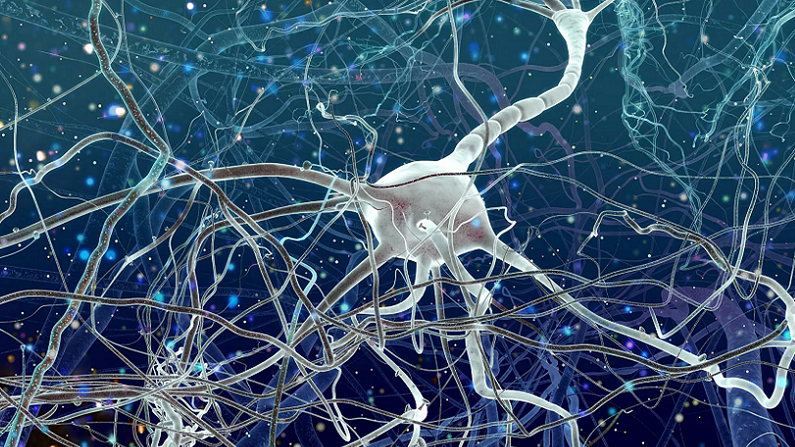 Fine-Tuning Neural Pathways: A Closer Look
Diving into the realm of neural pathways, one can draw parallels with the intricate workings of a grand orchestra. Just as each musician plays a specific note, contributing to the overall harmony, neurons in our brain fire specific signals that contribute to our overall cognitive processes. But what ensures that each note is played with precision, without any off-key distractions? For our neural orchestra, the unsung maestros are the interneurons. They ensure that every neural impulse is refined, ensuring cognitive clarity and precision.
Importance of Balance and Precision in Neural Communication
The brain's ability to process information efficiently hinges on the accuracy and balance of neural communication. A minor misfire or misinterpretation of a signal can lead to significant disruptions in cognition, affecting everything from basic reflexes to complex decision-making processes [4].
Synchronized Neural Firing
Just as musicians in an orchestra need to be in sync, neurons must fire in a synchronized manner for efficient information processing. Any asynchronous firing can disrupt neural pathways, leading to cognitive inefficiencies or errors.
Dynamic Adaptability
The brain's strength lies in its adaptability. It constantly reconfigures neural pathways based on new experiences or learning. Interneurons aid in this plasticity, enabling the brain to adapt and evolve.
How Interneurons Adjust and Refine Neural Pathways
Interneurons, with their extensive connections and modulatory capabilities, play a pivotal role in refining and adjusting neural pathways. Their functions can be broadly classified into three primary roles.
Inhibitory Functions
Interneurons can produce inhibitory neurotransmitters, which prevent other neurons from firing. This inhibitory function ensures that only relevant neurons fire, filtering out unnecessary noise. For instance, when focusing on a task, the brain needs to tune out distractions. Interneurons facilitate this by inhibiting neurons related to these distractions [5].
Excitatory Functions
On the flip side, interneurons can also stimulate other neurons to fire. This excitatory function is crucial in amplifying essential signals, ensuring they traverse the neural pathway efficiently. When learning a new skill, for example, the repeated firing of certain neural pathways strengthens them. Interneurons facilitate this amplification, helping in the consolidation of memories or skills.
Feedback Loops
Interneurons can create feedback loops, wherein they receive and send back signals to the same set of neurons. These loops are crucial for self-regulation and continuous adjustment of neural pathways. Think of it as a musician continuously adjusting the tune of their instrument based on feedback, ensuring they play the right note every time.
References

[1] The Functional Role of Spinal Interneurons
[2] Interneurons
[3] Function and development of interneurons
[4] Interneuron cell types are fit to function
[5] Types of neurons