The Science of Adaptogens: Nature's Underappreciated Brain Boosters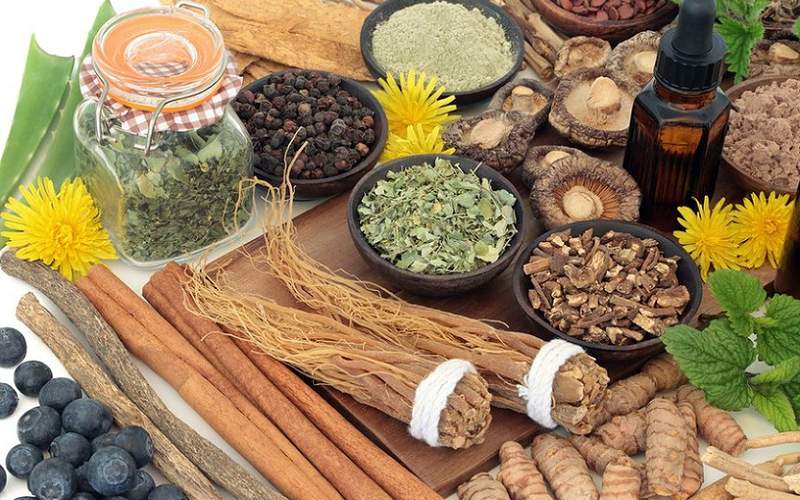 In the quest for optimal brain health and cognitive performance, nootropics have emerged as a popular avenue for exploration. While substances like modafinil and piracetam often grab the spotlight, there's an underappreciated category of natural brain boosters that deserves your attention — adaptogens. These plant-based substances have been used for centuries in traditional healing practices around the world, yet they're relatively underexplored in modern Western medicine when it comes to cognitive health.
What Are Adaptogens?
Adaptogens are natural substances, primarily derived from herbs and roots, that help the body adapt to various kinds of stress. They've been used for centuries in traditional medicine practices, but it's only recently that Western science has started to explore their potential benefits.
Historical Use of Adaptogens
The use of adaptogens dates back thousands of years, mainly in Traditional Chinese Medicine (TCM) and Ayurvedic medicine.
Traditional Chinese Medicine
In TCM, adaptogenic herbs like ginseng have been utilized for their purported abilities to balance energy and restore harmony in the body's Yin and Yang. These natural substances are typically used in combination with other herbs and practices, forming part of a holistic approach to health and wellness.
Ayurvedic Medicine
Similarly, in Ayurvedic medicine—an ancient healthcare practice from India—herbs like ashwagandha and holy basil have been employed for their adaptogenic properties. They are often prescribed to balance the body's "doshas" or elemental energies, promoting physical and mental resilience [1].
Modern Understanding of Adaptogens
Fast forward to the 21st century, and adaptogens are making a comeback in a big way, albeit now backed by scientific research. In essence, an adaptogen must meet three criteria:
It must be generally safe and non-toxic for regular use.
It should help the body resist a wide range of stressors, including physical, chemical, and biological stress.
It must have a balancing effect, normalizing bodily functions whether they're underperforming or overactive.
These criteria provide a guideline for evaluating substances for their adaptogenic properties. However, it's worth noting that the research landscape is still relatively young, and more studies are required to firmly establish the benefits and mechanisms of adaptogens.
Categories of Adaptogens
Understanding adaptogens also means recognizing that they are not all the same. Adaptogens are generally categorized into three types: primary, secondary, and adaptogen companions.
Primary Adaptogens
These are the herbs and roots most closely aligned with the original definition of adaptogens. They directly affect the body's stress response and have a broad range of actions that help to normalize imbalances. Examples include ginseng, ashwagandha, and rhodiola rosea.
Secondary Adaptogens
Secondary adaptogens may not directly influence the stress response in the same way that primary adaptogens do, but they offer other supportive health benefits. For example, some may improve immune function or provide anti-inflammatory effects. Licorice root and maca are examples of secondary adaptogens.
Adaptogen Companions
These substances may not be adaptogens in the strict sense, but they complement the effects of primary and secondary adaptogens. For instance, they might enhance bioavailability or provide additional nutrients. Common adaptogen companions include various forms of mushrooms like reishi and cordyceps.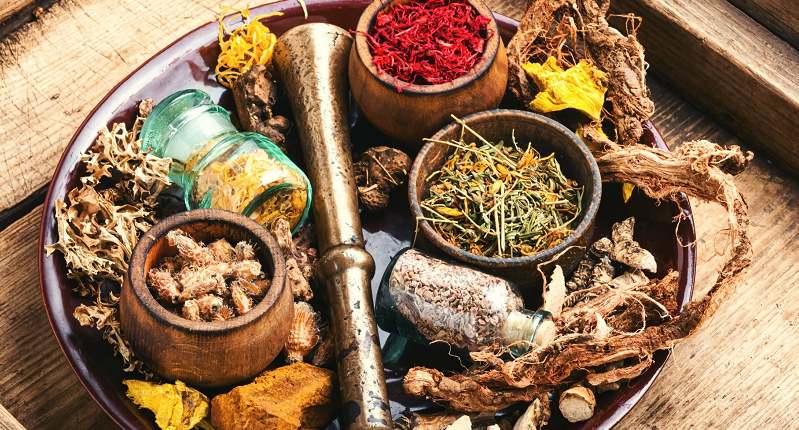 How Do Adaptogens Work?
The mechanisms of how these plant-based substances actually exert their effects on the body and brain are both complex and fascinating, involving various bodily systems from the stress response to neurotransmitter modulation and cellular health.
Interaction with the Stress Response
One of the key areas where adaptogens show significant promise is in modulating the body's response to stress. This is important because chronic stress is a known factor that can negatively impact cognitive function and mental well-being.
The HPA Axis
The Hypothalamic-Pituitary-Adrenal (HPA) axis is a complex set of interactions between the hypothalamus, the pituitary gland, and the adrenal glands. The HPA axis controls the body's stress response. Adaptogens are believed to moderate the HPA axis, helping to keep it in balance. This in turn can lower excessive cortisol levels, a stress hormone, and help the body adapt to stressful situations more effectively [2].
Cortisol Regulation
Cortisol, often dubbed the "stress hormone," plays a significant role in how we feel on a daily basis. While cortisol is necessary for various physiological processes, excessive levels can lead to problems like anxiety, sleep issues, and cognitive decline. Many adaptogens like ashwagandha have shown promise in regulating cortisol levels, which can have a downstream positive effect on brain health.
Neurotransmitter Modulation
Beyond the stress response, adaptogens also interact with neurotransmitters in the brain, which are chemical messengers that play a crucial role in mood, focus, and cognitive function.
Serotonin
Serotonin is often called the "feel-good" neurotransmitter. It plays a crucial role in regulating mood, sleep, and appetite. Some adaptogens, such as rhodiola rosea, are believed to positively influence serotonin levels, which can lead to better mood and increased mental clarity.
Dopamine
Dopamine is another neurotransmitter that is important for mood as well as focus and motivation. Adaptogens like ginseng and maca are thought to influence dopamine levels, potentially leading to improved concentration and a more positive outlook on life.
Cellular Health
Last but not least, adaptogens have been studied for their potential impact at the cellular level, particularly concerning antioxidant properties and anti-inflammatory effects.
Antioxidant Properties
Oxidative stress occurs when there's an imbalance between free radicals and antioxidants in the body, leading to cellular damage. This is often cited as a factor in aging and various diseases. Some adaptogens like holy basil possess potent antioxidant properties, helping to combat oxidative stress and thereby potentially improving cognitive longevity.
Anti-inflammatory Effects
Inflammation is the body's natural response to injury or infection, but chronic inflammation is linked to various health problems, including brain diseases like Alzheimer's. Adaptogens such as turmeric have anti-inflammatory properties that could play a role in maintaining brain health over the long term [3].
popular-adaptogen-nootropics
adaptogens-as-nootropics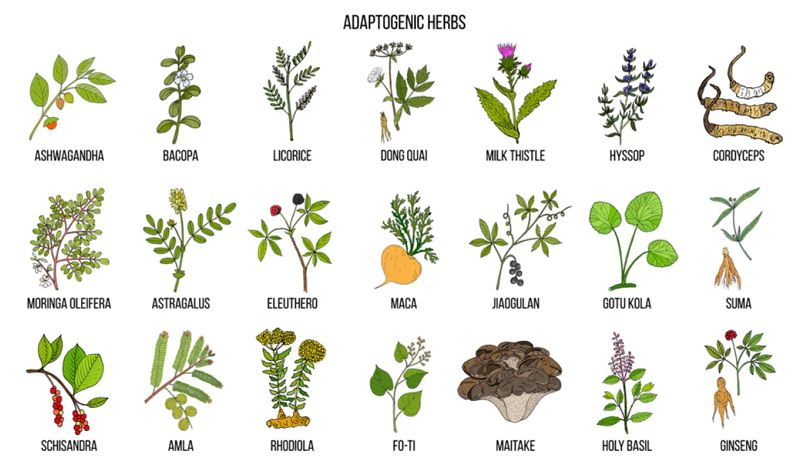 The Brain-Boosting Benefits of Adaptogens
Having explored what adaptogens are and how they work, it's time to delve into the heart of the matter—the range of brain-boosting benefits these fascinating substances offer. Adaptogens can potentially affect everything from cognitive function and emotional well-being to overall physical health. Let's unpack these advantages one by one.
Cognitive Function
Perhaps the most intriguing area where adaptogens are making waves is in the realm of cognitive enhancement. Although adaptogens are not a magic pill that will make you a genius overnight, evidence suggests that they can support various aspects of cognitive function.
Memory
Memory is a crucial part of our cognitive makeup, affecting everything from learning and problem-solving to emotional regulation. Adaptogens like rhodiola rosea and ginseng have been studied for their potential to improve memory, particularly under conditions of stress or fatigue. While research is still ongoing, early results are promising.
Focus
In an age of constant distractions, the ability to focus is invaluable. Adaptogens like ashwagandha and holy basil have shown promise in aiding concentration. These natural substances seem to help by moderating stress levels, which in turn helps to clear the mind and enhance the ability to focus.
Mental Agility
Cognitive flexibility or mental agility refers to the ability to switch between different concepts or adapt to new information quickly. Some adaptogens, particularly rhodiola rosea, have been studied for their potential to improve cognitive flexibility, thereby making problem-solving and creative thinking more efficient.
Emotional Well-Being
Beyond cognitive function, adaptogens also offer significant potential benefits for emotional health.
Anxiety Reduction
For those who struggle with anxiety, adaptogens may offer a natural alternative to pharmaceutical medications. Adaptogens like ashwagandha and holy basil have demonstrated anxiolytic (anxiety-reducing) effects in both animal and human studies, likely due to their ability to regulate cortisol and other stress hormones [4].
Mood Stabilization
Mood swings can be debilitating and can significantly impact the quality of life. Adaptogens like ginseng and maca have shown promise in stabilizing mood, possibly due to their interaction with neurotransmitters like serotonin and dopamine. While they're not a replacement for professional medical treatment, they may serve as a supplementary aid in mood regulation.
Physical Health Impacts
Lastly, it's important to consider that brain health does not exist in isolation from the rest of the body. Adaptogens have some noteworthy impacts on physical health that can indirectly contribute to cognitive well-being.
Fatigue Reduction
Fatigue is often both a cause and a symptom of poor cognitive function. Adaptogens like rhodiola rosea are renowned for their anti-fatigue properties. By helping to reduce fatigue, these adaptogens can improve your mental clarity and focus.
Immune System Support
A well-functioning immune system is vital for overall health, and this includes cognitive health. Some adaptogens, such as astragalus and reishi mushrooms, have immune-boosting properties that can help keep you healthy and, by extension, support your brain function.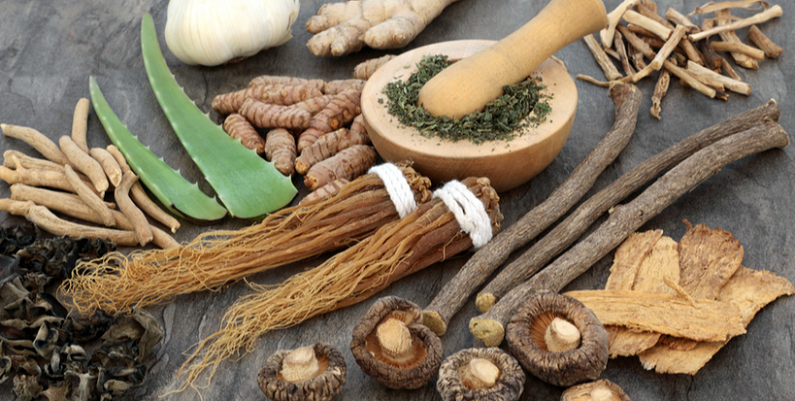 Popular Adaptogens for Brain Health
After learning about the general benefits of adaptogens, you may be wondering which specific adaptogens are most effective for enhancing brain health. Here we discuss some of the most popular adaptogens known for their brain-boosting properties.
Ashwagandha
Ashwagandha is a cornerstone herb in Ayurvedic medicine and has gained considerable attention for its adaptogenic properties.
Anxiety and Stress Management
Ashwagandha is often recommended for managing stress and anxiety. Studies have shown that it can significantly reduce cortisol levels, helping to relieve stress and, by extension, improve focus and mental clarity.
Memory Enhancement
Research has also pointed to ashwagandha's potential to improve memory and cognitive function. While the mechanism is not yet fully understood, it's thought that ashwagandha may enhance brain signaling pathways, thus contributing to better memory retention [5].
Rhodiola Rosea
A popular herb used in traditional medicine in Eastern Europe and Asia, Rhodiola Rosea is noted for its stamina-enhancing and anti-fatigue effects.
Fighting Mental Fatigue
One of Rhodiola Rosea's most celebrated benefits is its ability to combat mental fatigue, which is especially beneficial for those leading demanding lifestyles. It can enhance your ability to concentrate over extended periods.
Mood Elevation
Rhodiola is also thought to have a positive impact on serotonin levels, potentially offering mood-elevating benefits. This can have a downstream positive impact on cognitive function, as a balanced mood often leads to better mental performance.
Ginseng
Ginseng is perhaps one of the most widely recognized adaptogens, traditionally used in both Chinese medicine and Native American herbal medicine.
Cognitive Boost
Multiple studies have explored ginseng's effect on cognitive function, finding that it may improve mental performance and the ability to complete mental tasks efficiently.
Immune System Support
In addition to its cognitive benefits, ginseng is known for boosting the immune system. A stronger immune system can contribute to overall well-being, which indirectly supports brain health.
Holy Basil (Tulsi)
A key herb in Ayurvedic practice, Holy Basil, or Tulsi, has several health benefits that extend to brain health.
Stress Reduction
Holy Basil is known for its anti-stress properties. By helping to regulate cortisol levels, it can reduce the mental fog that often accompanies stress, enabling better focus and clarity.
Antioxidant Properties
The herb is also rich in antioxidants, which can protect against oxidative stress. This is beneficial for long-term cognitive health and may even have implications for preventing neurodegenerative diseases.
References

[1] Adaptogens
[2] Effects of Adaptogens on the Central Nervous System
[3] Adaptogens Versus Nootropics: What's The Difference?
[4] Adaptogens 101: Boosting Your Body's Resilience and Balance
[5] How adaptogens influence cognitive-mental performance