Impact of Altitude Changes on Brain Function and Cognition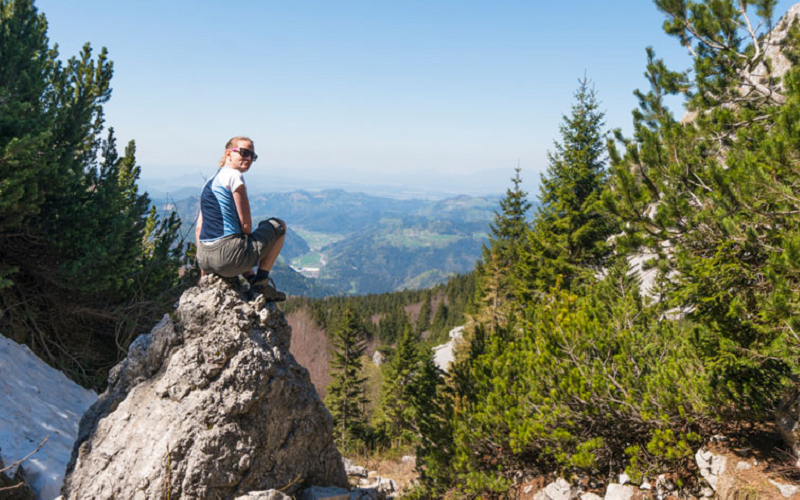 Altitude changes are not just about the shortness of breath or the thrill of reaching a new height. They can significantly influence our brain function and cognition. Here we look at the basics of how the brain works and how altitude sickness can manifest. We also investigate how altitude changes affect various cognitive aspects, such as memory, concentration, decision-making abilities, and motor skills.
Understanding the Basics of Altitude and Cognition
To fully grasp the impact of altitude changes on the brain, it's essential to understand two key components: the basic functioning of the brain and the phenomenon of altitude sickness. Having a solid foundation in these two areas will aid in appreciating the depth of the topic at hand.
Overview of the Brain's Functionality and Cognition
The human brain, often described as the most complex organ in our body, oversees a myriad of functions. It controls our physical actions, our emotional responses, and our cognitive abilities. Cognition refers to the mental processes that include memory, attention, understanding language, solving problems, and making decisions.
In an optimal environment, these cognitive functions are performed seamlessly. However, when the brain is subjected to stressors, such as reduced oxygen availability at high altitudes, its functionality can be affected. The ability to remember, solve problems, and make decisions could be impaired. In severe cases, physical symptoms like loss of motor control might manifest.
Brief Explanation of Altitude Changes
Altitude is simply defined as the height above sea level. As one ascends from sea level, the atmospheric pressure decreases, meaning there are fewer molecules of oxygen in the air per breath taken. This scarcity of oxygen can pose significant challenges to our bodies, especially if the ascent is rapid or the altitude particularly high.
Altitude changes affect everyone differently. Some people may experience no negative effects at all, while others may suffer from acute illness. The most common reactions to altitude change are due to the lower oxygen levels and include symptoms such as breathlessness, lightheadedness, and difficulty sleeping. But these physical symptoms are just the beginning.
Understanding the Concept of Altitude Sickness
The brain, being an extremely oxygen-dependent organ, is particularly sensitive to changes in altitude. The thin air at high altitudes can cause a multitude of changes in brain function, including impacts on memory, decision-making abilities, and even long-term brain health.
Altitude sickness, also known as Acute Mountain Sickness (AMS), typically occurs when you ascend too quickly to a high altitude, where the amount of oxygen available for inhalation is lower. Symptoms of altitude sickness can range from mild to severe and may include headache, dizziness, fatigue, nausea, and shortness of breath.
More severe forms of altitude sickness include High Altitude Pulmonary Edema (HAPE), where fluid accumulates in the lungs, and High Altitude Cerebral Edema (HACE), a potentially fatal condition characterized by brain swelling [1].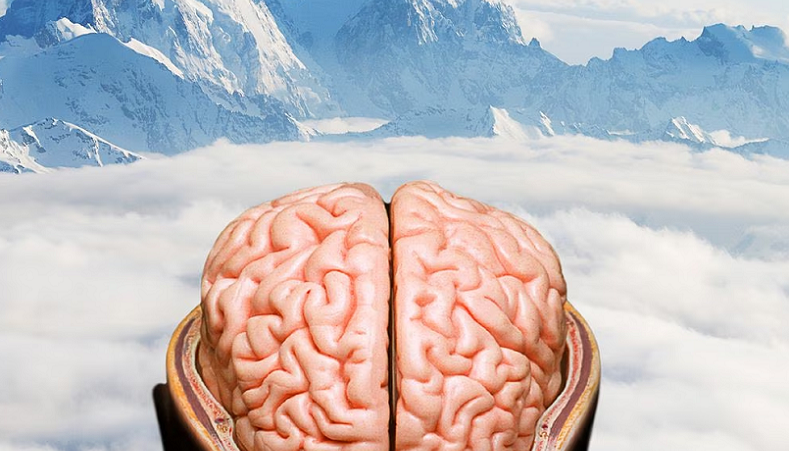 Physiological Impacts of Altitude Changes
Altitude changes do more than just take our breath away; they can have profound impacts on our physiology, including brain function. The most immediate response to altitude is the body's effort to increase oxygen delivery to tissues, specifically to highly oxygen-demanding organs like the brain. However, when the changes are too rapid or the altitude too high, the body might struggle to compensate, leading to several physiological effects.
Effects of Hypoxia on the Brain
Hypoxia, a condition characterized by a deficiency in the amount of oxygen reaching the tissues, is a fundamental challenge when it comes to altitude changes. At higher altitudes, the lower atmospheric pressure means there's less oxygen available per breath. The brain, being an organ with high oxygen demand, is particularly sensitive to this reduced oxygen availability.
Acute hypoxia can lead to disruptions in neurotransmission – the process of transmitting signals in the brain – causing a variety of symptoms, such as headache, nausea, and fatigue. In severe cases, hypoxia can lead to significant cognitive impairment and may even result in unconsciousness or death if not managed properly [2].
Acute Mountain Sickness (AMS): Symptoms and Causes
As we ascend to higher altitudes, the risk of developing Acute Mountain Sickness (AMS) increases. AMS is the body's general reaction to the hypoxia induced by a rapid ascent to high altitude. Symptoms typically include headache, nausea, fatigue, dizziness, and difficulty sleeping.
Although the exact cause of AMS remains somewhat elusive, it's generally accepted that it results from an inadequate adaptation to hypoxia. The brain responds to hypoxia by increasing blood flow in an attempt to deliver more oxygen. This increased blood flow can lead to an elevated intracranial pressure, causing the characteristic AMS headache [3].
High Altitude Cerebral Edema (HACE): Symptoms and Causes
A severe and potentially fatal form of altitude sickness is High Altitude Cerebral Edema (HACE). HACE occurs when fluid leaks from the blood vessels in the brain, causing swelling and increasing pressure inside the skull. Symptoms of HACE include severe headache, loss of coordination (ataxia), fatigue, confusion, hallucinations, and in severe cases, coma.
HACE is thought to result from the combination of hypoxia-induced increased brain blood flow and leaky brain blood vessels. Despite the serious nature of HACE, timely recognition of symptoms and immediate descent to lower altitudes can often result in a complete recovery [4].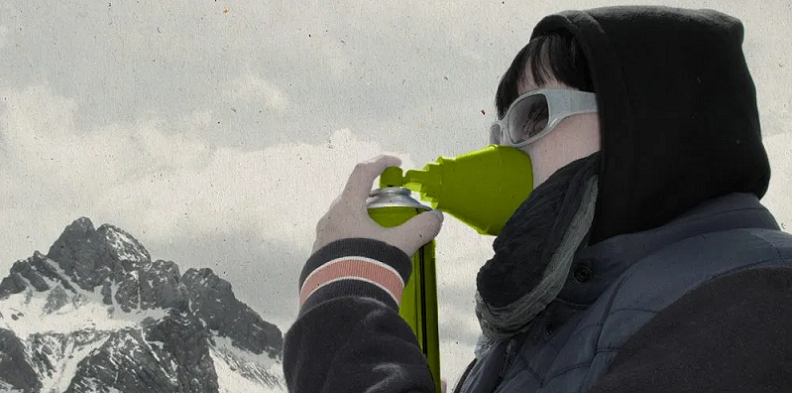 Cognitive Implications of Altitude Changes
While the physiological impacts of altitude changes are more immediate and often temporary, their effects on cognitive functioning can be both subtle and profound. Hypoxia, along with physiological stress, can significantly influence cognitive functions such as memory, decision-making abilities, and motor skills.
Impact on Memory and Concentration
One of the most common cognitive effects of altitude changes is an impairment of memory and concentration. Reduced oxygen availability can hamper the brain's ability to create new memories, known as memory encoding. Studies have shown that individuals at high altitudes often experience difficulties with both short-term and long-term memory tasks.
Concentration, too, can be significantly affected by altitude changes. This can manifest as a decreased ability to focus on tasks or a general feeling of being mentally slower or "foggy."
Effects on Decision-Making Abilities
Another significant cognitive impact of altitude changes is the impairment of decision-making abilities. Research has shown that high-altitude climbers often struggle with complex cognitive tasks and make riskier decisions. This can be particularly dangerous in a high-altitude environment, where a poor decision can have severe consequences.
Interestingly, many climbers are not aware of these cognitive impairments, highlighting the importance of understanding the impact of altitude changes on cognitive function, especially for those planning to ascend to high altitudes [5].
Influence on Motor Skills and Coordination
Motor skills and coordination can also be affected by changes in altitude. Acute hypoxia can affect the motor cortex, the part of the brain responsible for voluntary movements. This can lead to decreased coordination, slower reaction times, and overall poorer performance in tasks requiring fine motor control. In severe cases, such as with HACE, this lack of coordination can be severe enough to cause difficulty walking, a symptom known as ataxia.
Altitude and Long-Term Brain Health
While many effects of altitude on brain function and cognition are temporary and resolve once a person descends to a lower altitude, scientists are beginning to explore potential long-term impacts. This is especially pertinent to people living at high altitudes and those regularly exposed to these environments, such as mountaineers and high-altitude pilots.
Research on Chronic Mountain Sickness
Chronic Mountain Sickness (CMS) is a health condition that occurs when the body doesn't fully adapt to high altitudes over an extended period. Unlike Acute Mountain Sickness, which usually resolves with descent or time spent acclimatizing, CMS develops over months or years of living at high altitudes.
CMS can have various symptoms, including excessive red blood cell production, breathlessness, fatigue, and disturbances in sleep. Research has suggested that individuals with CMS can experience persistent cognitive impairments, such as issues with memory, attention, and executive functions. Further research is required to fully understand these effects and their potential reversibility [6].
Potential Risks for Neurological Disorders
Prolonged exposure to high altitudes and subsequent hypoxia may also increase the risk of developing certain neurological disorders. For instance, some studies have suggested a potential link between long-term high altitude residence and an increased risk of developing Alzheimer's disease, likely due to chronic hypoxia-related changes in the brain.
However, these associations are still being investigated, and more research is needed to fully understand these potential risks and the mechanisms behind them.
Brain Volume Changes with Long-Term High Altitude Exposure
Remarkably, some studies have shown that long-term exposure to high altitudes can result in actual changes to the brain's structure. This can include both increases and decreases in the volume of certain brain regions. While these changes are typically small and their cognitive implications are not entirely understood, they highlight the profound influence that the environment, specifically altitude, can have on our brains [7].
Measures to Mitigate the Impact of Altitude Changes
Given the significant impact of altitude changes on brain function and cognition, it's crucial to consider measures that can help mitigate these effects. These can range from simple lifestyle adjustments to more targeted pharmacological interventions. By employing these strategies, it's possible to minimize the adverse effects of altitude and better protect cognitive health.
Importance of Acclimatization
The most effective way to mitigate the impact of altitude changes on the brain is acclimatization. This refers to the process by which the body gradually adapts to changes in environment, including low oxygen levels at high altitudes. Acclimatization involves several physiological adjustments, such as increased breathing and heart rates and enhanced oxygen delivery to tissues.
The key to effective acclimatization is a slow and controlled ascent to high altitudes. This allows the body and the brain sufficient time to adapt to the lower oxygen levels, thereby reducing the risk of altitude sickness and related cognitive impairments.
Pharmacological Interventions and Their Effectiveness
For individuals who are unable to acclimatize naturally or are at a high risk of altitude sickness, pharmacological interventions can be an option. Medications like Acetazolamide and Dexamethasone are often used to prevent and treat altitude sickness. These medications can help reduce the symptoms of altitude sickness and protect against cognitive impairments.
However, it's important to note that these medications should be used under the guidance of a healthcare provider, as they can have side effects and are not suitable for everyone. Moreover, they are not a substitute for gradual ascent and proper acclimatization.
Lifestyle Adjustments and Protective Measures
Certain lifestyle adjustments can also help mitigate the impact of altitude changes on the brain. These include staying well-hydrated, maintaining a balanced diet, avoiding alcohol, and getting plenty of rest. It's also recommended to learn the signs of altitude sickness and take prompt action, such as resting or descending, if symptoms develop.
Using oxygen supplementation at high altitudes can also be beneficial, especially for those who are particularly susceptible to altitude sickness or who must ascend quickly due to specific circumstances.
References

[1] Long-Term Exposure to High Altitude Affects Voluntary Spatial Attention at Early and Late Processing Stages
[2] The Effect of Altitude on Cognitive Performance and Mood States
[3] How altitude can impact neurological condition
[4] How do acute, subacute and repeated exposures to high altitude affect cognition?
[5] Altitude and the Brain
[6] What it's like … when altitude affects your brain
[7] The high-altitude brain