Chronotypes and Cognitive Performance: Understanding Your Biological Clock's Impact on Brain Function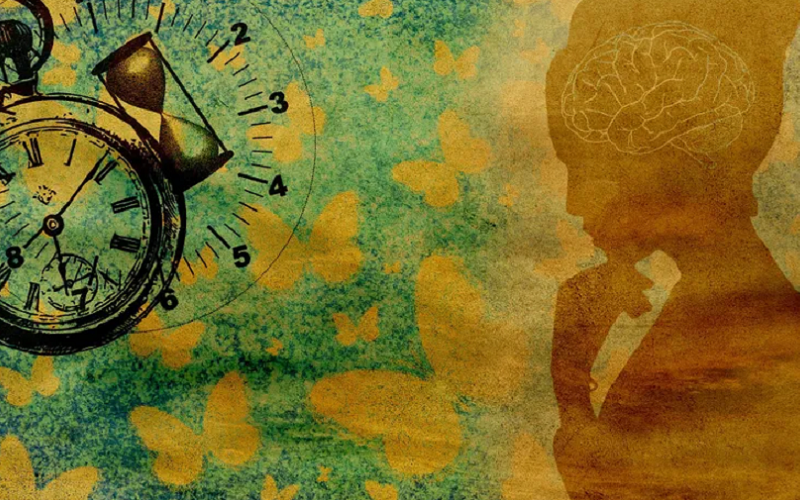 Are you a morning person who thrives on early-morning productivity, or do you come alive when the sun goes down? These tendencies, known as chronotypes, play a crucial role in our daily lives and can significantly influence our cognitive performance. Here we delve into the fascinating world of chronotypes and explore the impact of our biological clocks on brain function.
Understanding Chronotypes
Chronotypes play a significant role in determining our daily habits, energy levels, and even cognitive performance.
The Role of Circadian Rhythms
Circadian rhythms are internal biological clocks that regulate various physiological processes in our bodies, including sleep-wake cycles, hormone release, and body temperature. These 24-hour cycles are governed by a group of cells in the hypothalamus called the suprachiasmatic nucleus (SCN), which receives input from light-sensitive cells in the retina to synchronize with the external environment. The synchronization of our internal clocks with the day-night cycle is crucial for maintaining optimal health and cognitive function.
Genetic and Environmental Influences on Chronotypes
The interplay between genetic and environmental factors determines an individual's chronotype. Certain genes, such as CLOCK and PER, have been associated with variations in circadian rhythms and, consequently, our preference for morning or evening activities [1].
However, environmental factors, including exposure to light, cultural norms, and personal habits, also play a significant role in shaping our chronotypes. For instance, exposure to artificial light at night can disrupt our natural sleep-wake patterns, leading to a shift in our chronotype.
Identifying Your Own Chronotype
To better understand your chronotype and harness its potential, you can use self-assessment tools or questionnaires, such as the Morningness-Eveningness Questionnaire (MEQ) or the Munich ChronoType Questionnaire (MCTQ) [2]. These tools help you gauge your preference for morning or evening activities by analyzing your sleep-wake patterns, energy levels, and habits.
Another way to identify your chronotype is by observing your personal energy patterns throughout the day. When do you feel most alert and focused? When do you prefer to engage in creative tasks or problem-solving activities? By paying close attention to these patterns, you can gain valuable insights into your unique chronotype and use this information to optimize your daily routine and cognitive performance.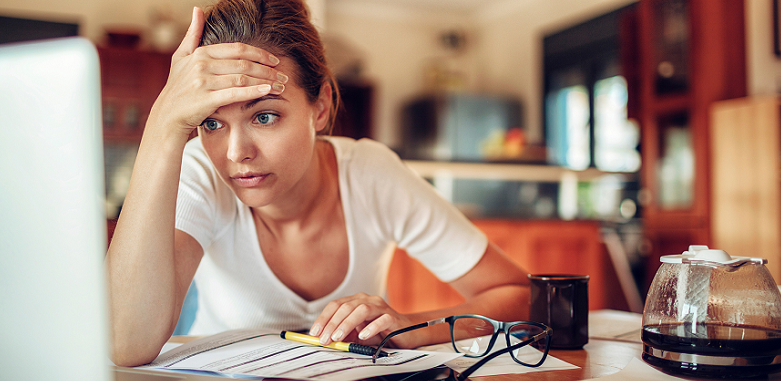 Cognitive Performance and Chronotypes
The relationship between chronotypes and cognitive performance is a growing area of interest in research.
Influence of Chronotypes on Cognitive Performance
Chronotypes can affect cognitive performance by determining the optimal time of day for different tasks. Cognitive processes like memory, attention, and problem-solving can vary in efficiency depending on whether an individual is at their peak alertness or experiencing a dip in energy. As such, understanding your chronotype and aligning your tasks with your peak performance periods can help you maximize productivity and effectiveness.
Research on Chronotype-specific Cognitive Strengths
Here we look at the research on chronotype-specific cognitive strengths, exploring how morning, evening, and intermediate types each exhibit unique advantages and challenges in their cognitive performance. Understanding these differences can help you better leverage your chronotype's strengths and mitigate potential drawbacks to maximize productivity and cognitive function.
Morning types: benefits and drawbacks
Morning types, or "larks," tend to perform better on tasks requiring attention, memory, and analytical thinking during the early hours of the day [3]. They often experience peak productivity before noon and may struggle to maintain focus and alertness as the day progresses. Morning types also tend to have a more consistent sleep-wake schedule, which can contribute to better overall cognitive function and mental health.
Evening types: benefits and drawbacks
Evening types, or "owls," usually experience increased cognitive performance during the late afternoon and evening [4]. They often excel at tasks requiring creativity, problem-solving, and flexible thinking during their peak hours. However, evening types may face challenges adapting to conventional work or school schedules, which can lead to insufficient sleep and negatively impact cognitive function.
Intermediate types: benefits and drawbacks
Intermediate types, who fall between morning and evening preferences, often display a more balanced distribution of cognitive performance throughout the day [5]. They may not experience extreme peaks and troughs in energy levels, which can make them more adaptable to varying schedules and demands. However, intermediate types should still strive to identify their optimal performance windows to maximize their cognitive potential.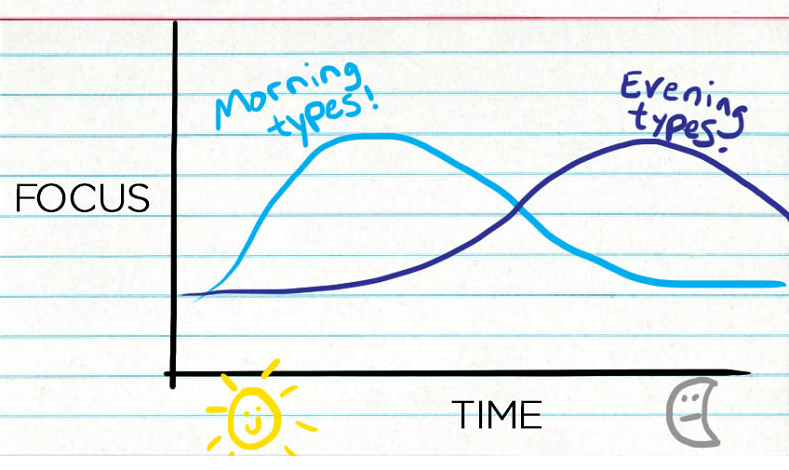 Strategies for Enhancing Cognitive Performance Based on Your Chronotype
To make the most of your chronotype and enhance cognitive performance, it's essential to tailor your daily routine, sleep hygiene, and lifestyle habits according to your unique energy patterns.
Aligning Work and Study Schedules With Your Chronotype
Morning types should capitalize on their early-morning energy by scheduling cognitively demanding tasks, such as problem-solving, decision-making, and learning, during this period. To maintain productivity throughout the day, consider scheduling routine or administrative tasks for the afternoon and taking short breaks to recharge when energy levels dip.
Evening types should aim to schedule complex or creative tasks during their peak performance hours in the late afternoon or evening. If possible, consider negotiating flexible work hours or remote work arrangements to accommodate your natural energy patterns. During the day, engage in lighter tasks and take breaks as needed to maintain focus and alertness.
Intermediate types should observe their daily energy patterns to identify optimal times for various tasks. Try to schedule cognitively demanding tasks during your peak performance windows and reserve less demanding tasks for periods when your energy levels are lower. Regular breaks and a balanced workload can help intermediate types maintain productivity throughout the day.
Sleep Hygiene and Cognitive Performance
A consistent sleep schedule is crucial for maintaining optimal cognitive function, regardless of your chronotype. Aim for 7-9 hours of sleep per night and establish a regular bedtime and wake-up time to help regulate your circadian rhythms.
To enhance sleep quality, create a relaxing bedtime routine, limit exposure to screens and artificial light before bed, and maintain a cool, dark, and quiet sleep environment. If you struggle with sleep, consider seeking professional advice or incorporating relaxation techniques, such as meditation or deep breathing, into your routine.
Nutrition, Exercise, and Cognitive Performance
A balanced diet is essential for maintaining optimal cognitive performance [6]. Focus on consuming a variety of whole foods, including fruits, vegetables, whole grains, lean proteins, and healthy fats. Avoid excessive sugar, caffeine, and processed foods, which can lead to energy crashes and negatively impact cognitive function.
Regular exercise has been shown to improve cognitive function, memory, and mood. Aim for at least 150 minutes of moderate-intensity aerobic exercise per week, along with muscle-strengthening activities. Consider incorporating exercise during your chronotype's optimal performance window to further enhance cognitive performance.
By implementing these strategies and tailoring them to your chronotype, you can optimize cognitive performance and make the most of your unique energy patterns throughout the day.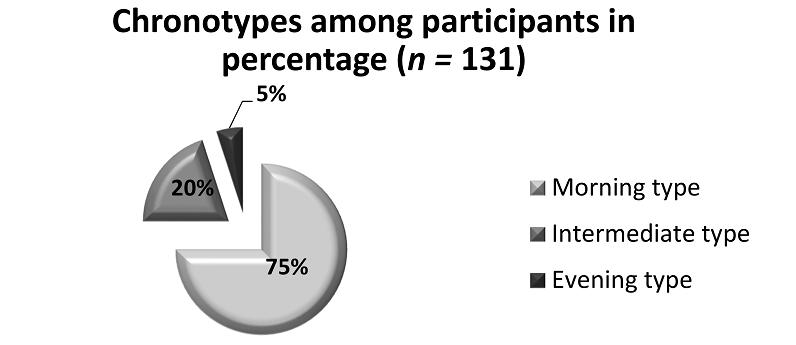 Adapting to Circumstances: Flexibility and Resilience
While understanding and aligning your daily routine with your chronotype can significantly enhance cognitive performance, it is also crucial to develop flexibility and resilience when faced with external constraints or challenging situations.
Coping with External Constraints on Your Schedule
Traveling across time zones can disrupt your circadian rhythms and temporarily impact your cognitive performance [7]. To minimize the effects of jet lag, gradually adjust your sleep schedule in the days leading up to your trip, expose yourself to natural light upon arrival to help reset your internal clock, and maintain regular meal times to support your body's adjustment.
If your job requires shift work or irregular hours, it's essential to prioritize sleep and recovery. Establish a consistent sleep routine, use blackout curtains or sleep masks to create a conducive sleep environment, and communicate your needs with family and friends to minimize disruptions. Additionally, consider napping strategically to help maintain alertness and cognitive function during your shift.
Enhancing Cognitive Performance When Outside of Your Optimal Time
If you need to perform cognitive tasks outside of your optimal time, employ strategies to maintain focus and alertness. Break tasks into smaller, manageable segments, and take regular short breaks to recharge. Utilize techniques such as the Pomodoro Technique or time-blocking to maintain productivity.
Incorporate relaxation techniques, such as deep breathing, meditation, or mindfulness, to manage stress and maintain cognitive function throughout the day. Scheduling regular breaks and engaging in enjoyable activities during downtime can help prevent burnout and support overall cognitive performance.
References

[1] Individual Variation and the Genetics of Sleep – Healthy Sleep
[2] What are we measuring with the morningness–eveningness questionnaire?
[3] Time-of-day matters in text learning and recall: Evening lessons are advantageous for adults with ADHD though not for typical peers
[4] Identifying the Best Times for Cognitive Functioning Using New Methods
[5] The Glymphatic System: How Your Brain Cleans Itself
[6] Exploring the Connection: Food and Cognition
[7] Jet lag disorder