Bee Products and Brain Health: From Royal Jelly to Propolis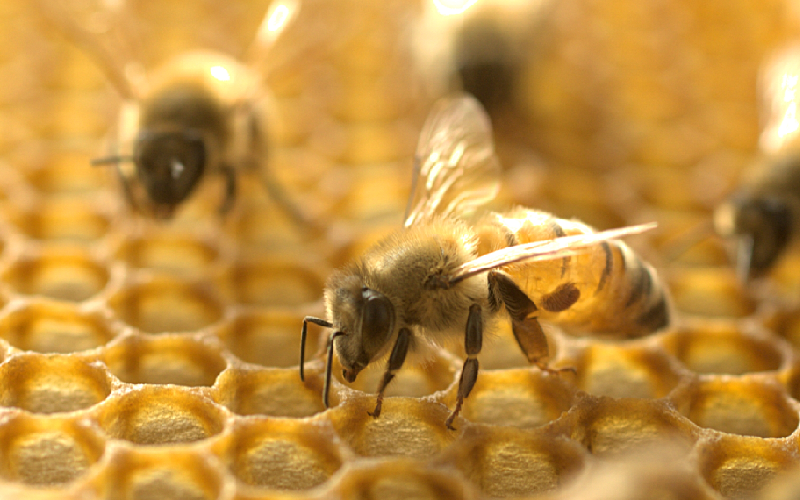 In the realm of cognitive health, there's a buzz about the benefits of bee products. From ancient civilizations to modern day research, the substances bees produce have always been a point of fascination for their wide-ranging health properties. Nootropics, or substances that can enhance cognitive function, are becoming increasingly popular among those looking to optimize their brain health. But beyond the synthetic pills and powders, nature offers its own set of potent cognitive enhancers. Enter the world of bees – from the regal concoction that is royal jelly to the protective might of propolis.
Introduction to Bee Products as Nootropics
The search for natural ways to bolster our cognitive capacities has been an age-old pursuit. In recent years, the term 'nootropic' has entered the mainstream lexicon, painting a picture of enhanced memory, clarity, and overall brain health. But nootropics aren't just limited to modern synthesized compounds. Nature, with its abundant resources, has its own array of substances believed to boost the brain's prowess. Among these, bee products stand out as a hive of potential, with ancient traditions and contemporary research both singing their praises.
Brief Overview of Nootropics
Nootropics, commonly referred to as "smart drugs" or "cognitive enhancers", are compounds that have the potential to enhance various aspects of brain function. From memory and focus to mood regulation, these substances promise improved mental clarity and performance. The nootropic family is vast, comprising both synthetic drugs and natural compounds. And while the allure of a quick fix via a pill is undeniable, there's a growing interest in natural alternatives, which bring us to the door of the humble bee.
The Importance of Natural Products in Cognitive Health
The shift towards natural remedies isn't just a trend; it's grounded in a deep-seated understanding of holistic health. Natural products often come with a symphony of compounds, working together in harmony, which might provide a broader range of benefits with fewer side effects compared to isolated compounds. For brain health, in particular, the intricate interplay of vitamins, minerals, and antioxidants in natural sources can offer multifaceted support to our neural networks.
Introducing Bee Products as Potential Nootropics
Bees, those tireless workers that play a pivotal role in our ecosystems, produce some of the most intriguing substances in the natural world. Royal jelly, propolis, honey, and bee pollen – each of these products has its own tale to tell in the realm of health and wellness. And when it comes to cognitive vitality, early indications suggest that these bee-derived treasures might hold the key to unlocking newfound mental clarity and protection [1].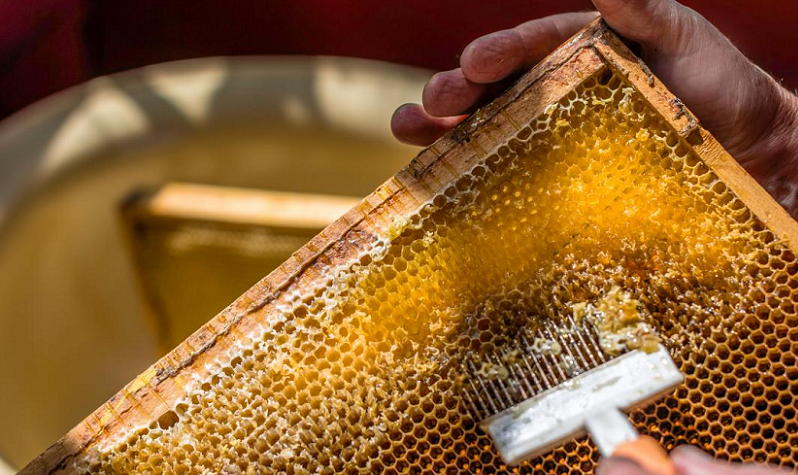 Understanding the World of Bees
Peering into the world of bees is like entering a universe teeming with activity, dedication, and unparalleled teamwork. The hive, a marvel of nature's architecture, resonates with stories of selfless contribution and meticulously organized roles. As we explore the bee realm, it's essential to recognize the unique products they create, not just for their survival but also for the myriad benefits they offer to human health.
Life in a Beehive
Beehives are masterclasses in order, precision, and collaboration. Home to thousands of bees, these structures exemplify the perfect balance of work and purpose. In the hive, every bee has its designated role, from the queen, the sole egg-layer, to worker bees responsible for various tasks including foraging, nursing, and defense, and the drones whose primary role is to mate with the queen. This well-defined hierarchy and division of labor ensure the hive's smooth functioning and the continuation of the bee lineage.
Beyond just the architectural wonder and the bees themselves, the hive hosts an array of products, each serving a specific purpose for the colony. These very products have caught the attention of researchers for their potential impact on human health.
Major Products Produced by Bees
Bee products are diverse, each with its unique composition and purpose. At the heart of these products lies the bees' dedication to sustaining their community and ensuring their survival.
Royal Jelly
This creamy, nutritious substance is a staple in the diet of bee larvae and the exclusive food for the queen bee. Its rich composition hints at why the queen, who feeds solely on royal jelly, has a lifespan that outlasts worker bees by several years.
Propolis
Often referred to as "bee glue", propolis is a resinous compound bees collect from plants. Bees use it to seal and protect their hives, but its antimicrobial properties have made it a subject of interest in the world of natural medicine.
Honey
Beyond being a natural sweetener, honey serves as the primary food source for bees, especially during colder months. It's packed with sugars, enzymes, and antioxidants, making it a cherished commodity for both bees and humans alike.
Bee Pollen
Collected by bees from flowers, bee pollen is a mix of flower pollen, nectar, enzymes, honey, and bee secretions. An excellent nutritional source, it's often dubbed a "superfood" for its dense nutrient content [2].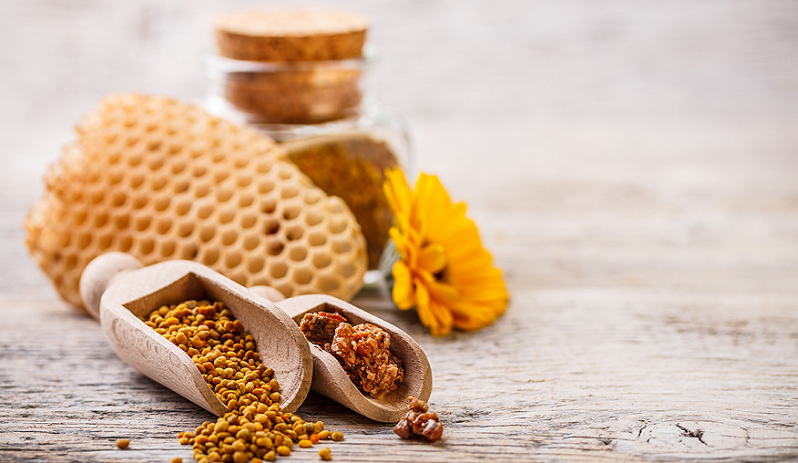 Royal Jelly: The Queen's Delight
When we speak of nature's luxurious offerings, royal jelly undoubtedly occupies a regal position. Aptly named, this milky substance is more than just food; it's an elixir that transforms an ordinary bee larva into a queen. But its magic doesn't end there. For humans, royal jelly has emerged as a potential treasure trove of health benefits, especially in the realm of cognitive enhancement and protection.
What is Royal Jelly?
Royal jelly is an enigma in the bee world. Produced by the glands of worker bees, this thick, creamy substance is fed to all bee larvae during their initial days. However, while worker bee larvae transition to a diet of honey and pollen, the queen bee larvae continue to feast on this potent substance throughout their development.
Composition and Nutritional Value
Royal jelly is a nutritional powerhouse. Comprising mainly of water, it also contains a rich blend of proteins, sugars, fats, vitamins, and minerals. One of the most intriguing components of royal jelly is a protein known as royalactin. This unique protein is believed to be responsible for the impressive growth and longevity of the queen bee.
In addition to royalactin, royal jelly boasts a plethora of B-vitamins, amino acids, and trace minerals. Its fatty acid content, particularly the presence of 10-hydroxy-2-decenoic acid, is another point of interest for researchers, given the potential health benefits associated with these compounds.
Production and Harvesting
Royal jelly production is a marvel of nature. Worker bees, aged between 5 to 15 days, are equipped with specialized glands that produce this substance. As the need for royal jelly arises, be it for feeding larvae or nourishing a new queen, these worker bees get into action [3].
Harvesting royal jelly, however, is a delicate task. Beekeepers introduce artificial queen cells into the hive, prompting worker bees to produce excess royal jelly. Once the queen cells are filled, beekeepers carefully collect the substance, ensuring minimal disturbance to the hive. Due to the labor-intensive nature of its production and harvest, royal jelly is often considered a premium product.
Potential Cognitive Benefits
The allure of royal jelly extends beyond its nutritional profile. As researchers dive deeper into its components, there's mounting evidence to suggest that this bee product might have tangible effects on brain health.
Neuroprotective Effects
Recent studies have indicated that royal jelly might possess neuroprotective qualities. Its potential to combat oxidative stress, a significant factor in neurodegenerative diseases, puts royal jelly on the map as a natural ally against conditions like Alzheimer's and Parkinson's.
Memory Enhancement
Memory enhancement is a sought-after trait in the world of nootropics, and royal jelly might just make the cut. Preliminary research suggests that the fatty acids present in royal jelly can promote neural growth, potentially aiding memory retention and learning capabilities.
Possible Mechanisms of Action
While the exact mechanisms remain a subject of investigation, royal jelly's rich blend of proteins, fatty acids, and vitamins is believed to be the driving force behind its cognitive benefits. The presence of royalactin, in particular, is being studied for its potential role in promoting neural growth and regeneration [4].
Safety and Dosage Recommendations
Royal jelly, like any other supplement, should be consumed with care and after thorough research. While it's generally considered safe for most people, allergic reactions are possible, especially among those allergic to bee products.
For those considering royal jelly as a dietary supplement, it's crucial to start with small doses and monitor for any adverse reactions. While there isn't a one-size-fits-all dosage, consulting with a healthcare professional can provide personalized guidance.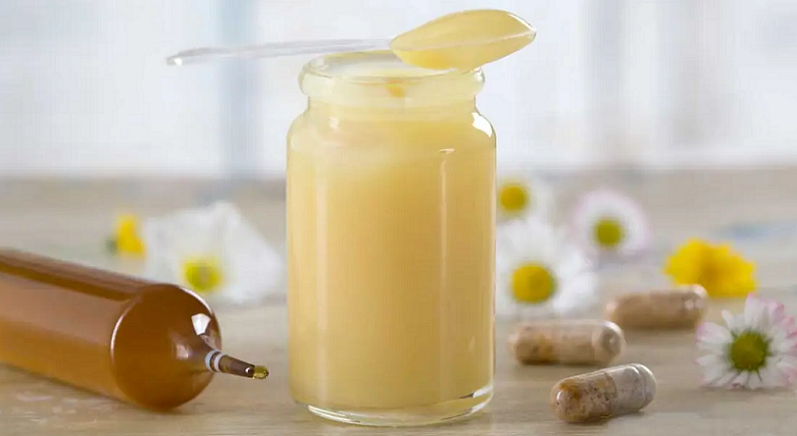 Propolis: The Bee's Natural Defense
While royal jelly has been celebrated for its nourishing properties, propolis stands as the guardian of the hive. This resinous compound, with its complex composition and myriad of protective benefits, holds a special place not just in bee health but in traditional human remedies as well. For those in search of natural solutions to cognitive health, propolis offers intriguing potential.
Introduction to Propolis
Propolis, often dubbed as "bee glue," is a testament to the bees' ingenuity. Crafted from the resin they collect from tree buds and other plant sources, mixed with their own enzymes and beeswax, propolis serves multiple purposes in the hive. From sealing gaps to defending against pathogens, it's a substance that epitomizes protection.
Origin and Composition
The word "propolis" originates from Greek, where "pro" stands for "in defense" and "polis" for "city" — quite fitting given its role in safeguarding the bee city. The composition of propolis can vary depending on the region and the plants available. Generally, it consists of 50% resins, 30% waxes, 10% essential oils, 5% pollen, and 5% other organic compounds. Rich in flavonoids, amino acids, and vitamins, propolis is being studied for a wide range of health benefits, including its potential effects on brain health.
Traditional Uses
Propolis has been revered in traditional medicine systems around the world for centuries. Ancient Egyptians used it for mummification due to its preservative properties, while Greeks and Romans leveraged its antiseptic and healing qualities for wounds. Its protective, anti-inflammatory, and antimicrobial characteristics have made it a staple in folk remedies across cultures.
Benefits for the Brain and Cognitive Health
The wonders of propolis aren't limited to physical healing and protection. Emerging research suggests that this bee product may hold promise for cognitive health, making it a compelling candidate for those seeking natural brain enhancers.
Anti-inflammatory Properties and Neuroprotection
Inflammation plays a significant role in many neurodegenerative diseases. Propolis, with its potent anti-inflammatory compounds, particularly flavonoids, has shown potential in reducing inflammation in neural tissues. This property could play a pivotal role in preventing or delaying the onset of disorders like Alzheimer's and Parkinson's [5].
Antioxidant Activities
Oxidative stress is another factor contributing to cognitive decline. The antioxidants in propolis, including caffeic acid phenethyl ester (CAPE), have demonstrated capabilities in scavenging free radicals, thus potentially safeguarding the brain against oxidative damage.
Promoting Brain Cell Growth
Recent studies have also hinted at propolis's ability to promote neurogenesis – the formation of new neurons in the brain. Such a trait can be crucial in enhancing cognitive functions, memory, and overall brain health.
Precautions and Dosage Tips
While propolis offers an exciting range of potential benefits, it's crucial to approach its consumption with caution. Allergic reactions, although rare, can occur, especially in individuals with allergies to bee products or conifers.
For those keen on integrating propolis into their health regimen, starting with a patch test or a minimal dosage can help gauge individual tolerance. Dosage can vary based on the form of propolis (tincture, capsule, or raw) and its concentration. Always consult with a healthcare professional for personalized recommendations and sourcing quality propolis products.
Other Bee Products Worth Mentioning as Nootropics
While royal jelly and propolis might take center stage when discussing bee-derived nootropics, the hive brims with other treasures that hold noteworthy potential for human health. Digging deeper into the offerings of this industrious insect, we find that many of their products have unique compositions and consequent benefits, some of which can be particularly relevant to cognitive health.
Honey: Nature's Liquid Gold
Honey, the sweet elixir that has graced human diets for millennia, is more than just a delightful natural sweetener. Bees create honey by collecting nectar from flowers, which they then store in their hives as a crucial food source, especially vital during winter.
Nutritional Profile and Composition
Rich in carbohydrates, mainly fructose and glucose, honey also houses a variety of vitamins, minerals, enzymes, and antioxidants. The presence of compounds like quercetin and acacetin makes honey a subject of interest for its potential neuroprotective properties.
Cognitive Benefits and Brain Health
Preliminary research has linked honey consumption to improved memory and reduced anxiety. Its anti-inflammatory and antioxidant properties can also play a role in combating oxidative stress, thereby potentially reducing the risk of neurodegenerative diseases.
Bee Pollen: A Tiny Powerhouse
Bee pollen is the result of bees collecting flower pollen and combining it with nectar or saliva. Often referred to as a "superfood," these tiny granules pack a substantial nutritional punch.
Composition and Dietary Relevance
Bee pollen offers a spectrum of nutrients, including proteins, vitamins, minerals, lipids, and flavonoids. Its rich amino acid content, sometimes surpassing that of equal weights of beef or cheese, is particularly commendable.
Potential Nootropic Qualities
While direct links between bee pollen and cognitive enhancements are still under investigation, its rich nutritional content, especially the presence of B-vitamins, suggests potential benefits in boosting energy, reducing fatigue, and potentially enhancing brain function.
Beeswax: More than Just Candles
While beeswax is primarily known for its applications in cosmetics, candles, and food, its potential health benefits shouldn't be overlooked.
Composition and Usage
Predominantly composed of esters, fatty acids, and long-chain alcohols, beeswax has long been employed in traditional medicine for its anti-inflammatory and antimicrobial properties.
Cognitive Connections
Direct nootropic benefits of beeswax remain largely unexplored. However, its potential in aiding overall health, especially when combined with other hive products like honey in preparations like lip balms or salves, may indirectly contribute to cognitive wellness.
References

[1] Honeybee products: An updated review of neurological actions
[2] Honey on brain health: A promising brain booster
[3] Bee pollen and propolis improve neuroinflammation
[4] Bee Products as Interesting Natural Agents for the Prevention and Treatment of Common Cardiovascular Diseases
[5] Royal Jelly