Cognitive Enhancement from the Amazon Rainforest: Underexplored Nootropic Treasures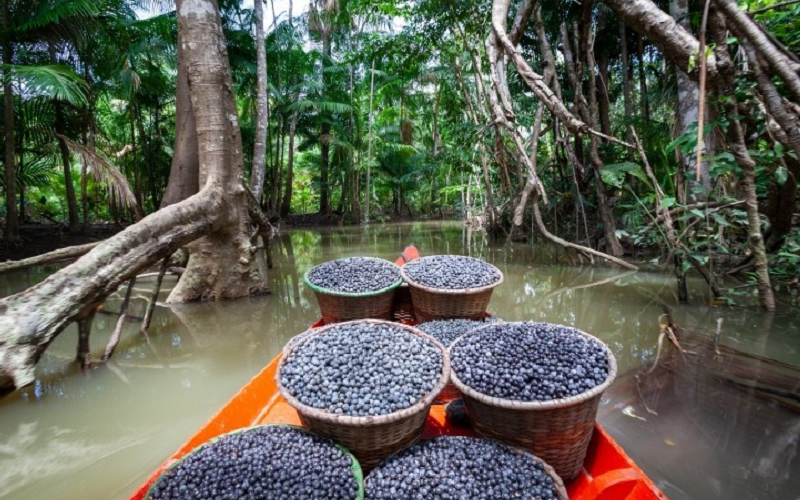 The Amazon Rainforest, often hailed as the "lungs of our planet," boasts a myriad of mysteries, many of which lie within its lush foliage and uncharted terrains. As we embark on an era keen on cognitive health and optimization, the Amazon presents a vast treasury of nootropics — natural compounds that boost brain function. While some of these have been tapped into by indigenous tribes for centuries, many remain underexplored and brimming with potential.
The Diversity and Significance of the Amazon Rainforest
The Amazon Rainforest is not just a forest — it's a vibrant, living library of biodiversity, a testament to nature's brilliance. Home to around 390 billion individual trees representing over 16,000 species, this ecological marvel covers more than 5.5 million square kilometers across nine countries. Its significance, both ecologically and medicinally, cannot be overstated.
Brief Overview of the Rainforest's Biodiversity
Venturing into the heart of the Amazon, one quickly becomes engulfed by the vastness and richness of its biodiversity. With over 400 billion individual trees, it is a haven for nearly 10% of the world's known species. The forest canopy teems with life, from the vibrant macaws that glide overhead to the intricate world of insects and fungi that support the ecosystem from below. Its waters, too, are abundant, with over 2,200 species of fish—more than the Atlantic Ocean.
The unparalleled diversity is not just a wonder to behold but offers a plethora of opportunities for scientific research. Every tree, plant, and creature could hold keys to untapped medicines, sustainable resources, or even solutions to global challenges.
Traditional Uses of Plants by Indigenous Tribes for Cognitive Enhancement
Diving deeper into the intertwined relationship between humans and the Amazon, indigenous tribes have been the stewards and master herbalists of this vast green expanse for millennia. They've developed a profound understanding of the forest's flora, leveraging its properties for sustenance, healing, and spiritual rituals.
For cognitive enhancement, tribes like the Shipibo and the Yanomami have traditionally utilized plants such as the Caapi vine and Guayusa leaves. The former, often used in the sacred Ayahuasca brew, is believed to offer spiritual insights and heightened intuition. Guayusa, on the other hand, is a stimulant that sharpens alertness and wards off sleep, allowing the tribe members to engage in night-time hunting or extended ceremonies [1].
Importance of Conservation Efforts for Future Nootropic Discoveries
While the Amazon's treasures are vast, they are also vulnerable. Deforestation, climate change, and industrial encroachments threaten not only the biodiversity but also the indigenous wisdom closely tied to these lands. With every hectare lost, potential medicines—including nootropics—could vanish forever.
Well-known Amazonian Nootropics
The vast and mysterious Amazon Rainforest is not just a treasure trove of species; it's also home to a host of natural compounds that have found their way into modern health regimens. While the vastness of the forest still hides many secrets, a few of these natural enhancers have gained international attention for their nootropic benefits.
Cat's Claw (Uncaria tomentosa)
Originating from the heart of the Amazon, Cat's Claw is a woody vine named for its claw-shaped thorns. While it may not sound inviting, its medicinal properties are nothing short of intriguing [2].
Cognitive Benefits and Mechanism of Action
Cat's Claw has piqued the interest of neuroscientists and herbalists alike for its neuroprotective properties. Rich in antioxidants, it fights off free radicals, which are believed to play a role in cognitive decline. Some studies suggest that the plant might also boost the immune system and combat inflammation, both of which can indirectly support brain health.
Traditional Uses and Modern Research
For generations, indigenous Amazonian tribes have utilized Cat's Claw as a remedial herb, not just for cognitive support, but also for treating various ailments from infections to arthritis. As modern research delves deeper, there's growing interest in incorporating this plant into nootropic formulations, especially with its potential to combat neurodegenerative diseases.
Guayusa (Ilex guayusa)
Beyond the vast canopies and thick underbrush, the leaves of the Guayusa tree have been a staple for indigenous communities, especially as a part of their morning rituals.
Stimulation and Cognitive Benefits
Guayusa contains a cocktail of caffeine, theobromine, and L-theanine, creating a unique blend that offers stimulation without the jitters often associated with coffee. The combination enhances alertness, sharpens focus, and elevates mood, making it a popular choice for those seeking a balanced cognitive boost.
Cultural Significance and Modern Applications
Historically, indigenous tribes have consumed Guayusa in group settings, boiling the leaves into a communal tea consumed before dawn. This ritual not only energizes but also fosters community bonding and shared dreams recounting. In the modern world, Guayusa has found its way into energy drinks, teas, and nootropic supplements, celebrated for its smooth energy release [3].
Camu Camu (Myrciaria dubia)
Nestled along the riverbanks of the Amazon, the Camu Camu tree bears fruit that is more than just a tangy treat. It's a powerhouse of nutrition and potential cognitive benefits.
Vitamin C and Brain Health
Camu Camu is renowned for its exceptional vitamin C content, which is vital for cognitive health. Vitamin C aids in neurotransmitter production, defends against oxidative stress, and plays a role in maintaining the integrity of the blood-brain barrier.
Traditional Uses and Current Research
While indigenous communities primarily consumed Camu Camu as a food source, they recognized its energy-boosting and mood-lifting effects. Today, with a growing body of research, the fruit is being explored not just as a superfood but as a potential nootropic, especially for its role in combatting cognitive decline.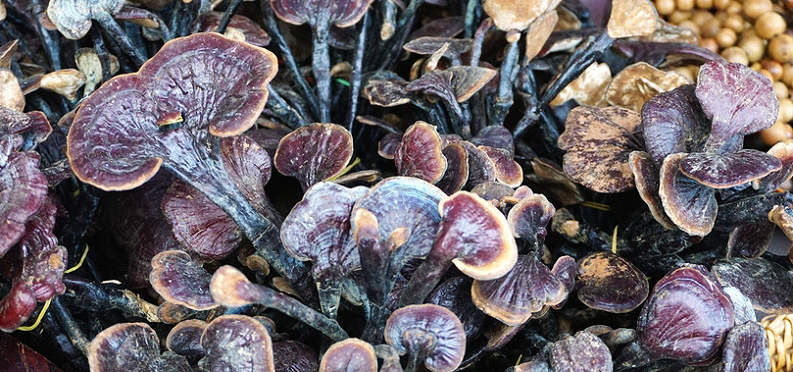 Underexplored Amazonian Plants with Potential Nootropic Properties
The Amazon Rainforest is a vast canvas of botanical wonders, many of which have yet to grace the pages of mainstream scientific journals. Among these underexplored gems, a select few exhibit potential nootropic properties that could redefine cognitive enhancement paradigms. As we shine a light on some of these lesser-known marvels, remember that each plant carries with it stories, traditions, and a wealth of indigenous knowledge.
Chuchuhuasi (Maytenus krukovii)
The Chuchuhuasi tree, with its rough bark and towering stature, has been a staple in Amazonian ethnomedicine, although it's yet to receive the widespread attention it deserves.
Anti-inflammatory Effects and Brain Health
At the heart of Chuchuhuasi's medicinal properties lies its potent anti-inflammatory effects. Chronic inflammation has been linked to various cognitive issues, from mood disorders to neurodegenerative diseases. By reducing inflammation, Chuchuhuasi could play a role in maintaining optimal brain health [4].
Ethnobotanical Uses and Current Studies
For the indigenous tribes of the Amazon, Chuchuhuasi has been much more than just a tree. Its bark is traditionally brewed into teas or soaked in alcohol to create tonics, believed to relieve pain, boost energy, and even serve as an aphrodisiac. While modern research on Chuchuhuasi is in its infancy, preliminary studies hint at its potential neuroprotective properties, warranting further investigation.
Dragon's Blood (Croton lechleri)
With a name as mystical as "Dragon's Blood," this tree, native to the Amazon, exudes a rich red sap that looks eerily like blood. But beyond its dramatic appearance, this sap is a reservoir of potential health benefits.
Antioxidant Properties and Cognitive Protection
Dragon's Blood sap is brimming with antioxidant compounds, vital in defending the brain against oxidative stress—a known factor in cognitive decline and various neurological disorders. By neutralizing free radicals, it may play a role in ensuring brain longevity and function.
Traditional Uses and Research Findings
Amazonian tribes have revered Dragon's Blood for its healing properties, using the sap to treat wounds, inflammation, and gastrointestinal issues. The sap's cognitive benefits are only now emerging in scientific circles. Preliminary studies suggest a potential role in neuroprotection, although more comprehensive research is needed to ascertain its full scope in the nootropic realm [5].
Borojo (Borojoa patinoi)
Deep within the Amazon's damp and shadowy regions, the Borojo tree thrives, bearing a fruit renowned among indigenous communities for its energy-boosting properties.
Natural Energizer and Potential Memory Enhancer
Borojo fruit is nutrient-dense, packed with essential amino acids, vitamins, and minerals. Its natural sugars provide a quick energy boost, while its compounds may enhance memory and cognitive function. While not a stimulant in the traditional sense, Borojo invigorates the mind and body, potentially improving mental clarity and endurance.
Ethnopharmacological Uses and Modern Investigations
Indigenous communities have consumed Borojo for its stamina-enhancing effects, especially before strenuous activities. The fruit is also believed to have aphrodisiac properties. Modern research into Borojo as a nootropic is nascent. However, its rich nutritional profile and traditional uses make it a promising candidate for future studies.
References

[1] The Best Nootropics and Brain Supplements For Boosting Focus, Memory, and More
[2] Cognitive Performance and Nootropics Overview
[3] The Incredible Biodiversity of the Amazon
[4] Uña de Gato: The Amazon's miraculous herb
[5] Nootropic drugs