The Unseen Effects of Distant Thunderstorms on Cognitive Rhythms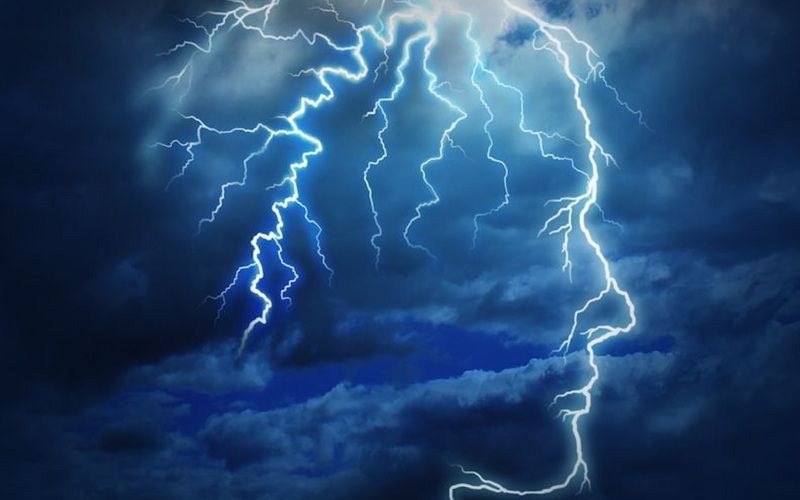 The mesmerizing dance of lightning, the deep rumble of thunder, the rhythmic patter of rain – these are the sensory delights of a thunderstorm. However, beyond what meets the eye and ear, these natural spectacles may weave their influence deep into our neural pathways. Cognitive rhythms, the oscillating patterns of neuronal activity that dictate our thoughts, moods, and even our sleep, are at the heart of our daily functioning. But could something as distant and seemingly unrelated as a thunderstorm influence these delicate rhythms?
The Science of Thunderstorms
Thunderstorms, a majestic display of nature's power, have always fascinated humanity. Their beauty and might are unmistakable, but to truly appreciate their potential effects on cognitive rhythms, a basic understanding of their science is essential.
Brief Explanation of Thunderstorms
Formation
Thunderstorms develop from the rapid upward movement of warm, moist air. As this air rises, it cools and condenses, forming clouds. Given the right conditions, such as the presence of unstable air and a lifting mechanism (like a cold front or mountain range), these clouds can grow vertically into towering cumulonimbus clouds. It's within these mighty formations that the magic happens: the interplay of ice particles, water droplets, and powerful updrafts results in the electrical phenomena we associate with thunderstorms.
Main Components: Lightning, Thunder, Rain
Every thunderstorm showcases a trio of main components:
Lightning: This brilliant electrical discharge is the result of the buildup and release of static electricity within the storm cloud. As particles within the cloud rub against each other, they generate an electric charge. When this charge becomes sufficiently large, a bolt of lightning seeks to equalize the difference between the charged cloud and the ground, or between charged regions within the cloud itself.
Thunder: Lightning heats the surrounding air to temperatures up to 30,000 Kelvin, causing rapid expansion. This sudden expansion creates a shock wave that we perceive as the rumbling sound of thunder. Remember, lightning and thunder are intrinsically linked – you can't have one without the other.
Rain: The condensed water droplets within the cloud eventually become too heavy to be supported by updrafts. They fall as rain, and in especially cold conditions, they might descend as hail.
Electromagnetic Fields (EMFs) and Thunderstorms
Production of EMFs During Storms
Electromagnetic fields, or EMFs, are produced whenever electric current flows. Given that lightning is a powerful electric discharge, it naturally produces strong EMFs. These fields radiate outwards from the lightning bolt and can travel vast distances, even from distant storms. EMFs are a blend of electric and magnetic fields perpendicular to each other, moving at the speed of light. Their strength typically decreases with distance from the source, but under certain conditions, they can have noticeable effects far from the storm that generated them.
The Reach of Distant Thunderstorms' EMFs
While the EMFs from nearby thunderstorms can be quite strong, those from distant storms are naturally weaker. However, they shouldn't be dismissed. Low-frequency EMFs can travel long distances and can penetrate many obstacles, including buildings and even our own bodies. This means that even a storm hundreds of miles away can produce EMFs that interact with our immediate environment, potentially influencing our cognitive rhythms and other biological systems [1].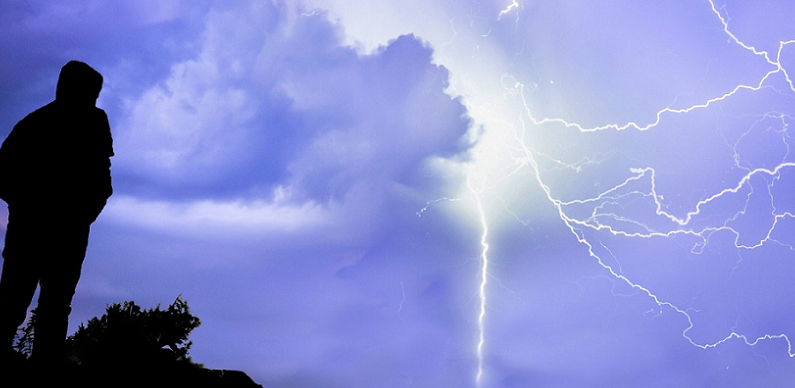 Linking Thunderstorms and Cognitive Rhythms
The science of thunderstorms paints a vivid picture of the immense power and influence these natural phenomena exert on our environment. But can these atmospheric spectacles really reach into the sanctum of our minds and influence the ebb and flow of our cognitive rhythms? The connection might seem far-fetched at first, yet, when you dive deeper, the relationship between thunderstorms and our cognitive processes starts to unveil itself in surprising ways.
Historical Observations and Anecdotal Evidence
Folklore and Ancient Beliefs
Across cultures and through the ages, storms have played a significant role in myths, legends, and folk beliefs. Ancient civilizations often attributed thunderstorms to the actions of powerful deities, signaling displeasure or heralding change. Some cultures believed that thunderstorms could influence human behavior, mood, and health. For instance, in certain societies, it was believed that storms could bring bouts of melancholy, heightened intuition, or even prophetic dreams. While these beliefs were rooted in spirituality and tradition, they hint at an age-old understanding of a potential connection between thunderstorms and the human psyche.
Modern-Day Observations
Anecdotal evidence today often mirrors these ancient beliefs. Many people report feeling more introspective, lethargic, or even anxious during or after a storm. Some individuals claim enhanced creativity or vivid dreams on stormy nights. While personal experiences vary widely, there's a consistent thread: thunderstorms, even those far away, can impact our mood and cognition in ways we don't fully understand [2].
Scientific Studies and Findings
Experiments on EMFs and Brain Activity
With the advancement of science, the idea that atmospheric conditions, specifically EMFs from thunderstorms, could influence human cognition has been put to the test. Several studies have explored the effects of EMFs on brain activity. While laboratory-generated EMFs aren't exact replicas of those from thunderstorms, findings suggest that such fields can influence brain wave patterns. For instance, certain frequencies of EMFs have been shown to alter the alpha rhythms in the brain, which are linked to relaxation and focus. Other studies suggest a potential influence on sleep architecture, including the duration and quality of REM sleep.
Specific Effects of Thunderstorm-Generated EMFs
Research dedicated to the effects of natural EMFs from thunderstorms on cognitive rhythms is still in its infancy. Preliminary findings suggest that these natural EMFs might influence our brain's electrical activity in subtle ways, potentially altering mood, attention span, and sleep patterns. However, more rigorous studies are needed to ascertain the full scope of their impact and to differentiate it from other storm-related factors, like atmospheric pressure changes or the soothing sound of rain.
Potential Effects on Human Behavior and Cognition
While the rumblings of a distant thunderstorm and the shimmer of lightning might captivate our senses, the more subtle and unseen influences of these natural spectacles on our cognition and behavior remain a topic of intrigue. Delving into how these phenomena could shape our inner world can offer a broader understanding of the profound interplay between the environment and human psychology.
Changes in Sleep Patterns
Sleep, a cornerstone of cognitive health, can be swayed by a myriad of external factors. The electromagnetic disturbances from distant thunderstorms might just be one of those influencing elements.
Disruption of REM Sleep
Rapid Eye Movement (REM) sleep, a phase crucial for memory consolidation and emotional regulation, appears to be sensitive to electromagnetic influences. Some studies hint that exposure to certain EMFs can alter the duration and intensity of REM sleep. While it's not definitively proven that EMFs from distant thunderstorms have the same effect, the potential is there. Individuals might experience fragmented dreams or even a lack of dream recall following nights with heightened electromagnetic activity from storms [3].
Effects on Overall Sleep Quality
Beyond REM sleep, overall sleep quality can be affected. Some individuals report difficulties in falling asleep, more frequent awakenings, or a shallower sleep during nights of stormy activity. While this could also be attributed to the sensory aspects of the storm (like sound), the underlying electromagnetic disturbances cannot be ruled out. A night of restless sleep can subsequently impact mood, alertness, and cognitive performance the following day.
Cognitive Functioning and Mood
While sleep is a significant aspect, the potential influence of thunderstorms extends to our waking hours, impacting our thought processes and emotional state.
Concentration and Attention Span
Attention and concentration are foundational for daily tasks, from reading and writing to driving. There's preliminary evidence to suggest that certain EMFs can cause slight fluctuations in one's ability to focus. Distant thunderstorms, with their electromagnetic signatures, might contribute to moments of distraction or a wandering mind, although more research is needed to substantiate this.
Memory Recall and Processing
Memory, both in its formation and recall, can be influenced by sleep patterns, as previously mentioned. If distant thunderstorms do indeed impact sleep, it's plausible that memory processes could be indirectly affected. Additionally, direct exposure to certain EMFs has been shown in some studies to impact memory tasks, although the mechanisms remain unclear.
Mood Fluctuations and Emotional Responses
Anecdotally, many attest to feeling mood shifts with changing weather patterns, often termed "weather sensitivity." Thunderstorms, especially with their electromagnetic backdrop, might amplify feelings of melancholy, introspection, or even agitation in some individuals. While definitive scientific evidence is still emerging, the anecdotal correlations between mood and storm activity are noteworthy [4].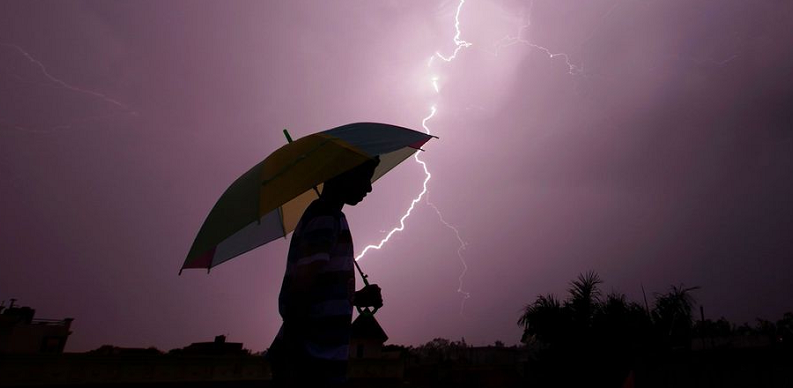 Beneficial Effects: Harnessing the Storm's Power
It's easy to focus on the challenges or disruptions that distant thunderstorms might pose to our cognitive rhythms. However, every cloud, both metaphorical and literal, has a silver lining. Thunderstorms, with their magnificent displays and unseen electromagnetic influences, can also offer a range of benefits, both to our cognitive health and broader well-being. Let's shift our gaze from potential disturbances to the myriad ways in which we can harness the storm's power for positive outcomes.
The Soothing Effects of Storm Sounds
Before delving into the electromagnetic dimension, it's worth acknowledging the more direct sensory impact of thunderstorms, especially their auditory aspect.
White Noise and Sleep Enhancement
The consistent sound of rain, punctuated occasionally by the distant rumble of thunder, acts as a form of white noise. White noise has been shown to promote sleep by masking disruptive background sounds, creating a calming auditory environment. For many, the sound of a gentle storm can be a sleep aid, helping to hasten the onset of sleep and improve its overall quality.
Meditation and Mindfulness
The rhythmic patter of raindrops and the ambiance of a storm can serve as focal points for meditation and mindfulness exercises. By directing one's attention to these natural sounds, individuals can anchor themselves in the present moment, reducing feelings of stress or anxiety.
Electromagnetic Fields and Brain Stimulation
Beyond the sensory realm, the electromagnetic dimension of thunderstorms holds intriguing potential for beneficial effects.
Natural Brain Entrainment
Brain entrainment, or the brain's ability to synchronize its electrical frequencies with rhythmic stimuli, is a concept explored in cognitive science. While typically associated with auditory or visual stimuli (like binaural beats or flashing lights), there's a hypothesis that the low-frequency EMFs from distant thunderstorms might offer a form of natural brain entrainment. This could help promote states of relaxation, focus, or even creativity [5].
Potential Therapeutic Applications
While still in the exploratory phase, the idea that natural EMFs could have therapeutic applications is tantalizing. Some studies have shown that controlled exposure to specific EMFs can influence mood disorders or even assist in pain management. If the unique EMF signature of thunderstorms can be better understood, it might open avenues for non-invasive treatments or cognitive enhancement techniques.
Embracing the Awe of Nature
Lastly, it's essential to recognize the broader emotional and cognitive benefits that come from experiencing nature's grandeur.
Boosting Creativity and Perspective
The sheer scale and beauty of a thunderstorm can stimulate feelings of awe. This emotion has been linked to boosts in creativity, a sense of interconnectedness, and a broader perspective on life's challenges. By taking a moment to appreciate the storm's majesty, one can gain a refreshed outlook and potentially a surge in imaginative thought.
Connection to the Natural World
In an era where urban living and digital screens dominate, thunderstorms serve as a poignant reminder of our connection to the natural world. This reconnection can promote a sense of well-being, grounding, and a deeper appreciation for the planet's wonders.
References

[1] When listening to rain sounds boosts arithmetic ability
[2] Love thunderstorms? There could be a psychological reason for that
[3] The Strange Blissfulness of Storms
[4] Geomagnetic Storms and their Influence on the Human Brain Functional State
[5] How severe storms can impact your mental health