Clinical Studies and Trials Involving the Nootropic Cognitive Enhancer Mind Lab Pro (MLP)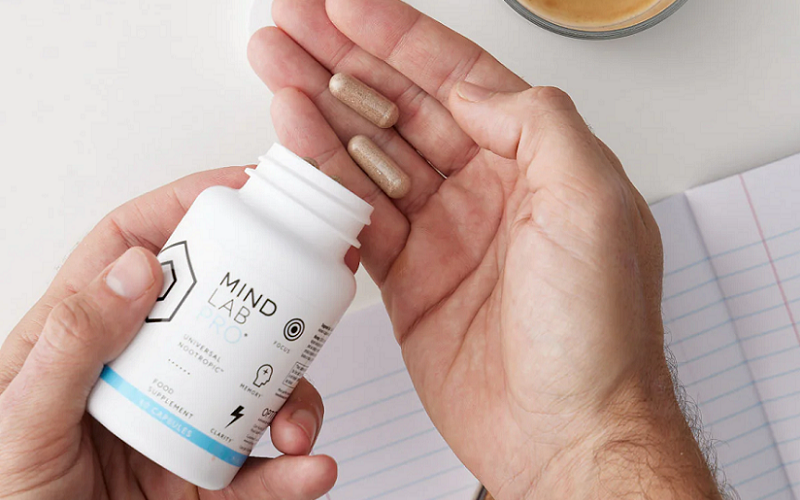 Here we take a deep dive into the world of nootropics, focusing specifically on Mind Lab Pro (MLP) by Opti Nutra. Touted as the world's first Universal Nootropic, MLP has garnered significant attention for its unique blend of 11 cognitive-enhancing ingredients. Here we explore the scientific backbone of this popular supplement. From rigorous clinical trials assessing its impact on memory and information processing to the extensive research efforts that underpin its development, we provide a comprehensive overview of the studies validating MLP's efficacy.
Introduction to Mind Lab Pro (MLP) by Opti Nutra
Nootropics, often referred to as "smart drugs" or "brain boosters," have surged in popularity as more individuals seek ways to enhance cognitive performance. Among these, Mind Lab Pro (MLP) by Opti Nutra stands out as a notable example, offering a unique blend of ingredients aimed at optimizing various aspects of brain function.
Overview of Mind Lab Pro (MLP) by Opti Nutra
Mind Lab Pro presents itself as the world's first Universal Nootropic. This innovative product combines 11 powerful ingredients in a formulation that is meticulously designed to enhance cognitive abilities across a broad spectrum. From improving memory and focus to supporting long-term brain health, MLP's all-in-one formula aims to cater to a wide range of cognitive needs.
Significance of Clinical Studies and Trials in Evaluating Nootropics
The efficacy and safety of nootropics like Mind Lab Pro are best understood through clinical studies and trials. These scientific evaluations provide critical insights into how these supplements work, their benefits, and potential risks. In a market flooded with various cognitive enhancers, clinical trials serve as a benchmark for effectiveness and reliability.
By examining the research backing this nootropic, you can gain a clearer understanding of its potential benefits, how it stands out from other products in the market, and what you can expect in terms of cognitive enhancement. Through this exploration, you can make more informed decisions about incorporating Mind Lab Pro into your cognitive wellness routines.

Understanding Mind Lab Pro (MLP)
Before getting into the clinical trials and studies, it's crucial to understand what Mind Lab Pro is and what it offers. This understanding provides a foundation for appreciating the significance of the research and studies conducted on this nootropic.
Composition and Ingredients of MLP
Mind Lab Pro is a carefully crafted blend of 11 nootropic ingredients. Each component is selected for its potential to enhance various aspects of cognitive function. This includes ingredients like Lion's Mane Mushroom, known for its neuroprotective properties, and Bacopa Monnieri, which has been shown to improve memory and cognitive processing. The combination of these ingredients is designed to work synergistically, enhancing each other's effects to provide a comprehensive cognitive boost [1].
The Concept of Universal Nootropic
The idea behind Mind Lab Pro as a Universal Nootropic is to create a supplement that is effective for a wide range of individuals with varying cognitive needs. Whether it's a student looking to enhance learning capabilities, a professional aiming for better focus and mental clarity, or an older adult seeking to preserve cognitive function, MLP is designed to address these diverse requirements. This universal approach sets it apart from other nootropics that might target only specific aspects of cognition.
The Mind Lab Pro Evolution to Version 4.0
Mind Lab Pro's journey to its current iteration, version 4.0, is a testament to its commitment to continuous improvement and adaptation to the latest scientific research. This version represents the culmination of years of development, incorporating user feedback and emerging scientific data. Such evolution reflects the brand's dedication to providing a product that not only meets current cognitive enhancement needs but also adapts to future discoveries in the field of nootropics.
Volume of Research Supporting MLP
The credibility and effectiveness of any nootropic supplement like Mind Lab Pro are grounded in the research backing it. Understanding the extent and nature of this research is key to evaluating the product's true potential.
Mind Lab Pro's formulation is not just a random concoction of brain-boosting ingredients. It's a result of extensive, research-driven development. The volume and depth of studies supporting MLP provide a robust foundation for its claims of enhancing cognitive functions.
Overview of over 1400 Human Trials Involving Mind Lab Pro
Over the past 32 years, Mind Lab Pro has been the subject of a staggering number of human trials — over 1400 of them. This impressive number reflects a long-term commitment to understanding and improving cognitive health through scientific inquiry. Such a high volume of trials is not common in the supplement industry, especially for nootropics, making MLP a standout in terms of research-based credibility.
Time Span and Scope of These MLP Studies
The span of 32 years of research indicates a long-term, evolving understanding of nootropics and their effects on the brain. This extensive period allowed researchers to observe long-term effects, refine formulations, and understand the nuances of how different ingredients interact. It also signifies a commitment to not just creating a supplement but also to continually enhancing and validating its efficacy over time.
Importance of Extensive Research in Nootropic Efficacy
The extensive research behind Mind Lab Pro is not just about quantity but also about the quality and diversity of the studies conducted. This research foundation provides confidence in the efficacy of MLP, ensuring users that the product is not just another quick-fix solution, but a well-researched, scientifically backed nootropic. Such extensive research is crucial in a field where products often come with exaggerated claims but lack substantial scientific backing[2].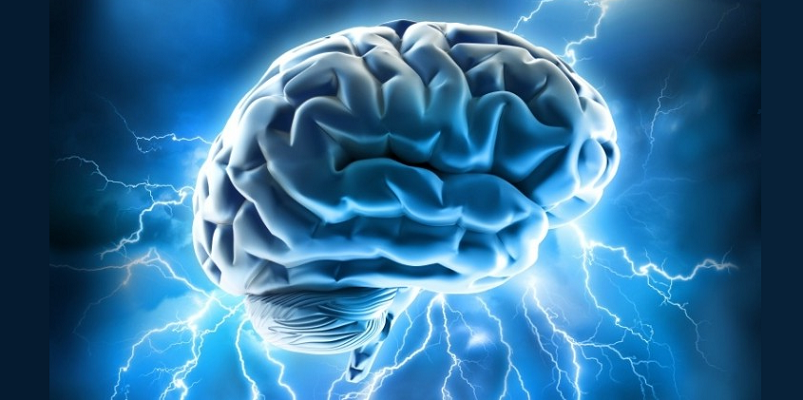 Specific Mind Lab Pro Study on Memory Enhancement
Among the numerous studies conducted on Mind Lab Pro, one specific study stands out for its focus on memory enhancement. This research provides valuable insights into how MLP impacts different aspects of memory function.
Objective and Methodology of the Study
The primary objective of this study was to assess the effectiveness of Mind Lab Pro in enhancing memory functions in adults. Employing rigorous scientific methods, the study was designed to offer concrete data on the supplement's impact. Researchers used the WMS-IV UK, a well-regarded memory assessment tool, to evaluate various memory domains. The participants, divided into experimental and control groups, provided a clear comparative analysis of MLP's effects.
Key Findings on Memory Improvement
The results of this study were significant. They revealed that Mind Lab Pro had a considerable positive impact on memory. Participants in the experimental group showed marked improvements in all areas of memory assessed by the WMS-IV UK. Notably, enhancements were particularly pronounced in areas of immediate and delayed recall. This improvement in both short-term and long-term memory aspects underscores the comprehensive nature of MLP's cognitive benefits [3].
Analysis of Immediate and Delayed Recall Enhancements
The enhancements in immediate and delayed recall are particularly noteworthy. Immediate recall is crucial for day-to-day cognitive tasks, while delayed recall is a key component of long-term memory and learning. The study's findings suggest that Mind Lab Pro can be beneficial not just for individuals seeking a short-term cognitive boost but also for those looking to support and enhance their memory over the long term. This dual benefit is a significant advantage for users of MLP, offering a broader range of cognitive support than many other nootropics on the market.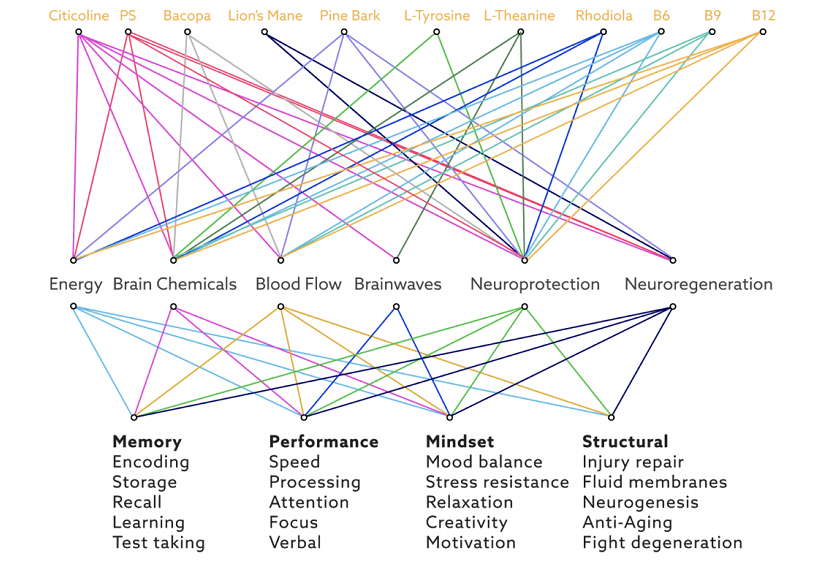 Mind Lab Pro Study Focusing on Information Processing
In addition to memory enhancement, another critical aspect of cognitive function is information processing. A separate study on Mind Lab Pro sheds light on how this nootropic supplement impacts this vital cognitive ability.
Study Design: Pseudo Randomized, Double-Blind, Placebo-Controlled
This study was meticulously designed as a pseudo-randomized, double-blind, placebo-controlled trial. Such a design is considered the gold standard in clinical research, ensuring unbiased and reliable results. In this setup, participants were randomly assigned to either the group receiving Mind Lab Pro or a placebo group, with neither the participants nor the researchers knowing which group each participant belonged to until after the study's conclusion.
Outcomes on Information Processing and Memory
The findings from this study were compelling. Participants who took Mind Lab Pro exhibited significant improvements in information processing and memory. These improvements are particularly relevant in our information-heavy world, where the ability to process and retain information efficiently is increasingly critical. The study's results suggest that Mind Lab Pro can play a crucial role in enhancing these abilities, thereby supporting overall cognitive performance [4].
Significance of These Results
The significance of these findings cannot be overstated. Improvements in information processing and memory are key indicators of a nootropic's efficacy. This study's results provide concrete evidence that Mind Lab Pro can effectively enhance these crucial aspects of cognitive function. Such evidence reinforces Mind Lab Pro's position as a leading nootropic supplement, backed by scientific research, and capable of delivering tangible cognitive benefits.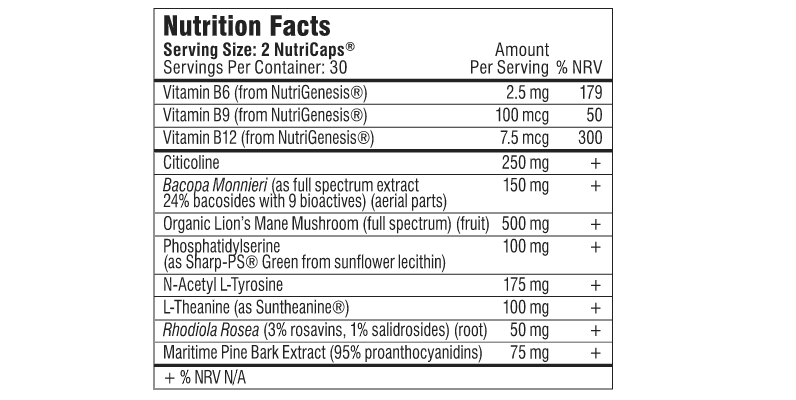 The Gold Standard of Supplement Research
In the realm of nootropic supplements, rigorous scientific validation is a critical factor for establishing credibility and efficacy. Mind Lab Pro's engagement in research that meets the highest standards in the field sets it apart from many other products in the market.
Peer-Reviewed Clinical Trials Involving MLP
Mind Lab Pro has been the subject of two clinical trials that were published in peer-reviewed medical journals. This level of scrutiny and validation is what defines the gold standard of supplement research. Peer review ensures that the studies' methodologies and conclusions are critically evaluated by independent experts in the field, adding a layer of credibility to the findings.
Criteria for Gold Standard Research in Supplements
The criteria for gold standard research in supplements include the design of the study, the methodology used, and the process of peer review. Studies that are randomized, double-blind, and placebo-controlled are viewed as the most reliable because they minimize bias and allow for a clear comparison between the supplement and a placebo. The process of peer review further ensures that the research meets the stringent standards of scientific inquiry [5].
Implications of These Studies for Mind Lab Pro
The implications of these high-standard studies for Mind Lab Pro are significant. They not only validate the claims made about the supplement's efficacy but also build trust among consumers and professionals. When a product like Mind Lab Pro undergoes such rigorous testing and scrutiny, it provides assurance to users that they are investing in a product that is both safe and effective. This level of research commitment demonstrates Opti Nutra's dedication to providing a scientifically backed, high-quality nootropic supplement.
Mind Lab Pro Continuous Development and Version Updates
The journey of Mind Lab Pro is not static; it reflects an ongoing commitment to evolution and improvement, mirroring the dynamic nature of scientific research and consumer feedback.
The Evolutionary Journey to MLP Version 4.0
Mind Lab Pro's current version, 4.0, is the result of a continuous process of refinement and enhancement. This evolution is driven by a commitment to staying abreast of the latest scientific discoveries and incorporating user feedback. Each version upgrade represents a step forward in terms of potency, effectiveness, and user experience. This iterative process ensures that Mind Lab Pro remains at the forefront of nootropic innovation.
Incorporating User Feedback and Scientific Discoveries
One of the key aspects of Mind Lab Pro's development is its responsiveness to user feedback and new scientific research. By integrating real-world experiences and cutting-edge scientific findings, Opti Nutra ensures that Mind Lab Pro is not only effective but also safe and relevant to the needs of its users. This approach has allowed Mind Lab Pro to adapt to changing cognitive demands and to incorporate new insights into brain health and cognitive enhancement.
Future Prospects for Mind Lab Pro
The ongoing development of Mind Lab Pro points to a bright future for this nootropic supplement. As research in the field of cognitive science advances, we can expect Mind Lab Pro to continue evolving, potentially incorporating new ingredients or refining existing ones. This forward-looking approach is crucial in an industry where innovation is key to staying relevant and effective. Users of Mind Lab Pro can look forward to a product that not only meets their current cognitive enhancement needs but also evolves to address future challenges and discoveries in the realm of brain health.
References

[1] Nootropics
[2] Nootropics: New Frontiers In Cognitive Enhancement
[3] Efficacy of the nootropic supplement Mind Lab Pro on memory in adults: Double blind, placebo-controlled study
[4] The Efficacy of A Nootropic Supplement on Information Processing in Adults: A Double Blind, Placebo Controlled Study
[5] Designing and Conducting Randomized Controlled Trials
[5] XXXXXXXX