The Neurological Impacts of Folkloric Dance and Rituals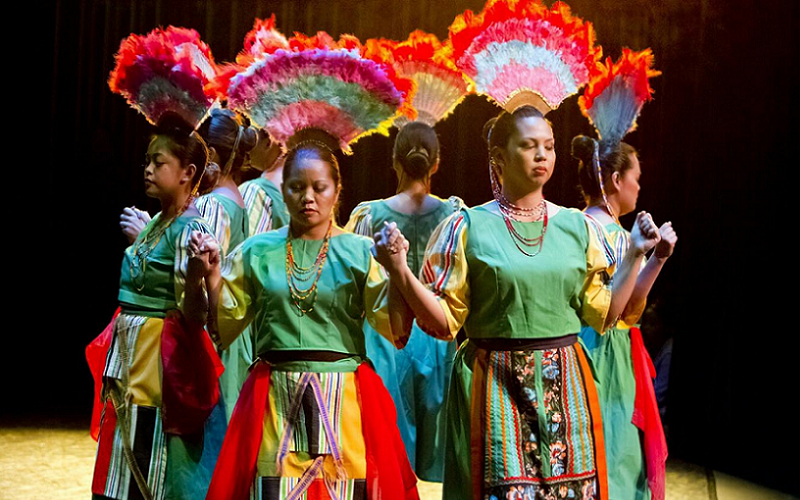 For centuries, humans have swayed to the rhythm of their traditions, embodying tales of their ancestors through folkloric dance and rituals. These cultural expressions not only connect us to our past but also intertwine deeply with our cognitive functions. As the world modernizes and science advances, researchers are discovering the profound neurological impacts of these ancient dances and rituals. From the harmonious synchronization of group performances to the intricate steps of a solo ritual dance, the brain is actively engaged, influenced, and even transformed.
Historical Context of Dance and Cognition
Dance and ritual are as ancient as humanity itself. They've been vital components of our cultural fabric, serving as mediums for storytelling, community building, and spiritual expression. To fully appreciate the neurological impacts of folkloric dance and rituals, it's essential to trace back their roots and understand their evolution over time.
Origins of Dance and Ritual in Human Societies
Long before written language was developed, our ancestors used dance and ritual as primary means of communication, celebration, and preservation of shared histories. Cave paintings, some dated tens of thousands of years ago, depict humans in dance-like postures, suggesting the primordial nature of this art form. Rituals, on the other hand, were deeply entwined with the mysteries of nature and the cosmos. They were conducted to ensure successful hunts, change weather patterns, or invoke protection from the spirits.
As societies evolved, so did the intricacies of these dances and rituals. They began reflecting more complex narratives—love, war, birth, death, and everything in between. With each generation, new layers were added, turning them into intricate tapestries of human experience.
Evolutionary Perspective on Dance and Cognitive Development
From an evolutionary standpoint, dance and ritual might have played a more pragmatic role than just storytelling. Some anthropologists believe that synchronized group dancing could have been a method to strengthen tribal unity, allowing communities to work together efficiently, thus improving their chances of survival. The collective rhythm and synchrony required in group dances could have fostered a sense of belonging, promoting social cohesion.
Dance might have been a tool for mate selection. Those who could dance well demonstrated physical fitness, coordination, and even creativity — all desirable traits for survival and reproduction. Over time, the brain would evolve to reward these activities, further embedding them in our sociocultural DNA.
The rituals, often layered with symbolism, required cognitive skills like memory, pattern recognition, and the ability to understand abstract concepts. Engaging in these rituals could have acted as mental exercises, enhancing brain function and adaptability [1].
The Rhythmic Brain
Rhythm is fundamental to our existence. The cadence of our breath, the steady beat of our heart, even the circadian rhythms that dictate our sleep-wake cycles—all are testaments to the intrinsic rhythmic nature of human beings. Within this context, understanding how dance and rituals, both deeply rhythmic activities, interact with our brains provides a fascinating glimpse into the power of rhythm and its neurological implications.
How Rhythm and Repetition Activate Neural Pathways
Every time we engage with rhythm, be it through dancing, clapping, or merely tapping our foot, we're stimulating a host of neural networks in our brain. These networks, particularly those in the basal ganglia and cerebellum, play a vital role in motor control and coordination. Repeated rhythmic activities reinforce these pathways, enhancing our ability to move with precision and grace.
Beyond just motor skills, rhythm has been shown to aid cognitive functions such as attention, memory, and even language processing. The predictability of rhythmic patterns allows our brains to anticipate what comes next, strengthening neural connectivity and cognitive forecasting. This anticipatory function can be observed when we listen to music. The brain gets excited not just by the beat it hears, but by the beat it expects to come next.
The Role of Music in Dance and its Cognitive Impact
Dance is rarely divorced from music, and for a good reason. The melodies and rhythms of music provide the scaffold upon which dance movements are built. This harmonious marriage between music and dance offers a dual stimulation to our brain, combining auditory and motor experiences.
Music activates a broad spectrum of our brain regions, including those responsible for emotion (limbic system), memory (hippocampus), and reward (dopamine release in the striatum). When combined with the physical act of dancing, this results in a full-brain workout, pushing multiple regions to work in tandem. Such coordinated activity enhances neural plasticity, the brain's ability to reorganize and forge new connections [2].
The emotional component of music, when paired with dance, deepens our emotional experiences. It's not uncommon to feel a surge of emotions when dancing to a particularly touching piece of music. This emotional resonance strengthens memory formation and boosts mood, further highlighting the holistic impact of rhythmic activities on our brain.
In essence, the rhythmic foundation of folkloric dance and rituals does more than just guide our steps. It orchestrates a symphony of neural activities, promoting cognitive health, emotional well-being, and fostering an environment where our brain can thrive.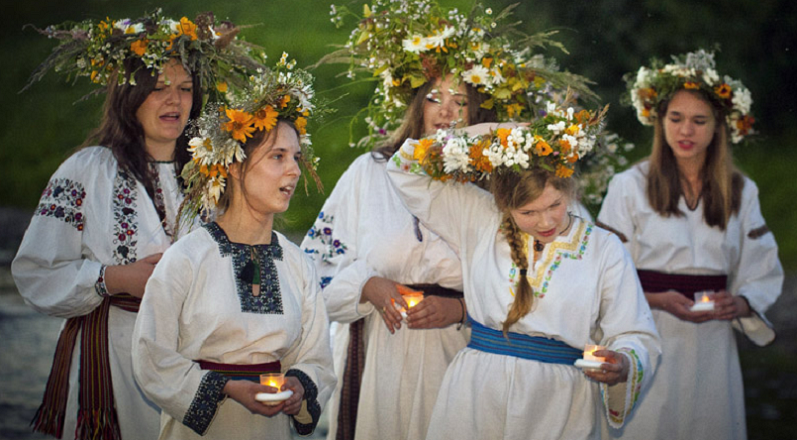 The Physicality of Dance
Dance, in its essence, is a celebration of the human body in motion. It's a medium through which emotions, stories, and traditions come alive, using the intricate choreography of limbs, facial expressions, and postures. While the aesthetic and cultural facets of dance are often celebrated, the physical demands it places on the body, and the resulting neurological effects, are equally noteworthy. The interplay between movement, balance, coordination, and cognitive functions crafts a dynamic narrative of the brain-body connection.
The Brain-Body Connection and Proprioception
Proprioception, often dubbed the "sixth sense", is our ability to sense the position and movement of our body parts in space. Every spin, leap, and step in a dance routine requires an acute awareness of one's body, tapping into this proprioceptive sense. The parietal lobe of the brain, responsible for processing sensory information, plays a crucial role in this.
Dancing hones our proprioceptive abilities. As dancers practice and perfect their routines, they're not just memorizing steps; they're enhancing the neural pathways responsible for body awareness and spatial orientation. Over time, this not only improves their dancing prowess but also enhances everyday motor skills and balance, offering potential protective effects against age-related declines in coordination [3].
Neurochemical Changes Triggered by Physical Movement
Physical activity, of which dance is a joyous expression, triggers a cascade of neurochemical responses in the brain. As the body moves to the rhythm, the brain releases a cocktail of neurotransmitters and hormones that enhance mood, cognition, and overall well-being.
Endorphins, often termed as the body's "feel-good" chemicals, are released in abundance during dancing. These natural painkillers elevate mood and create the euphoria commonly associated with a good dance session. Similarly, dance stimulates the release of serotonin and dopamine, neurotransmitters linked to happiness, pleasure, and motivation.
The physical exertion of dance promotes brain-derived neurotrophic factor (BDNF) production. BDNF is vital for the survival and growth of neurons, playing a pivotal role in memory and learning. Its increased levels post-dancing suggest that dance may also aid in cognitive function and potentially offer protective benefits against neurodegenerative diseases.
In the grand ballet of life, dance stands out as a potent expression of human physicality, marrying movement with emotion. Its impacts are not just skin-deep; they permeate the intricate neural networks of our brain, fostering a realm where the body informs the mind, and the mind, in turn, elevates the body.
Emotional and Social Aspects of Dance
Dance, beyond its physical and cognitive attributes, resonates deeply on emotional and social levels. When we dance, we often tap into reservoirs of emotion, allowing for catharsis, expression, and connectivity. In the realm of folkloric dance and rituals, these aspects are further intensified, given their cultural significance and communal nature. The stories conveyed, the shared experiences, and the sense of unity weave together a complex tapestry of emotional and social enrichment.
Dance as a Means of Emotional Expression and Regulation
Every swivel, leap, and gesture in dance can be a manifestation of a myriad of emotions. From the exuberant jumps in celebratory dances to the mournful sway in rituals of remembrance, dance provides an avenue for emotional release and articulation.
Research has shown that engaging in dance can help regulate emotions. The act of physically embodying feelings allows for a tangible processing of otherwise abstract sentiments. For many, this serves as a therapeutic channel, aiding in stress relief, anxiety reduction, and emotional clarity. Folkloric dances, often rich in narrative and rooted in collective cultural experiences, further accentuate this emotional connection [4].
Dance and music combined can amplify emotional resonance. The synchronization of movement with melody can elicit strong emotional reactions, making the experience both individualistic and universal.
The Neurological Basis of Group Synchrony and Social Bonding
Folkloric dances and rituals are often group endeavors. The collective performance, with its synchronized steps and harmonized motions, holds within it the magic of human connection. This isn't just a poetic sentiment; there's tangible neuroscience behind it.
When individuals dance together, their brains show remarkable synchrony. This neural mirroring, observed through techniques like functional MRI, is a testament to the power of collective dance in fostering connectivity. The shared rhythmic experience can lead to increased levels of oxytocin, often referred to as the "bonding hormone". Elevated oxytocin levels are associated with enhanced trust, empathy, and social bonding.
Such group synchrony can foster a profound sense of belonging. Within the context of folkloric dance, this means not just bonding with present-day participants but also with generations past. The dance becomes a bridge across time, connecting dancers with their ancestors, traditions, and shared cultural narratives.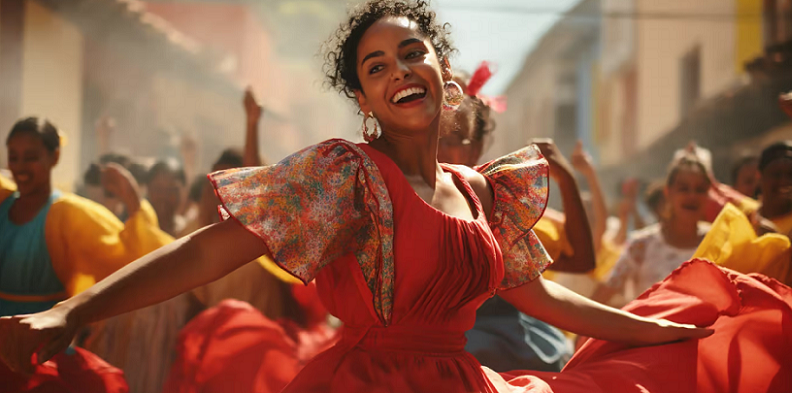 Rituals and Structured Movements and Dance
While dance often garners much attention for its fluidity and expressiveness, rituals, with their structured and often repetitive movements, hold a unique space in the landscape of human expression. Rituals, ranging from sacred ceremonies to daily practices, have been integral to societies across the globe and throughout history. The structured nature of these movements, combined with their profound significance, offers a distinctive interplay with our neural networks.
The Cognitive Foundation of Repetitive Ritualistic Movements
At first glance, the repetitive actions common in many rituals might seem simple or even monotonous. However, these repeated motions, often imbued with deep symbolic meanings, serve as robust cognitive exercises.
Repetition, in the context of rituals, aids memory consolidation. As individuals engage in the same set of actions over and over, neural pathways associated with these movements are reinforced. Over time, the ritualistic actions become second nature, almost reflexive, showcasing the brain's remarkable adaptability.
Furthermore, the structured nature of rituals can provide a sense of predictability and order in an otherwise chaotic world. This can be particularly beneficial during times of uncertainty or upheaval. Engaging in familiar ritualistic movements can ground an individual, offering solace and a semblance of control.
Neurological Implications of Meaningful Gestures
Beyond the mere physicality of the actions, the symbolic weight carried by many ritualistic gestures can amplify their impact on the brain. When a movement is tied to a profound meaning or a cherished belief, it resonates on both cognitive and emotional levels.
Such meaningful gestures can activate the brain's limbic system, responsible for emotion and memory. The intertwining of action and meaning ensures that the associated emotions are not just felt but also remembered vividly. This deep emotional encoding can enhance the overall experience, making it both memorable and impactful.
Rituals, like folkloric dances, often have a communal aspect. Performing meaningful gestures in unison can foster a sense of collective identity and shared purpose. This social connectivity, combined with the emotional weight of the gestures, creates a rich tapestry of neurological and psychosocial benefits [5].
The Healing Potential of Dance
Throughout history, dance has often been perceived not just as an art form or a recreational activity, but also as a medium of healing. From the shamanic dances of ancient tribes to the modern-day dance therapy sessions, there's an intrinsic understanding that movement, rhythm, and expression can bring about therapeutic change. Delving into the neurological underpinnings of this healing potential illuminates the profound ways in which dance can benefit our mind, body, and soul.
Dance Therapy: An Overview
Dance therapy, formally known as dance/movement therapy (DMT), is a therapeutic modality that harnesses the power of movement to promote emotional, cognitive, and physical integration. Rooted in the premise that body and mind are interconnected, DMT offers a holistic approach to healing.
In a typical dance therapy session, participants are encouraged to explore and express their emotions through movement. The aim is not to perform a perfectly choreographed routine but to allow the body to communicate authentically, facilitating emotional release and cognitive clarity.
Neurological Benefits of Therapeutic Movement
The therapeutic movements in dance therapy can stimulate various brain regions, leading to a host of neurological benefits. Here's how.
Enhancing Brain Connectivity
Engaging in structured dance routines can bolster the connectivity between different brain regions, particularly those involved in motor coordination, emotional processing, and memory. Over time, this can improve cognitive function and emotional regulation.
Stress Reduction
Dance, with its rhythmic patterns and expressive movements, can activate the brain's relaxation pathways, leading to reduced cortisol levels and an overall sense of calm.
Boosting Mood and Alleviating Depression
As discussed earlier, dance triggers the release of endorphins, dopamine, and serotonin. These neurotransmitters play a pivotal role in mood regulation, making dance a natural antidote to feelings of sadness or anxiety.
Enhancing Memory and Preventing Cognitive Decline
The combination of physical movement, emotional expression, and rhythmic engagement can bolster memory and cognitive functions. Moreover, regular engagement in dance activities has been linked to a decreased risk of neurodegenerative diseases like Alzheimer's.
Emotional Catharsis and Self-Discovery
Dance, especially within a therapeutic context, can serve as a powerful tool for emotional catharsis. By physically embodying emotions, individuals can process and release pent-up feelings, leading to a sense of relief and rejuvenation.
Dance offers a pathway for self-discovery. Through movement, individuals can explore various facets of their identity, confront inner conflicts, and embrace their authentic selves. This journey of introspection and self-expression can foster self-esteem, resilience, and a deeper understanding of one's place in the world.
References

[1] Greek Traditional Dances: A Way to Support Intellectual, Psychological, and Motor Functions
[2] Neurological implications and neuropsychological considerations on folk music and dance
[3] Dancing and the Brain
[4] The Psychology of Rituals
[5] The Psychology of Dance